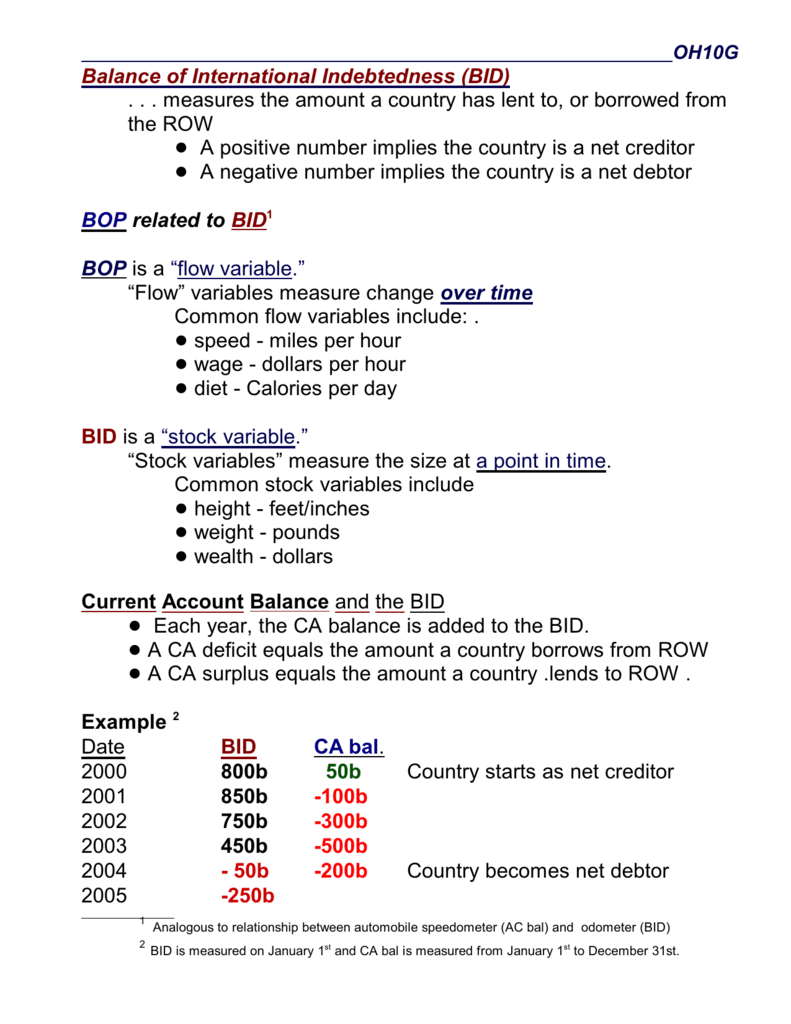 OH10G
Balance of International Indebtedness (BID)
. . . measures the amount a country has lent to, or borrowed from
the ROW
! A positive number implies the country is a net creditor
! A negative number implies the country is a net debtor
BOP related to BID1
BOP is a "flow variable."
"Flow" variables measure change over time
Common flow variables include: .
! speed - miles per hour
! wage - dollars per hour
! diet - Calories per day
BID is a "stock variable."
"Stock variables" measure the size at a point in time.
Common stock variables include
! height - feet/inches
! weight - pounds
! wealth - dollars
Current Account Balance and the BID
! Each year, the CA balance is added to the BID.
! A CA deficit equals the amount a country borrows from ROW
! A CA surplus equals the amount a country .lends to ROW .
Example 2
Date
2000
2001
2002
2003
2004
2005
1
2
BID
800b
850b
750b
450b
- 50b
-250b
CA bal.
50b
-100b
-300b
-500b
-200b
Country starts as net creditor
Country becomes net debtor
Analogous to relationship between automobile speedometer (AC bal) and odometer (BID)
BID is measured on January 1st and CA bal is measured from January 1st to December 31st.