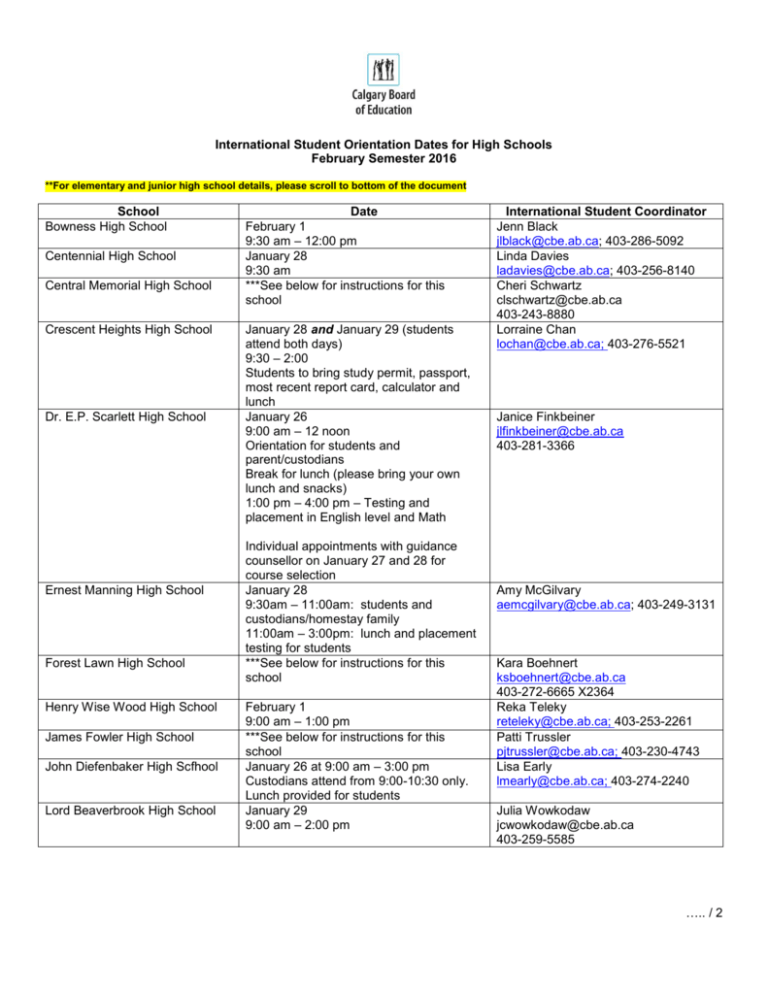 International Student Orientation Dates for High Schools
February Semester 2016
**For elementary and junior high school details, please scroll to bottom of the document
School
Bowness High School
Centennial High School
Central Memorial High School
Crescent Heights High School
Dr. E.P. Scarlett High School
Ernest Manning High School
Forest Lawn High School
Henry Wise Wood High School
James Fowler High School
John Diefenbaker High Scfhool
Lord Beaverbrook High School
Date
February 1
9:30 am – 12:00 pm
January 28
9:30 am
***See below for instructions for this
school
January 28 and January 29 (students
attend both days)
9:30 – 2:00
Students to bring study permit, passport,
most recent report card, calculator and
lunch
January 26
9:00 am – 12 noon
Orientation for students and
parent/custodians
Break for lunch (please bring your own
lunch and snacks)
1:00 pm – 4:00 pm – Testing and
placement in English level and Math
Individual appointments with guidance
counsellor on January 27 and 28 for
course selection
January 28
9:30am – 11:00am: students and
custodians/homestay family
11:00am – 3:00pm: lunch and placement
testing for students
***See below for instructions for this
school
February 1
9:00 am – 1:00 pm
***See below for instructions for this
school
January 26 at 9:00 am – 3:00 pm
Custodians attend from 9:00-10:30 only.
Lunch provided for students
January 29
9:00 am – 2:00 pm
International Student Coordinator
Jenn Black
jlblack@cbe.ab.ca; 403-286-5092
Linda Davies
ladavies@cbe.ab.ca; 403-256-8140
Cheri Schwartz
clschwartz@cbe.ab.ca
403-243-8880
Lorraine Chan
lochan@cbe.ab.ca; 403-276-5521
Janice Finkbeiner
jlfinkbeiner@cbe.ab.ca
403-281-3366
Amy McGilvary
aemcgilvary@cbe.ab.ca; 403-249-3131
Kara Boehnert
ksboehnert@cbe.ab.ca
403-272-6665 X2364
Reka Teleky
reteleky@cbe.ab.ca; 403-253-2261
Patti Trussler
pjtrussler@cbe.ab.ca; 403-230-4743
Lisa Early
lmearly@cbe.ab.ca; 403-274-2240
Julia Wowkodaw
jcwowkodaw@cbe.ab.ca
403-259-5585
….. / 2
Queen Elizabeth High School
By appointment
Robert Thirsk High School
By appointment
Sir Winston Churchill High
School
January 25
9:00 am – 12:00 pm: Orientation
1:00 – 3:00 pm: English placement
testing
***See below for instructions for this
school
January 28 or 29
10:00 am
Please e-mail Ms. Blayways to
indicate which date you will attend
Western Canada High School
William Aberhart High School
Melanie Norcross
mdnorcross@cbe.ab.ca; 403-777-6380
Julie Muhlberger
jamuhlberger@cbe.ab.ca; 403-817-3400
Dana Fulwiler
dlfulwiler@cbe.ab.ca
Kaila Wright
kjwright@cbe.ab.ca; 403-289-9241
Tamara Neumann
taneumann@cbe.ab.ca; 403-228-5363
Deborah Blayways
deblayways@cbe.ab.ca; 403-289-2551
Please note the following:


All orientations are at the school unless indicated by ***
Bring your study permit (if applicable) and passport with you to the orientation
Elementary or junior high students, or for schools that have *** in the Date column in the chart above:
Please contact the Kingsland Admissions Office, by email: iwchan@cbe.ab.ca or phone at 403-777-7373 (Ext. 1), to
arrange an assessment appointment as soon as the student's arrival date is confirmed (do not wait until the student
arrives in Calgary to make this appointment).
When contacting them, please provide the following information:





Student's Legal Name
Date of Birth
Name of School
Home Language
Custodian's contact information
Please bring the student's Study Permit to the appointment with a copy of this letter. The Admissions office is located at
Kingsland Centre 7430 – 5 Street S.W. A parent or custodian must accompany the student for the duration (2-3 hours) of
the appointment.
If you are a high school student attending a school being directed to Kingsland, please contact the school coordinator
once you complete your assessment appointment at Kingsland for further direction.