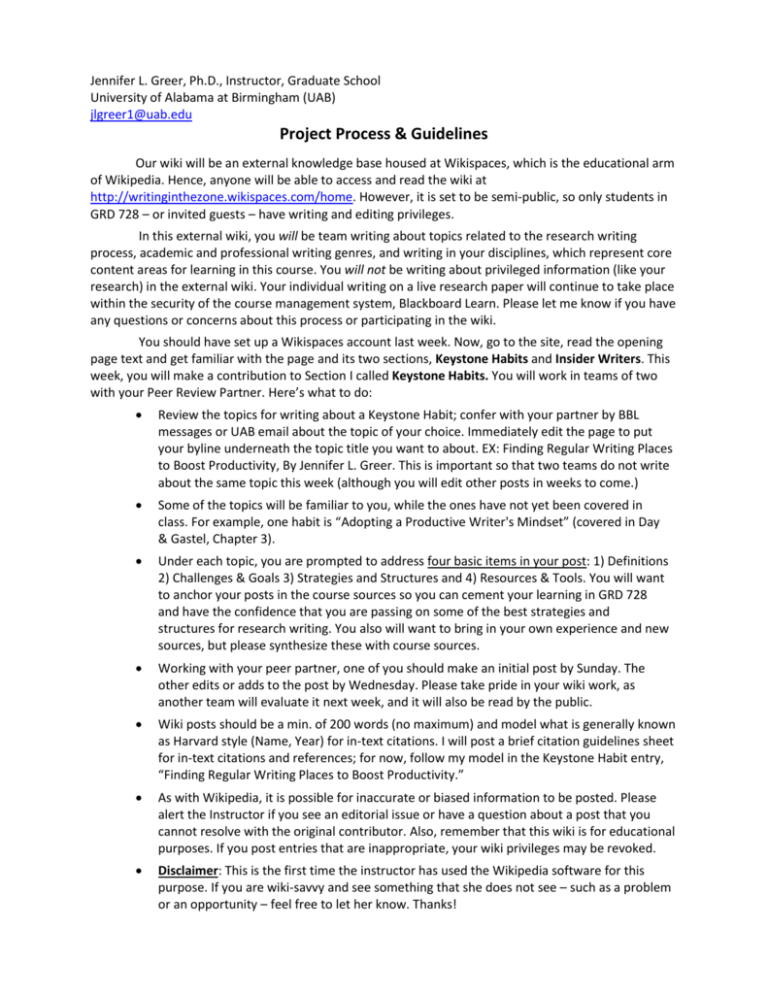 Jennifer L. Greer, Ph.D., Instructor, Graduate School
University of Alabama at Birmingham (UAB)
jlgreer1@uab.edu
Project Process & Guidelines
Our wiki will be an external knowledge base housed at Wikispaces, which is the educational arm
of Wikipedia. Hence, anyone will be able to access and read the wiki at
http://writinginthezone.wikispaces.com/home. However, it is set to be semi-public, so only students in
GRD 728 – or invited guests – have writing and editing privileges.
In this external wiki, you will be team writing about topics related to the research writing
process, academic and professional writing genres, and writing in your disciplines, which represent core
content areas for learning in this course. You will not be writing about privileged information (like your
research) in the external wiki. Your individual writing on a live research paper will continue to take place
within the security of the course management system, Blackboard Learn. Please let me know if you have
any questions or concerns about this process or participating in the wiki.
You should have set up a Wikispaces account last week. Now, go to the site, read the opening
page text and get familiar with the page and its two sections, Keystone Habits and Insider Writers. This
week, you will make a contribution to Section I called Keystone Habits. You will work in teams of two
with your Peer Review Partner. Here's what to do:

Review the topics for writing about a Keystone Habit; confer with your partner by BBL
messages or UAB email about the topic of your choice. Immediately edit the page to put
your byline underneath the topic title you want to about. EX: Finding Regular Writing Places
to Boost Productivity, By Jennifer L. Greer. This is important so that two teams do not write
about the same topic this week (although you will edit other posts in weeks to come.)

Some of the topics will be familiar to you, while the ones have not yet been covered in
class. For example, one habit is "Adopting a Productive Writer's Mindset" (covered in Day
& Gastel, Chapter 3).

Under each topic, you are prompted to address four basic items in your post: 1) Definitions
2) Challenges & Goals 3) Strategies and Structures and 4) Resources & Tools. You will want
to anchor your posts in the course sources so you can cement your learning in GRD 728
and have the confidence that you are passing on some of the best strategies and
structures for research writing. You also will want to bring in your own experience and new
sources, but please synthesize these with course sources.

Working with your peer partner, one of you should make an initial post by Sunday. The
other edits or adds to the post by Wednesday. Please take pride in your wiki work, as
another team will evaluate it next week, and it will also be read by the public.

Wiki posts should be a min. of 200 words (no maximum) and model what is generally known
as Harvard style (Name, Year) for in-text citations. I will post a brief citation guidelines sheet
for in-text citations and references; for now, follow my model in the Keystone Habit entry,
"Finding Regular Writing Places to Boost Productivity."

As with Wikipedia, it is possible for inaccurate or biased information to be posted. Please
alert the Instructor if you see an editorial issue or have a question about a post that you
cannot resolve with the original contributor. Also, remember that this wiki is for educational
purposes. If you post entries that are inappropriate, your wiki privileges may be revoked.

Disclaimer: This is the first time the instructor has used the Wikipedia software for this
purpose. If you are wiki-savvy and see something that she does not see – such as a problem
or an opportunity – feel free to let her know. Thanks!