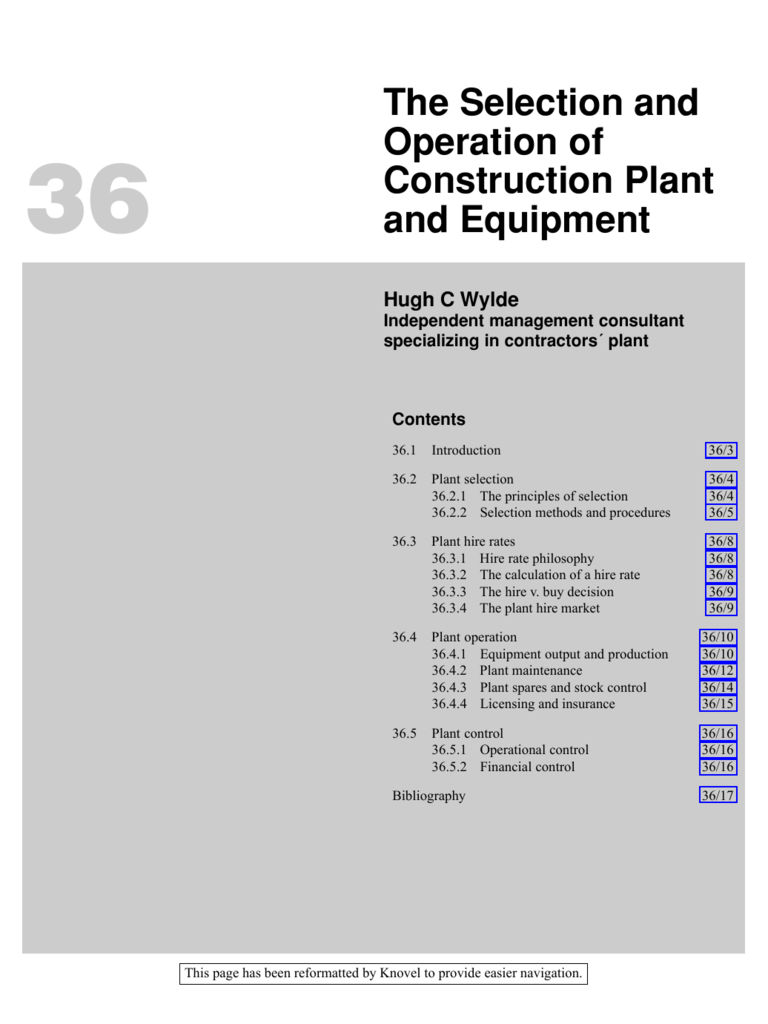 36
The Selection and
Operation of
Construction Plant
and Equipment
Hugh C Wylde
Independent management consultant
specializing in contractors´ plant
Contents
36.1
Introduction
36/3
36.2
Plant selection
36.2.1 The principles of selection
36.2.2 Selection methods and procedures
36/4
36/4
36/5
36.3
Plant hire rates
36.3.1 Hire rate philosophy
36.3.2 The calculation of a hire rate
36.3.3 The hire v. buy decision
36.3.4 The plant hire market
36/8
36/8
36/8
36/9
36/9
36.4
Plant operation
36.4.1 Equipment output and production
36.4.2 Plant maintenance
36.4.3 Plant spares and stock control
36.4.4 Licensing and insurance
36/10
36/10
36/12
36/14
36/15
36.5
Plant control
36.5.1 Operational control
36.5.2 Financial control
36/16
36/16
36/16
Bibliography
This page has been reformatted by Knovel to provide easier navigation.
36/17
36.1 Introduction
The effective selection of construction equipment for use on any
construction project relies on the proper analysis of three
principal considerations:
(1) Technical efficiency, i.e. the requirement that the particular
construction task be completed to the correct specification
within the project timetable, by using the correct machines.
In short, this identifies the plant with the ability to perform
the job.
(2) Commercial and financial viability, i.e. that the cost of the
equipment falls within the estimates for the specific project.
In addition, where purchase of equipment is involved, the
selection must meet the overall financial criteria required
by the construction company as a whole.
(3) Availability - equipment can be supplied from a number of
sources, i.e. existing internal holdings, the hire market or
by additional purchase.
Within the UK, the last 15 years have seen the continued
development of a sophisticated and efficient plant hire industry,
giving contractors the option of hiring-in their plant requirements, as an alternative to buying and providing their own
machines. This development has now reached the stage where it
is estimated that 50% of all contractors' requirements are met
by the plant hire industry. Therefore, the commercial analysis
element of selection defined in (2) above should consider the
relative cost of owning or hiring in any particular situation and
most contractors will use a mixture of internal and external
resources.
Outside the UK, there are very few countries with a comparable hire industry, with the result that, on overseas contracts,
most requirements will be met by purchase. However, staff
responsible for selecting and procuring plant for overseas work,
should be aware of the plant hire alternative, albeit that local
resources may be limited. There is no doubt that a hire market
will develop gradually in other countries.
Within any construction group, the main financial assets
consist of plant and equipment. Therefore, site staff should be
aware that the correct selection of these items not only affects
Figure 36.1 A Caterpillar dozer stripping a site
the profitability of their own contract but is also fundamental to
the longer-term success of the company. As a consequence, the
above selection considerations should be analysed by the appropriate level of management, as there may well be a need to
resolve a conflict between what is technically desirable and what
is financially viable. Although the young engineer on a particular project is concerned mainly that the equipment fulfils the
technical requirements, the plant manager and/or the construction manager need to reconcile the technical/commercial factors
so that the best commercial decision is taken in the overall
interests of the company. On many occasions this will involve
compromise.
This chapter, therefore, is designed to indicate how the
selection and procurement of the correct piece of plant should
be approached. There is no substitute for dealing with this
selection process in a formal and organized manner. Although
there is a tendency to make decisions on an informal basis, often
because of time constraints, this can be dangerous. Before any
organization commits itself to expenditure, especially of a
capital nature, there should be an established procedure for
arriving at a decision to ensure that no options are overlooked.
This procedure should be applied whatever the size of company.
Clearly, in the smaller firm the decision may be the responsibility of at most one or two people but in the larger construction
organizations there are usually specialist departments which
may be involved in different aspects of the decision. Most major
contractors have a separate plant department whose primary
function is to serve the plant requirements of the construction
sites whilst protecting the longer-term position of the company.
It is normal in the UK for the ownership of plant within a
construction group to be vested in the plant department,
whether it be a division or a separate operating company. It is
therefore the responsibility of this department to ensure that the
correct selection procedures are followed particularly where
purchase is involved.
Having selected and procured the right piece of equipment,
there is then a responsibility to ensure that it is used in an
efficient, economic and safe manner in order to support the
original decision. This chapter, therefore, also looks at the
operation and control of plant in the field situation.
36.2 Plant selection
36.2.1 The principles of selection
The need for selection of construction equipment can arise from
a number of situations, which vary according to the nature and
size of the organization.
36.2.Ll Requirements for new contracts or groups of
contracts in the UK
During any construction work, there will be requirements for
items of plant and equipment in order to carry out the work in a
more cost-effective manner. This involves site staff initially in
making a technical selection using the following criteria:
(1) Comparing mechanization with other more labour-intensive methods of working. For example, the degree of
mechanization may be higher in the UK where labour costs
are greater, than in other countries where there is an ample
supply of more economic labour. However, the nature of
modern construction methods, materials and components
means that even overseas contracts are nowadays substantially mechanized.
(2) Comparing alternative plant methods for a particular
operation. Bulk earthmoving may be carried out either
with tractors and scrapers or with lorries and loading
shovels/excavators depending on the outputs required.
Although site management will ultimately be responsible for
selecting the appropriate type of equipment in line with the
above criteria, it must be stressed that the analysis should start
at the time of tender. Estimators and planners should take steps
to define the scope of the construction work and to make a
preliminary technical selection in order that the work can be
priced. As far as cost and availability are concerned, for smaller
items of general plant, especially of the nonoperated variety, the
estimator will probably be aware of internal and external
resources and the relevant charging structures. Therefore, at this
stage there is unlikely to be a great deal of further commercial
Figure 36.2 A Caterpillar wheeled loader working in a quarry
analysis of these items. The situation will be different for larger
specific pieces of equipment, e.g. tower cranes, earthmoving
plant and similar operated machines. Because of limited availability internally and/or externally, a more detailed commercial
analysis will be necessary to identify the source of probable
supply which complies with the programme. In addition, consideration must be given to the financial aspect, which may have
to include the cost of a number of factors such as erection and
dismantling, transport, etc. This is particularly important if the
contract is likely to entail a substantial investment in the
purchase of plant, in order to establish at the outset that the
financial resources are available and approved.
The estimators' information should ideally be made available
to site management, who, of course, must then be in a position
to review and modify the initial projections to suit conditions on
the ground. At that stage, however, greater attention must be
paid to the commercial aspects of selection over the whole range
of plant to ensure that the best deal is achieved.
36.2.L2 Requirements for major new overseas contracts
This is a somewhat specialized problem. For practical and
financial reasons it is often impractical to move plant and
equipment from one country to another. Apart from the cost of
shipping, import restrictions and duty, etc. may inhibit the
movement of plant. Therefore, requirements are usually met by
purchasing new or secondhand, specially for the particular
project. This equipment will then be maintained and operated
totally at the expense of that project and will be sold on
completion.
In the period when overseas work was plentiful and profitable, price tended to be a secondary consideration behind
technical specification. However, the present decline in overseas
work, particularly in areas such as the Middle East, together
with increased competition, means that just as much emphasis
must be placed on commercial considerations. The purchase
price, the shipping cost, the cost of spares and the ultimate
resale value are of critical importance if work is to be competitive.
Having said this, the importance of correct technical selection
should not be underestimated. Overseas contracts are often
carried out in remote areas where the contractor is required to
be self-sufficient. Site investigations must be intensive to determine the conditions under which the plant will operate. Problems such as extreme heat, dust, high humidity, and inexperienced operators must be allowed for both in the initial selection
and in the provision of spares and maintenance facilities. A
serious breakdown cannot be overcome by phoning the nearest
dealer or plant hire organization for a replacement. Therefore,
new models or developments should not be considered for an
overseas environment until they have been thoroughly proven.
36.2.1.3 Existing machine replacement
Taking the UK, this is most likely to occur in: (1) a major
construction company; (2) a plant hire organization; (3) a public
authority; and (4) a process contractor, i.e. open-cast mining.
Each of these organizations will own a permanent fleet of
equipment and will be able to generate sufficient utilization to
warrant ownership. As a result of age or obsolescence, this fleet
will have to be replaced periodically. However, since the replacement will almost certainly be of the same type as the original
and may even be the identical model, there need be only a
limited technical assessment. An examination of modifications
and improvements should be sufficient, although admittedly
there is the opportunity to look at similar machines of a
different manufacture. Nevertheless, one of the most important
commercial factors affecting equipment selection is standardization, as substantial ownership of the same make and model of
plant can achieve savings in ownership costs. For example,
maintenance and operating familiarity are important considerations, as is the level of spares holdings.
It is clear, therefore, that in this particular situation, technical
considerations may well be secondary to commercial ones,
assuming that the original machine has been successful in
operation. In fact, the construction company or public authority may well decide to divest itself, either partly or wholly, of a
particular type of plant if it feels that its requirements can be
more economically met from the plant hire market. The process
contractor is unlikely to have this opportunity because of the
specialized nature of the plant involved.
36.2.1.4 New developments
From time to time, manufacturers produce new types of
machines or new models within existing ranges. Investment in
new developments should be treated with great caution until it
has been possible to carry out a full technical and commercial
appraisal on the same basis as any other selection situation. It is
important to establish that the new equipment is either technically or commercially superior to previous alternatives. The
benefits should also outweigh the costs of change including
items such as spare parts and retraining, etc.
Having done a theoretical appraisal, it is imperative that
practical equipment tests are carried out, preferably on more
than one machine and over a lengthy period. A manufacturer's
demonstration is not suitable and neither is a free loan or trial as
this often has strings attached. The most reliable method is to
hire-in a similar unit so that it can be tested under normal field
conditions over a proper trial period.
From the foregoing paragraphs it will be seen that the
selection process can be summarized under the following stages:
(1) Selection of the best type of machine to do a particular site
task.
(2) Selecting the source of supply.
(3) Selecting the right make and model, should purchase be
necessary either as new or replacement.
Each of these stages involves a technical and commercial
investigation to varying degrees and in the next subsection we
look at the procedures and methods to be adopted for completing each stage.
36.2.2 Selection methods and procedures
36.2.2.1 Selection to meet contract requirements
This selection process can be broken down into six separate
stages: (1) task identification; (2) preliminary selection; (3)
machine output estimation; (4) machine matching; (5) output
costing; and (6) final selection. One of the dangers of any
analytical process is that the work involved may not be justified
by the end-result. Therefore, an objective view must be taken at
the outset to ensure that the project warrants detailed consideration of the alternative machines and methods available. It may
well be possible, in the case of straightforward requirements, to
shorten this selection process, particularly if site management
have previous similar experience on which to base a decision.
Task identification. When selecting the most appropriate
equipment to meet a contract requirement, consideration must
firstly be given to the nature of the particular site task before the
actual, alternative plant methods can be examined. To enable us
to demonstrate a practical construction situation, in all the
following examples we have used earthmoving as an illustration,
as it is one of the main components in civil engineering work.
Therefore an earthmoving job should be looked at from the
following aspects: (1) duration and programme; (2) location; (3)
material specification; (4) distances and site conditions, i.e.
gradients, etc.; (5) weather; (6) special conditions, i.e. safety; and
(7) legal and contractual. The site engineer will generally be
responsible for analysing these factors, often taking into account any surveys done at tender stage.
Preliminary selection. The next step is for the site engineer to
identify the various types of plant which would be suitable for
carrying out the above task. At this stage, all options would be
considered in relation to factors such as the nature of digging,
i.e. hard or soft ground, and the travelling conditions, i.e.
whether tracked or wheeled machines are most appropriate.
Preliminary enquiries would also be made concerning the
availability either internally or externally of various groups
of machines.
Machine output estimation. Calculations must then be made of
the outputs which can be achieved using two or more alternative
methods. Where operations lose money because of inefficiency,
it is very often because over-optimistic assessments have been
made of machine outputs, usually based on unrealistic figures
provided by equipment manufacturers. In this area there is no
substitute for practical production experience and in a later
section we shall look at outputs in more detail.
Machine matching. Logical selection implies that the machine/s
finally selected will be matched to the task, i.e. the machine
capacity will match the job requirement. For example, concretemixer output should match the placing team production, and
crane capacity and speed should match the other plant with
which it will work. To take a simple example, if the company
owns/operates three 5-m3 tippers matched with a loading shovel
with a potential output of 30 m3/h, then the shovel can complete
six loads per hour. A decision must then be made whether the
distance to the tipping point is such that three tippers can cope
with this output. If not, more vehicles or larger ones may be
needed.
Output costing. Once the outputs of various alternatives have
been established, these outputs must be converted into costs.
Taking our example of the loader with an output of 30 m3/h, if
we assume that the hire rate or provision cost for that machine is
£12/h, each metre cube will cost 4Op to load plus vehicle cost.
(3) Costs of ancillary items such as transport, erection and
dismantling, and fuel consumption.
(4) The availability of equipment from internal resources or
from the hire market. This includes information on the
delivery of new purchases.
Final selection. The final selection is best achieved by tabulating the cost of the various alternatives, so that the most
economical can be identified (see Figure 36.3). This cost comparison may also reflect other commercial factors, i.e. the
charges for transporting the various alternatives together with
the differing fuel costs, if it is felt that these will influence the
final decision. This also assumes that all the alternatives will
complete the task within the programme period. However, this
is not always the case and there may have to be some compromise between cost and time, particularly if there are penalty
clauses in operation. Finally, the availability of the chosen
method must be checked to ensure that the equipment can be
supplied to meet the programme starting date.
In the above analysis of the technical, commercial and
availability factors, clearly the site management initiate the
investigation and must take the final decision on machine
selection. However, it is essential that they draw on the accumulated experience of the company plant organization. This department should be able to supply detailed information in the
following areas:
There has been a tendency on the part of contract management
over the years to underestimate the role of the experienced plant
manager and of the plant department. On a civil engineering
contract, the plant content of the job value can be as high as
40%, particularly on major overseas projects, and the efficient
management and operation of this plant are therefore critical to
success. The field plant manager and the central plant department should therefore have clearly defined functions which are
accorded a proper position in the overall management team.
36.2.2.2 Selection for purchase purposes
Within a construction organization, equipment will be purchased either as a replacement or as an addition to existing
holdings. This investment must be preceded by a selection
process to determine the most suitable make and model from a
technical point of view for the applications to which the
equipment will be put. In addition, the commercial implications
of ownership must be calculated:
(1)
(1) Provision of machine data from their technical library.
(2) Provision of weekly or hourly hire rates for machines
based either on their charging system for internal plant or
on the external market.
Start
date
Preliminary
selection
Volume to
be moved/
excavated
Estimated
output
(O'A*
machine
(2) 'B'
machine
(3) 'C and 'D'
machines
Figure 36.3 Plant selection analysis chart
Time
allowed
for task
completion
(h)
In order to establish a hire rate for the machine so that it
can be charged to individual sites on the basis of usage.
Most construction organizations now treat their plant and
equipment holdings as a separate profit centre with the
result that plant is charged out internally on an equitable
Time
required
for task
completion
(h)
Total cost
of machine
per h
Cost per
yd Vm '
per h
Length
of time
on site
Final
selection
basis to each site. In addition, this method ensures that the
full costs of ownership are recovered over the life of the
machine.
(2) To enable the company to make a comparison between the
cost of ownership and the cost of hiring-in the equivalent
item. If an internal hire rate is calculated based on ownership costs, then this can be directly compared with the
market-place to ascertain whether it would be more economical to hire.
In the UK, on a large project, in particular a joint venture, it
may be necessary to purchase special equipment specifically for
that job, with a view to either disposing of it at the end or
alternatively writing it off over that contract. A tunnelling
machine could be an example of such equipment. Even then, a
technical appraisal will be carried out, although the commercial
appraisal will be concerned principally with the cost of financing
the purchase. It will be necessary to define the method and
timing of the recovery of the ownership costs from the client.
Therefore, although the selection process which accompanies
a purchase still takes into consideration the technical and
commercial factors, the actual procedures and methods of
selection vary from those adopted when making a site selection.
In fact, they are usually an extension to that situation, i.e. the
site selects the machine it requires given certain performance
and charging rates; the plant department then either supplies the
machine from within existing resources, or purchases new or
arranges external hire.
Technical evaluation. In any purchase situation, the buyer is
likely to find that there is a number of alternative makes and
models of machine on the market which may meet the required
specification. It is therefore essential to establish a formal
procedure for evaluating these alternatives to ensure that the
most satisfactory purchase is made. In the book Construction
plant - management and investment decisions, Frank Harris discusses a systematic approach to evaluation of equipment alternatives developed by the American consultants, Kepner and
Tregoe which is suitable for carrying out a detailed analysis on a
major investment. However, there is again a danger that the
analytical work involved may not be justified by the result. The
buyer should look at each situation and decide what degree of
investigation is warranted. For example, greater effort would be
devoted to the selection of a large crawler crane than to a twotool compressor. For practical purposes, there are certain steps
that should be undertaken as a minimum requirement, whatever
the scale of the equipment. These are as follows:
(1) Define the minimum machine characteristics required to
fulfil the type of work required of it. This definition should
certainly include:
(a) performance capabilities i.e. digging depth, speed, etc.;
(b) physical dimensions and weight;
(c) engine specification;
(d) chassis, i.e. wheeled or tracked;
(e) statutory requirements; and
(O safety features.
Also, try to define any characteristics which may not be
essential but which would be desirable. For example, you
may prefer automatic lubrication to be fitted, but this need
not be a critical factor.
(2) Make an initial selection of the makes and models which
appear to come nearest to meeting the above characteristics and obtain manufacturers' detailed specification sheets
and data.
(3) The basic information must then be analysed in a chart
form under the headings mentioned in (1) above so that
there is an easy visual comparison, with the object of
finding those models that correspond most nearly to the
overall requirements. On this chart you will also indicate
any special features possessed by each machine together
with details of any optional extras offered by the manufacturer. All serious contenders should match all of the
essential requirements and as many of the preferred requirements as possible.
(4) Contact the various manufacturers and ask to see their
representatives so that you can discuss the technical specification in more detail. If you are not familiar with the firm
and their products, ask for information on other existing
users whom you can contact to discuss whether they are
satisfied with that model. Manufacturers should be quite
happy to give you this sort of information and other users
are usually very willing to talk about their experiences. In
addition, seek information from the manufacturer on any
units owned by hire firms, in order that you can arrange for
a machine to be hired-in for a trial period.
Commercial evaluation. At the time you obtained the technical
information from the manufacturers, you should also have
obtained an initial quotation showing the cost of the machine to
the basic specification together with the price of any optional
extras. However, the commercial evaluation does not end with
the price. Therefore, in discussion with the representative,
satisfy yourself regarding the following additional factors:
(1)
(2)
(3)
(4)
(5)
(6)
(7)
(8)
(9)
(10)
The delivery period.
Delivery costs.
Spare parts availability and cost.
Service support from dealers/manufacturers.
Operator and fitter training if necessary.
Fuel consumption and running costs.
Driver comfort.
The longer-term reliability of the company.
Payment terms, i.e. discounts and deferred payments.
Special financing arrangements, i.e. leasing, hire purchase.
(11) Buy-back terms against future replacement.
This may seem a mammoth exercise, but any of these items are
neglected at your peril. It is no use having the machine with the
best technical specification if the supplier goes out of business
and spare parts become unobtainable.
One other aspect which is particularly relevant to overseas
plant is that of secondhand equipment. A contractor working
overseas may well find that there is plant available from other
previous projects in the same area. Clearly, if it is possible to
obtain good secondhand machines locally, then there must be a
substantial saving on the new price, particularly if this avoids
shipping costs. However, it is essential that, firstly, a full
inspection and technical evaluation is carried out. In an overseas
environment, it is far more difficult and expensive to rectify
selection mistakes so the purchaser must be absolutely sure that:
(1) the equipment is right for the job; and (2) it is mechanically
sound. In most cases, a full physical examination is a necessity,
possibly carried out by the manufacturers or their representatives.
Final selection. At this point the management must make a
decision based on the importance they attach to the technical
and commercial factors and in many cases the result will be a
compromise. In the situation where a machine is being bought
to carry out a specific duty on certain well-defined contracts
then, clearly, the technical specification will be of overriding
importance, but if standard items of contractor's plant are being
purchased as part of the general fleet, then commercial considerations become more important.
Communications. In a construction company of any size, the
selection of plant for a job either at the tender or operational
stage requires the co-operation and communication of a number
of different people from different departments working towards
a common objective. Good communications are therefore
imperative. If basic disciplines are to be observed, then a good
deal of these communications are best conducted in a formal
manner. It is worth highlighting at this stage certain essential
examples:
(1) The plant department representative should be involved in
tender meetings. Where the estimators lack information
and costs on plant, the advice of the plant personnel should
be sought in obtaining this information. Finally, the estimators/planners should produce a list of plant requirements in bar-chart form.
(2) Once a tender looks promising, the plant department
should be sent a copy of the plant list, so that they can start
making certain preliminary enquiries on availability, etc.
Clearly, when the contract manager arrives on site this may
well alter, but certain elements will remain unchanged.
(3) Once the contract has been awarded, there is often a precontract meeting of everyone likely to be involved. It is
imperative that plant is seen to be an important part of the
agenda and that the plant department is represented.
Certain decisions may have to be made at this early stage
on, for example, site accommodation.
(4) Once the site is under way, it is vital that plant is ordered
from the plant department in writing in a formal manner
using a requisition or order form, so that the essential
information is clearly set out and so that the site can
progress requirements in an organized manner. This form
should include information on the delivery date and the
estimated period of the requirement, as this is a vital factor
in the commercial assessment. In addition, it should clearly
specify any attachments or modifications that are required.
It is amazing the attention which is paid to the specification, ordering and scheduling of materials, when substantial plant requirements can be ordered over the telephone
in a haphazard fashion.
internal charging. At the same time it is also possible to make a
straightforward comparison between the alternative of supplying requirements from internal resources or from the external
hire market.
Therefore, all levels of construction management should be
aware of the basis of calculation of hire rates and the importance of ensuring that they reflect the true ownership costs. The
cheapest is often not the best, even as far as outside hire firms
are concerned, as it is likely that the firm will be offering
unreliable plant and poor service. In the context of overall
contract costs, a small saving in hire rate can easily be more than
offset by the cost of lost production when plant fails to perform
satisfactorily.
36.3.2 The calculation of a hire rate
The accompanying chart (Figure 36.4) defines:
(1) The factors which should be considered when calculating a
rate.
(2) The method of calculation to arrive at an hourly, daily or
weekly rate depending on how the machine is charged.
Machine details: Smiths Model 36 Thumper c/w spare skip
Machine cost: £5000 incl. spare skip and delivery charge
Rate factors
Economic life: 5 years
Residual value: £500
Utilization: 70% based on a 49-week working year
Interest charge: 15% per annum on reducing capital cost
Repair cost: 12% per annum on capital cost
Overheads: 10% per cent on total machine costs
Rate calculation
Depreciation - cost less residual over 5 years
Interest charge
Repair cost
Total machine cost
Overhead cost
Annual cost
900.00
375.00
600.00
1875.00
187.50
36.3 Plant hire rates
36.3.1 Hire rate philosophy
The decision to own plant and equipment involves the contractor in accepting the costs of that ownership. In addition, these
costs must be recovered over the life of the machine in order that
a fund is created to buy the replacement. Assuming that the
equipment is only used on internal work, then the ownership
costs must be paid for out of the construction work. Most plant
managers are all too familiar with the site management which
expects internal machines at rock-bottom prices, in order to
secure work. However, there are serious dangers for the financial well-being of the company as a whole, in the philosophy
that plant rates should be cut to secure work. Any failure to
recover the true ownership costs from the user contracts means
that the shortfall must be made good as a company from the
overall construction profits.
It is also fair that each contract should bear the proportion of
the ownership costs which relate to the period of their machine
use. As mentioned earlier, most construction groups nowadays
operate their plant activity as a separate profit centre which
charges the internal sites for the machines they use at an agreed
internal rate, on a similar basis to the charge received from
external hire firms. This method not only overcomes the problems mentioned above but it also simplifies tendering and
Total cost
£2062.50
Cost recovery period 49 weeks x 70%
Hire rate per week necessary to recover cost
£2062.50
Hire rate based on a 60% utilization, i.e. 29 weeks
34 weeks
£60.66
per week
£71.12
per week
Driver and fuel costs are not included in the above rates. However, where
appropriate an annual cost can be included in the calculation. Licensing
and insurance can be calculated separately but for the purposes of this
exercise have been included in the overheads.
The above rates do not include any profit element, only costs.
Assuming normal inflation, the basic purchase price of the replacement
will rise over the 5-year period. Rates should therefore be reviewed
annually in line with inflation.
Figure 36.4 Hire rate calculation
The costs of fuel and operator have not been included in the
calculation as these are usually paid for by the site when plant is
supplied internally. External hire firms will, however, provide an
inclusive rate which covers these items. One factor which is
often overlooked by construction managers is the element of
finance. Before plant is purchased, money must be available to
pay for it. The requisite cash can be provided from a variety of
sources, i.e. loans, shareholders' investment, leasing or spare
funds generated in the course of trading. Whatever the source,
the provider of the money will expect a return or interest.
Alternatively, if it is internal money, then it could be invested in
a deposit account to yield a regular interest or could be used to
finance further construction work. Therefore, it is important
that the hire rate reflects the cost of that money. A leasing
company will expect the customer to pay an interest charge in
addition to paying back the capital.
The other factors in the hire calculation are mainly selfexplanatory. In the case of repair and overhead costs, it is
clearly difficult to quantify these accurately for each individual
machine. However, by looking at historical ratios, it is usually
possible to establish an acceptable method of assessing future
costs in these areas.
The principal factor determining the hire rate on any machine
is the utilization. Once the costs of ownership have been
quantified, then these costs must be recovered over the actual
working or chargeable hours as the equipment will not be
earning whilst it is standing off-hire. Some of the cost elements
in the hire rate, i.e. depreciation, finance, insurance and to a
certain extent overheads, etc. are of a fixed nature irrespective of
how much work the machine does, and can be predicted
reasonably accurately over the life of the machine at the time the
rate is calculated. However, the other costs, such as maintenance, are variable depending on the level of utilization. Any
drop in utilization therefore increases the proportion of fixed
cost in the rate so that costs overall do not decline in proportion
to income. Conversely, if the targeted utilisation is achieved,
then at that point most of the ownership costs have been
covered and any additional utilization over and above target is
extremely profitable. A hire rate is therefore very sensitive to
changes in utilization, a factor which is to a certain degree
outwith the control of the owner. Prediction of fujture utilization
levels is therefore difficult and should be treated with caution
unless there is a very clear historical pattern. The impact of a
change in the predicted utilization is illustrated in the hire rate
calculation shown in Figure 36.4.
If contract management recommend the purchase of a particular machine on the basis that they can find work for it for on
average 36 weeks a year out of a possible 48 weeks, then that
equates to a 75% utilization. On this basis the company may
decide that purchase is warranted because the ownership costs
can be recovered by the plant department over that sort of
period using a hire rate which is more economical than the
external rate. Suddenly the contract management finds that
certain work does not materialize and the utilization level drops
below the anticipated level. In this situation not only is there the
danger that the company will not recover its costs at the right
rate but it has also been led into a decision in favour of
ownership when external hire could have been cheaper. Once a
commitment to purchase has been made, it is usually- expensive
to try to reverse that situation.
Over recent years the construction market in the UK has been
declining and future workloads have been difficult to predict.
This partly explains the growth of the hire market in an
environment where the contractor is reluctant to invest in plant
on the basis of an uncertain utilization. Hence, the importance
of understanding the hire rate calculation.
Earlier, it was stated that the estimator/contract manager
requires hire rates for potential machines in order to be able to
calculate the costs of output. It cannot be emphasized too
strongly that equipment selection should not be made on the
criteria of hire rate alone. What matters are production costs
and the cheapest machine may not be the most efficient or
reliable.
36.3.3 The hire v. buy decision
Several times in preceding paragraphs, mention has been made
of the necessity to make the decision between buying and hiring
as one of the last stages in the selection process. Normally, the
decision to hire will be taken for the basic commercial reason
that the external hire rate is cheaper, assuming that both
internal and external sources have equipment of similar specification. However, there are a number of other practical considerations that could influence that decision in favour of external
hire as follows:
(1) Short-term requirements where the utilization does not
justify purchase.
(2) The distance of the site from the company operating base
making transport costs on plant uneconomical, particularly in relation to short-term requirements.
(3) Bad ground conditions. The company may be reluctant to
use its own machines on ground which will cause undue
wear and fatigue.
(4) The supply of company machine operators could present
problems, with the result that it is easier to hire a unit
complete with operator.
Despite these factors in favour of external hire, every reasonable
effort should be made to use internal company resources providing the cost differentials will not have a material effect on the
success of a contract. Apart from the basic commercial reason
that the company is recovering some of the costs incurred on
that investment, there are also a number of practical reasons
why internal hire may be favourable, i.e.:
(1) Better company image and presentation.
(2) Certain clients insist at time of tender that the contractor
should show evidence of its plant resources.
(3) It may be possible to exert greater control over the quality
and performance of internal plant.
To summarize, contract management and plant management
should make a joint decision on the sourcing of equipment
requirements which takes into account the overall best interests
of the company.
36.3.4 The plant hire market
Apart from the decision to hire for clear commercial reasons,
there may also be situations, even on overseas contracts, where
hiring is the only reasonable solution. For example, very few
contractors own the largest heavy lift cranes because of the
massive investment involved to meet what may be intermittent
requirements. In addition, this type of equipment requires a
high degree of specialist back-up and operating expertise which
is unlikely to be present within the construction organization. In
this situation, it will still be necessary to carry out a technical
appraisal to identify the most suitable plant method but the
commercial appraisal will be limited to a comparison of alternative hire companies to identify the most economical package.
Availability may also be critical in this selection, as there is only
a limited number of machines of this size in the market.
The decision to hire any item of plant involves the contractor
in entering into a formal legal contract with the hire company.
In the UK most hires are conducted under the conditions laid
down in the document known as the Model conditions for the
hiring of plant published by the Contractors' Plant Hire
Association. These conditions place certain clearly defined
responsibilities on the hirer regarding, for example, the control
of the driver. Therefore, within most construction organizations, the ordering of hired equipment is conducted by the plant
department on behalf of the individual contract. Apart from
giving the plant department the opportunity to look at the
alternative of supplying internally, this also ensures that the
company does not enter into a contract where the terms and
conditions could prove onerous or unfair. Although site
management are inclined to hire-in plant on their own initiative,
there are many examples of situations where this has proved
disastrous, particularly when something has gone wrong, i.e. in
the case of an accident involving the plant. Contract management should avail themselves of the experience of the plant
organization in dealing with the hire of plant and, in fact, in
many organizations it is mandatory that all requirements are
channelled through the plant organization.
36.4 Plant operation
that particular task. However, in any situation where the
progress of the job depends on materials production or handling, the output should be looked at in two distinct phases:
(1) The calculation of optimum outputs based on the operating
cycle and on the manufacturers' machine data.
(2) The assessment of realistic outputs taking into account the
effect of site conditions.
As a simple example, on a house-building job, the success of the
brickwork operation can depend on the size and output of the
mixer used. A 5/3.5 mixer will take around half a minute to mix
a O.lm 3 batch of concrete but the actual production time will
take longer than this, depending on the efficiency of the operative and the availability of materials, etc.
36.4.1 Equipment output and production
36.4.1.1 Calculating optimum output
We have established that the first stage in the selection process
requires the site engineer to choose the right type of machine for
the job. In other words, the method will be selected which
achieves the task within the allotted contract programme. At
this stage the engineer has three sources of information, on
which to make the appropriate calculations and decision. These
are:
Taking an earthmoving operation, as this represents a major
component in civil engineering work, let us consider a task
involving loading lorries using a loading shovel. The first step is
to calculate the operating cycle for the loader which is as
follows:
(1) The parameters of the particular task as set out in section
36.2.2.1.
(2) The machine data supplied by the manufacturer.
(3) The practical experience of performing that sort of work.
(1)
(2)
(3)
(4)
(5)
In efforts to secure work it is not unknown for estimators and
planners to take an over-optimistic view of the outputs which
can be achieved on site because they have either relied on
manufacturers' information which is unrealistic or they have
neglected to take account of previous experience and the effect
of adverse site conditions. Certain manufacturers' literature will
even quote outputs which can be expected from machines, but
these are invariably based on certain assumptions on site
conditions, which may not necessarily be relevant to the task
under review. Therefore, there is no substitute for carrying out
your own calculations of output. Obviously, the time spent on
this sort of exercise must relate to the importance and value of
Timings for all these elements can be obtained from a combination of the manufacturers' specification details and the physical site circumstances. The next step is to calculate the size of a
bucket load of material, i.e. the heaped capacity of the bucket.
In this context it is most important to remember that the loose
material may represent a different volume from the same
material in its solid banked form, i.e. soil increases in volume
when dug. In its undisturbed state, the soil is measured in 'bank'
units. The moment it is disturbed, the soil swells and, when
further break-up occurs, e.g. the transfer from the bucket to the
vehicle, the volume increases still further. As might be expected,
materials consisting of small grains such as sand or sand/gravel
Figure 36.5 An Akerman excavator loading a dumptruck
Dig into spoil heap.
Reverse and raise bucket.
Slew and travel to vehicle.
Dump material.
Slew and return to dig whilst lowering bucket.
Figure 36.6 An Akerman excavator on a pipelaying contract
mixes do not increase in volume as much as, say, clay. To
change bank measures into loose measures, multiply by the
swell or banking factor. Examples of typical swell factors are
given in Table 36.1. From the calculated cycle time and the
assessed loading of the bucket vehicle it is possible to calculate
the output of the loader assuming that there is a constant supply
of vehicles.
Table 36.1 Typical material characteristics
Material
Clay
Earth loam
Gravel
Gypsum
Iron ore
Limestone
Sand
Sandstone
Trap rock
Swell factor
.40
.25
.12
.74
.33
.67
.22
1.54
1.65
The weight and load size will vary with factors such as moisture content,
degree of compaction, etc. A test must be carried out to determine an
exact material characteristic.
When calculating the cycle time and output of plant or
vehicles, where the essential function is transport of materials,
information must be available on the anticipated routes, analysed into the following elements: (1) distance; (2) gradient; (3)
rolling resistance, i.e. ground conditions; (4) average speed; and
(5) the nature of the route, i.e. curved or straight. These
elements may change as the job progresses, i.e. different tipping
areas can be employed. There may also be variations in the
elements due to seasonal factors, i.e. a hard road in the summer
may become a muddy one in the winter, thereby altering the
rolling resistance and the speed.
36.4.1.2 Reducing factors
To convert optimum outputs into realistic outputs, there are a
number of reducing factors which are as follows:
(1) The mechanical reliability of the machine. Breakdowns can
never be completely eliminated and some time must be lost
for this factor, based on previous experience.
(2) It should be possible to carry out routine servicing and
refuelling outside normal working hours, so that machine
availability is not affected. However, this may not always
be possible and it may be necessary to carry out certain
major servicing jobs such as oil changes during the working day.
(3) Operator efficiency. An operator who fails to fill his
bucket, who moves his bucket further than the job requires
or whose co-ordination of the controls is poor, will not
produce maximum output. It is difficult to quantify operator efficiency without some specific on-the-job measurement, but some assessment must be made if realistic
outputs are to be achieved.
It must also be appreciated that operators cannot work
60min in every hour. Stops must be made for personal
reasons, for refreshment, to check work, etc. To accommodate this factor, some managers work on a 50min/h
machine operating time based on European yardsticks.
Clearly, in some countries there is a shortage of skilled
operators and training is needed on the job. This efficiency
factor may then decline.
(4) Climate and weather conditions will also affect output. If a
machine is scheduled to work in a region where there are
extreme climatic conditions, then allowance will be made
for this when compiling the technical specification, e.g.
special filters may be necessary to cope with dusty conditions or low ground pressure tracks fitted for work in bad
ground conditions. However, there will still be situations
where work will be stopped by the weather, as in Britain
where rain can bring everything to a halt. An estimated
reduction must be made in output to reflect these conditions. If necessary, particularly when working in an unfamiliar area, detailed meteorological reports may be necessary.
Having made provision for all the above factors, it should be
possible to arrive at a realistic output which may be in some
cases as low as 50 to 60% of the optimum. Where a number of
machines are working as a team on a specific task, there is the
risk that the failure of one of the components can have a serious
cumulative affect on the whole operation. In this case it might be
considered prudent to carry spare units or relief drivers. The
extra cost may be more than offset by the improved output.
36.4.1.3 Human errors
Whatever steps are taken to determine machine outputs for
costing purposes, it is worth reflecting that the tender seldom
makes any provision for the human errors which can arise in the
course of the actual site operations. Failure to achieve the
theoretical outputs is generally the result of poor discipline in
one or more of the following areas:
(1) The wrong choice of plant due to lack of prior investigation.
(2) Overloading and overspeeding without regard to longterm consequences, possibly because of ill-conceived bonus
schemes.
(3) Bad layout planning.
(4) Poor site control resulting in machine queueing and
shortage.
(5) Inadequate maintenance and repair programmes and
facilities.
(6) Poor fuel supplies.
(7) Bad maintenance of haul roads and working areas.
(8) Poor drainage.
(9) Ineffective communication and supervision.
Clearly, similar patterns may not occur in other types of
operation such as concreting and cranage which tend to be less
complex. However, anyone who has been involved in the
installation of a tower crane for materials handling will appreciate that this requires a high degree of planning and control, if
the right machine is to be selected and operated successfully.
36.4.2 Plant maintenance
All the work put into selecting and procuring the right piece of
equipment is so much wasted effort if the machine fails to
achieve the estimated outputs and exceeds the target operating
costs which have been incorporated in the hire rate. In order to
ensure that this does not happen, site staff must, first of all, aim
towards maximum availability. All equipment requires servicing
and refuelling and even breaks down from time to time. At the
beginning of the first shift of the day, it has to be started and
checked over and at the end of the working day it has to be
parked up in a secure place.
Although a number of these duties rest with the operator of
the plant, most large civil engineering sites will have their own
facilities for maintaining and repairing the plant, so that a high
level of utilization is achieved. A consideration of site maintenance and repair falls into three categories: (1) the systems; (2) the
maintenance equipment including buildings; and (3) the maintenance staff. Each of these categories must be clearly defined
initially at the time of tender, particularly if the site is large
enough to warrant its own facilities. Obviously, there are
situations on smaller sites, when it makes sense for all but the
routine servicing to be carried out off site or by visiting fitters.
This may be the case where there is a plant depot nearby.
However, we will consider the situation that will arise on a
major contract which justifies its own maintenance facilities,
which is usually the situation on overseas jobs.
36.4.2.1 Systems
This category can be divided into the following specific activities:
(1) Daily servicing which is carried out in the field.
(2) Periodic maintenance which is done in the workshops.
(3) Specialist maintenance, e.g. tyre repairs.
(4) Refuelling.
Although the daily servicing is often the operator's responsibility, this does mean that part of his time has to be set aside for
doing this work, usually at the start or finish of the day. There
are then the practical problems, i.e. that the operator has to start
and finish half an hour before and after the normal working
hours and also that the work may entail the use of specialized
equipment, i.e. an air compressor for tyres or heavy-duty
greasing equipment. For this reason on most large projects,
particularly where earthmoving is involved, it is usually found
to be more efficient to establish a special servicing team
equipped with specialist gear, which can travel from machine to
machine in rotation making use of working breaks during the
day. This team will include one or more 'greasers' who will work
from a special greasing truck. Refuelling will be dealt with in a
similar manner using a fuel bowser. It is imperative that routine
servicing and refuelling are carried out to a predetermined
programme under the overall control of the site plant manager
or foreman. It will then be his responsibility to ensure that
programmes are adhered to and to liaise with the contract
management.
The major periodic maintenance, i.e. oil changes, etc. is best
done under workshop conditions, especially as far as major
items of plant are concerned. Site staff are often reluctant to
release machines for maintenance when they are under pressure
to finish the job, e.g. during a period of good weather. However,
this is an extremely shortsighted view. It is essential that
maintenance is carried out in accordance with the timetables
laid down by the manufacturer and failure to do this can result
in breakdowns which cause far more disruption to the work
than any time spent on maintenance. Therefore, the plant
manager for the job needs to establish a programme of preventative maintenance in conjunction with site management. As the
word implies, a 'preventative' programme is designed to prevent
breakdowns and lost production by ensuring that the machine is
kept in good running order and that any problems are identified
and rectified before they reach the point of failure. This enables
the workshop to plan its repair programme and to order spare
parts so that they are available at the time the work is ready to
be carried out. Apart from considerations of production, a
planned approach also ensures that proper safety standards are
maintained. The workshop manager should adopt a simple
system for recording when periodic maintenance is due and
when it has been completed on each machine, so that the overall
position can be seen at a glance at any time. This can be done
quite easily on a maintenance chart similar to that illustrated in
Figure 36.7.
From time to time unplanned work will be necessary to deal
with sudden breakdowns and, clearly, this will place a strain on
site resources. In order to minimize the problems, steps should
be taken at the start of the contract to establish the identity of
the major plant manufacturers and the location of their nearest
agents. Not only may they be responsible for supplying spare
parts but they may be able to assist with machine repairs. A visit
by the plant manager to the manufacturer at the start of the job
can be invaluable in ascertaining what back-up facilities are
available in the event of unscheduled difficulties. The supply and
storage of spare parts is particularly important and will be
covered separately.
On any civil engineering contract, there is bound to be a
variety of machines and vehicles fitted with tyres. On certain
larger items of earthmoving equipment such as scrapers, they
are an extremely expensive item with a high wear factor.
Therefore constant attention to tyre condition and replacement
the machines they are fitted to, as lax control of earthmoving
tyres can cost a contractor thousands of pounds. In an overseas
situation, where there is unlikely to be a local network of
experienced tyre dealers, the contractor may well have to
undertake this task, and in this case, care should be taken to
employ experienced tyre fitters, if necessary expatriates, and to
provide the appropriate tyre-fitting equipment.
The provision of proper refuelling facilities entails the installation of tanks with meters and locking devices for security
purposes. Alternatively, a fuel bowser may be used if it is more
economical to take the fuel to the equipment rather than bring
the equipment to the fuel. Issues and deliveries of fuel should
then be tightly controlled. Within the UK, very few problems
are experienced with the quality of fuel. However, overseas local
fuel supplies can vary widely in quality; for example, they can
have a higher sulphur content than normal. This factor should
be taken into account when planning the job and even when
selecting the plant, as it can adversely affect the normal servicing
and maintenance intervals.
36.4.2.2 The equipment
Figure 36.7 Service record chart
is a fundamental requisite of any major civil engineering site,
even if it affects only smaller machines like dumpers. Breakdown through punctures or tyre failure can be extremely costly
in terms of lost production. In the UK, on all but the largest
sites, it is normal to rely on a specialist tyre firm who are
experienced in the repair, supply and fitting of earthmoving
tyres. An agreement should be reached with one of these firms
for them to carry out regular tyre inspections and to change
round tyres to prevent uneven wear. This agreement should
include breakdown repairs. If necessary, there should be negotiations for the firm to base a tyre fitter and breakdown truck
permanently on the site. The fitting of large tyres is a skilled job
which requires strict safety precautions and should under no
circumstances be undertaken by inexperienced personnel.
Detailed records should be kept on site of the tyre numbers and
Figure 36.8 A Caterpillar scraper on an earthmoving operation
We have already mentioned the use of special trucks for
servicing, tyre fitting and refuelling. If their use is warranted,
then they should be specialist units designed for the purpose and
fitted with the correct ancillary equipment. The adaptation of
older secondhand vehicles may seem the cheapest method of
supply but it must be remembered that reliability is critical. The
right vehicles are therefore likely to be more cost-effective in the
long run.
In addition, the site will need a fitting shop, a plant stores and
a compound where large tyres, lubricants, etc. can be held in
secure conditions. As far as buildings are concerned, the main
requirement is that they should be of the sectional re-locatable
variety, so that the capital cost can be spread over a number of
contracts. There are now folding workshop buildings available,
which can be brought on to the site on a flat-bed lorry, lifted off
by crane and placed in position on a prepared concrete base
with the minimum of assembly work. This workshop should
then be fitted-out properly with fitters' benches, lifting equip-
ment, compressed air, light and heat so ,that the staff can deal
with the range of equipment to be used on the job. The stores
building must be fitted out with suitable racking, counter and
office facilities. Many civils jobs nowadays carry a large fleet of
personnel vehicles which are used by the resident engineer and
by the contractor, e.g. cars, vans and landrovers. Depending on
local facilities, this may necessitate a special transport fitting
shop which is equipped to prepare and maintain vehicles to
comply with statutory requirements. Provision for all of this
back-up equipment should have been made in the tender based
as far as possible on standard layouts which are applicable in
modular form to a range of civil engineering contracts.
36.4.2.3 The staff
A typical major civil engineering contract will have a requirement for the following grades of maintenance staff: (1) fitters;
(2) electricians; (3) welders; (4) greasers; and (5) storemen. The
numbers of each will depend on the type of contract and the
nature and volume of the equipment. Tunnelling work will, for
example, require a high level of electrical personnel. Within any
civil engineering company there should be staff ratios relevant to
particular types of work using the experience of previous
contracts. Personnel must be of the highest calibre as they will
be expected to be adaptable and flexible with the skill to
improvise. If necessary, assistance should be sought from the
leading manufacturers in training fitters, especially in the types
of plant they are likely to meet.
The subject of maintenance on civil engineering contracts is
one that in the past has tended to be given a low priority.
However, this is a recipe for disaster. The plant presence on site,
in terms of a site plant manager/engineer with the proper
support is vital to successful contracting. This is particularly
true on overseas contracts where the equipment may be operating under arduous conditions.
36.4.3 Plant spares and stock control
Maintenance costs are a major component of the total ownership costs for any group of plant and spare parts will account for
around 50% of maintenance. Labour is fairly predictable in the
short term, but the use of spare parts can vary widely depending
on the level of unforeseen breakdowns. It is therefore difficult to
control and requires constant management attention. This is
particularly true on overseas contracts where supplies are difficult to procure locally or take time to import. In this situation, it
becomes necessary to carry a much higher level of spares stocks
than would normally be expected on a large UK contract. In
fact, there have been several cases where an overseas job has
been nearing the end of the contract period, when somebody has
suddenly realized that they are still carrying a large stock of
spares which are unlikely to be used. Not only has cash been tied
up unnecessarily in surplus stocks but there is also a situation
where a forced disposal of those stocks will make it impossible
to recover anything like their real value. Therefore, on any
major civils contract, the ordering and control of spares is an
important part of the plant operations.
36.4.3.1 Spares categories
Spare parts can be classified as follows:
(1) Cheap fast-moving items which are used regularly for
routine maintenance and repairs. Filters, spark plugs,
bulbs, etc. are typical examples. Because they are fastmoving, a stock must be kept so that fitters can obtain
them on demand. Generally, because of their value, they
cannot be identified with any particular machine repair.
However, a tight control must be kept on ordering and
stock levels.
(2) Specific spares which can be readily identified to a particular machine and repair job. Generally, they are ordered
only as required, but it may be necessary to carry a small
stock if there is a pattern of certain repairs recurring.
(3) Consumable items such as lubricants, welding rods, gas,
etc. which are fast-moving and which are part of the
workshop overhead costs. It is impractical to allocate the
cost of these items to any particular repair.
Wherever possible, spares should be ordered for a specific repair
and the items should be costed against the individual machine so
that there is a financial control not only of the overall level of
purchases but also of the cost of spares consumed by any
particular machine.
At the start of any major contract, plant management should
investigate the local availability of spares in each of the above
categories for each of the types of plant likely to be used on that
job, with a view to deciding on whether it is necessary to carry
site stocks and at what level. In fact, on a major project, the
manufacturer can be asked to suggest a level of spares appropriate to support the plant. As an extension to this, the manufacturer may be prepared to supply a stock of basic spares on a
consignment basis, i.e. they are paid for only as used. In any
event, it may be wise to have a buy-back agreement on spares so
that you can recover most of the cost on any items which are
returned in good condition at the end of the job. However,
consignment stocks and buy-back agreements do not absolve
the contractor from the responsibility to store and document
stocks properly.
36.4.3.2 Spares stocks
In theory, spares stocks should be kept to an absolute minimum,
but in practice manufacturers have become less efficient in this
area and it may be necessary to hold buffer stocks. This will
depend to a large extent on the lead time when ordering. Money
tied up in stocks is dead money and requires tight control. To
start with, spares stocks must relate to current machines, as
obsolescence can present a problem. When plant becomes
obsolete or there is a change of manufacturer, the stocks of
spare parts should be run down in good time so that sites and
depots are not left holding dead stock.
Inevitably, spares will be ordered for a specific repair job but
will not be used. In this case, they must be returned to the
supplier for immediate credit or they must be put into stock.
Unless this is done, there is a real danger that each fitter will
build up under his bench a heap of unidentified spares over
which there is no control.
36.4.3.3 Stock control
The most basic form of stock control is the bin card. A card is
issued for each item held in stock and it is designed to show the
part identification number, the stock code number and details of
receipts and issues of that item. From the simple card it is
possible to move to a computerized system, where similar
information is recorded on the computer files for easy reference
on screen. The type of system adopted depends on the scale of
operations, but if in doubt start with a manual system until a
need for something more sophisticated can be proven.
The requirements for any stock control system are ideally that
it should provide information on:
(1) The numbers of each item theoretically in stock at any one
time. This can be compared with physical stocks by a
count. If there is a major discrepancy, there should be an
investigation.
(2) The movements into and out of stock.
(3) Minimum and maximum stock levels to control re-ordering.
(4) Suppliers and purchase prices.
The fixing of minimum and maximum stock levels is an important part of stores control. Based on the following factors: (1)
purchase lead time; (2) historical consumption; (3) future consumption; and (4) economic order quantity, it should be possible to define these levels. Any person in the stores then has
sufficient information to know when and how much to re-order.
It is even possible to arrange automatic re-ordering when
minimum levels are reached. However, this has dangers in a
construction environment where circumstances can change
quite quickly.
36.4.3.4 Stocktaking procedures
Regular stocktaking is vital not only as part of the annual
financial accounting procedures, but also as a management
control on the security and level of stocks. It can be done
annually as a one-off exercise when the stores are closed and a
total physical check is carried out. However, this can be difficult
to organize and it may be preferable to opt for a system of
progressive stocktake in which different sections of the stores
are checked progressively throughout the year, so that the whole
stores are completed within the 12-month period. If it is decided
to alter the basis of stocktaking, this should not be done without
consulting the accountants.
36.4.4 Licensing and insurance
36.4.4.1 Licensing
At one time or another, it is necessary to move heavy civil
engineering plant and vehicles on the public roads, particularly
dumptrucks, lorries and similar items which are designed for
carrying materials. Within the UK, there are laws covering road
traffic in general including various licensing arrangements.
Although the UK statutory requirements are being brought into
line with EEC Regulations, in other overseas countries there will
clearly be other sets of legal requirements, which may or may
not follow European lines. However, it is sensible to define
briefly vehicle licensing as it applies in the UK. This will then
provide a reminder or checklist against which overseas requirements relative to any particular country can be checked.
Licensing of drivers. Basically, in the UK no person may drive
on the public roads without a licence as a result of passing a
driving test. There are different classes of licence depending on
the nature of the vehicle to be driven. Also, the minimum age at
which a person may drive on the public roads varies with the
class of vehicle. Further details of these regulations and requirements can be obtained from local licensing offices.
However, in order to drive a heavy goods vehicle a person
must hold a separate HGV licence. This licence covers vehicles
with a gross weight of over 7.51 as shown in the plate fitted to
the chassis. There are various classes of licence depending on the
classification of the vehicle and in order to obtain the appropriate class of HGV licence a driver must pass a separate test.
However, the drivers of certain types of construction equipment
are exempt from the HGV requirements. This includes specialist
vehicles such as road rollers, engineering plant, works trucks
and digging machines.
Operator's licensing. In 1968, under the Transport Act, licens-
ing was introduced for all firms operating goods vehicles
exceeding 3.5 t gross vehicle weight. The licence includes all such
goods vehicles owned by the holder of the licence together with
all vehicles temporarily in his possession on loan or hire. The
UK is divided into a number of traffic areas, each of which will
issue a licence for the user's operating centres contained within
that area. Before granting a licence, the traffic authority will
take into account the user's ability to maintain and operate the
vehicles on the licence in a safe condition. They must be satisfied
that the user has formal procedures for inspecting and maintaining the vehicles on a regular basis although this work can be
subcontracted out to a competent garage. Nevertheless, the user
still carries the overall responsibility. However, under this and
other legislation there are certain exemptions where vehicles
perform less than 9.66 km per week on the public roads.
As far as major civil engineering sites are concerned, this
whole aspect of operator's licensing has particular significance.
If qualifying goods vehicles from the site are to be used on the
public roads, it then becomes an operating centre and must
comply with the legislation. If this entails a new licence or
additions to an existing licence in that area, account must be
taken of the time delay in obtaining the necessary authority.
Under an operator's licence the firm is required to keep certain
minimum records for a period of at least 15 months available for
scrutiny by Department of Transport officials.
All heavy goods vehicles are now fitted with a plate following
an inspection at a goods vehicle testing station within certain
time limits. This plate sets out the vehicle's prescribed axle and
gross weights. At the same time there will also be a test of
roadworthiness. Every 12 months thereafter, the vehicle must be
submitted for retesting for roadworthiness.
Drivers' records and hours. Within the European community
including the UK there are now clearly laid down limits to the
hours a person can drive a vehicle over 3.51 gross vehicle weight
both on a daily and a weekly basis. These limits should be
checked for any particular country of operation. Also, the use of
tachographs, i.e. automatic recording devices, is a statutory
requirement.
Construction and Use Regulations. The Motor Vehicles (Construction and Use) Regulations control the specification of
vehicles which can be used on the public roads. However,
certain items of heavy equipment, i.e. mobile cranes and similar
construction equipment which are outwith the general Regulations can be authorized under the Motor Vehicles (Authorization of Special Types) General Order 1979.
The foregoing paragraphs are intended only as a general
guide. Legislation can and does change. Therefore, where a site
activity involves the use of public roads, the local statutory
requirements should be checked beforehand.
36.4.4.2 Insurance
Within any construction organization, insurance will be taken
out to cover a wide variety of risks, some of which will relate to
the operation of the plant and equipment. The need for insurance can arise for the following reasons:
(1) A statutory or legal requirement. For example, in the UK
vehicles must have minimum third party cover.
(2) Contractual requirements. Certain conditions of contract,
i.e. Institution of Civil Engineers conditions, will place
insurance requirements on the contractor, particularly as
far as plant is concerned. However, it is worth noting that,
where plant is hired-in under a CPA Hire Agreement, there
is a footnote to the terms in that Agreement which states
that, unless otherwise agreed, the hirer is responsible for
insuring against the liabilities set out in clauses 8 and 13.
This is not the same thing as a contractual obligation to
insure, as insurance is not specifically mentioned in the
actual conditions of hire.
(3) Commercial risk. Some companies will extend their third
party vehicle insurance to cover comprehensive risks
including damage to the vehicle itself. Others will consider
it more economical to carry this risk themselves.
The various types of insurance found within a construction
company and their effect on plant risks are set out in the
following paragraphs.
Employers' Liability and Public Liability policies. These insurances have only a very limited impact on plant operations,
insofar as they provide cover in respect of injury to employees
and to the public. However, where plant is hired-in under the
CPA Agreement with an operator, the hirer is usually asked to
indemnify the owner against claims from the operator or from
the public.
Contractors' All Risk policy. This policy provides cover for the
contractor against loss or damage affecting the contract works.
This includes any plant, equipment, tools and temporary buildings whilst they are on the site enabling the contractor to recover
the full cost of anything which is damaged. The policy will also
protect the contractor against any indemnity claims from plant
hire firms where their plant is on hire under a CPA-type
agreement. Certain specialist types of plant, e.g. tower cranes,
may have to be declared separately in view of the risk involved.
Also marine plant may be the subject of a separate marine
policy.
Plant insurance. Major contractors are unlikely to take out
blanket damage cover for their general plant as it can normally
be dealt with under another policy. Similarly, mechanical breakdown is not normally insured, as the contractor is prepared to
stand any risks of that nature. However, steps should be taken
to ensure that equipment, including that which is hired-in, is
covered for damage, whilst it is not on site under the umbrella of
the Contractors' All Risk policy. For example, there is the risk
when it is being stored whilst in the plant depot or is in transit
between locations other than sites.
Plant and transport licensed for use on the public highway
will also be covered by the Motor Vehicle policy.
Engineering insurance. Certain high-risk types of plant, i.e.
cranes, hoists and pressure vessels, are subject to regular statutory inspection and testing and are covered under a separate
Engineering policy. This inspection, etc. can be carried out by
qualified insurance company engineers under the policy, which
will then also include cover against the risks of operating that
type of plant.
Motor vehicle insurance. As mentioned earlier, plant and
transport used on the public road requires motor vehicle insurance. By law, this must consist of minimum third party cover for
personal injury. Additional comprehensive insurance is available but many commercial firms prefer to accept their own risks
where damage to their own vehicles is concerned.
This has been a brief general guide to insurance as it affects
plant and equipment used in the UK. In other countries, the
statutory requirements and the commercial risks may warrant
an altogether different approach.
36.5 Plant control
In section 36.4.2 I highlighted the contribution made by good
maintenance systems to the efficient operation of plant. In
addition, there are other controls which must be exercised by the
prudent contractor in order to achieve effective plant selection
and operation. These can be divided into: (1) operational
controls; and (2) financial controls. There is no use selecting the
right plant, if it is not then used under controlled conditions.
Furthermore, there must be some effective measure of the
operational costs, so that management can review the financial
performance of different items or types of equipment, to ensure
that it compares with the projections made at the time of
original selection.
36.5.1 Operational controls
On any civil engineering contract, the plant and equipment
requirements should be channelled through one member of the
site management team, whether this be the site plant engineer,
site agent or even office manager. In this way, one person is
responsible for:
(1) Issuing requisitions and orders to the company plant
department or to outside hire companies.
(2) Progressing orders to ensure that requirements are delivered on time.
(3) Making arrangements for plant to be checked over on
receipt. This is essential to ensure that items are in good
working order and safe to operate and is of particular
importance where external plant is concerned.
(4) Maintaining a schedule of items located on site. This
schedule should be reviewed weekly with the site management team so that equipment is released off-hire as soon as
it is finished with, thereby minimizing hire charges. It
should also be possible to identify losses of, and damage to,
plant and equipment at the earliest possible moment. It is
quite commonplace for management to discover that
quantities of equipment cannot be accounted for when the
site has been finally cleared, with the result that unnecessary hire charges have been incurred.
(5) Ensuring that details are kept of working time, breakdowns and standing time. In the case of operated plant, the
drivers, both internal and external, must complete weekly
time-sheets which will show this information in detail and
the reasons for plant not working. From these sheets, site
management can weed out under-utilized plant together
with items which are unreliable.
(6) Suppliers' invoices must also be checked in detail to ensure
that the site is not paying for plant when it is unavailable
due to breakdown, etc.
(7) Maintaining documentary records to include copies of test
certificates and inspection reports relating to statutory
requirements on cranes, hoists, pressure vessels and
general lifting tackle. Also arranging where appropriate for
the necessary tests and inspections to be carried out.
(8) Controlling the issue of fuel and maintaining fuel consumption records.
Unless this system of control is adopted, there is real danger that
one section of the contract will be obtaining fresh plant whilst
similar items lie idle on other parts of the site.
36.5.2 Financial control
It is essential that all items of capital plant and equipment
owned by the contractor can be identified by means of a
separate plant identity number. This applies to all mechanically
driven items even down to electric tools. However, it is clearly
impossible to identify separately items of nonmechanical plant
such as scaffolding. From a financial point of view, they will
therefore be treated on a group number basis. Once plant items
and groups have been identified, these numbers can be used as
cost centres against which it is then possible to allocate not only
the internal hire income but also the direct operating costs. This
entails:
(1) The completion of fitters' and drivers' time-sheets in order
that they can allocate their time to the particular item of
equipment on which they are working. This time can then
be converted into a labour cost using standard labour rate.
(2) The allocation of purchase orders for all spares and
materials to specific cost codes. Wherever possible, purchases will be costed direct to individual machines or
equipment groups except where they are for stock or
cannot be identified specifically.
(3) The recording of the issue from stock of fuel, etc. to
individual machines.
Within a construction company, the income and direct costs
against each plant number can be gathered and presented as a
profit/loss situation over a defined period, i.e. annually. In this
way, management can see if the hire rate used has effectively
covered the operating costs and provided sufficient surplus to
pay for overheads and the indirect costs.
The plant department will therefore be responsible for accumulating all the costs incurred against the company-owned
equipment and for monitoring its financial performance. Some
of these costs will arise at site level and there must, therefore, be
an agreed system for ensuring that all costs are fed back to the
central plant cost-control point. It has been found that modern
computer systems are ideal for gathering and reporting plant
financial information. Once the plant items and their identifica-
tion code numbers have been stored on the computer together
with the site location codes, it is comparatively simple for the
computer to be programmed to deal with plant administration.
Once the cost data has also been added to the computer files, the
following information can be regularly produced: (1) the plant
and equipment asset register and hire rates; (2) internal hire
invoices; (3) accumulated plant costs and profitability; and (4)
plant utilization. Where major sites have their own terminals
linked to a central computer, they can have direct access to plant
information subject to certain operating restrictions.
On large overseas contracts where firms own and operate
their own plant, it is possible, with the aid of a micro-computer
based on the site, to identify and control all the equipment
which is supplied to that site.
Bibliography
Harris, F. and McCaffer, R. (1982) Construction plant - management and
investment decisions. Granada.
Harris, F. (1981) 'Construction plant', Excavating and materials handling,
equipment and methods. Granada.
Harris, F. and McCaffer, R. (1982) Modern construction management
(2nd edn). Granada.
Powell-Smith, V. (1981) Contractors'guide to the model conditions for the
hiring of plant (1979 edn) IPC Building and Contract Journals.
Homer, P. C. (1981) ICE works construction guides - earthworks. Thomas
Telford.
Higgins, L. R. (1979) Handbook of equipment maintenance. McGrawHill, US.
Eaglestone, F. N. (1979) Insurance for the construction industry. George
Godwin.
Health & Safety Executive. Guidance notes. This series of guidance notes
includes a section on plant and machinery.
See also various government publications relating to: The Health and
Safety at Work Act 1974; Road Traffic Act 1972; and Construction
Regulations 1961 and 1966.