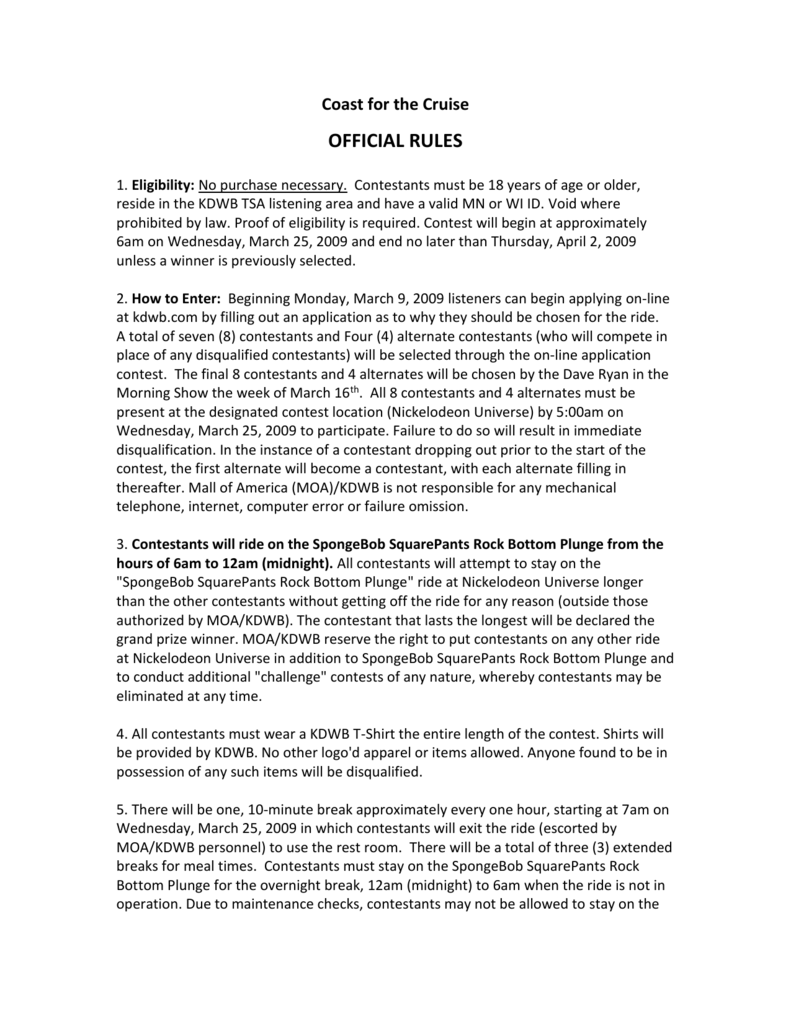 Coast for the Cruise
OFFICIAL RULES
1. Eligibility: No purchase necessary. Contestants must be 18 years of age or older,
reside in the KDWB TSA listening area and have a valid MN or WI ID. Void where
prohibited by law. Proof of eligibility is required. Contest will begin at approximately
6am on Wednesday, March 25, 2009 and end no later than Thursday, April 2, 2009
unless a winner is previously selected.
2. How to Enter: Beginning Monday, March 9, 2009 listeners can begin applying on-line
at kdwb.com by filling out an application as to why they should be chosen for the ride.
A total of seven (8) contestants and Four (4) alternate contestants (who will compete in
place of any disqualified contestants) will be selected through the on-line application
contest. The final 8 contestants and 4 alternates will be chosen by the Dave Ryan in the
Morning Show the week of March 16th. All 8 contestants and 4 alternates must be
present at the designated contest location (Nickelodeon Universe) by 5:00am on
Wednesday, March 25, 2009 to participate. Failure to do so will result in immediate
disqualification. In the instance of a contestant dropping out prior to the start of the
contest, the first alternate will become a contestant, with each alternate filling in
thereafter. Mall of America (MOA)/KDWB is not responsible for any mechanical
telephone, internet, computer error or failure omission.
3. Contestants will ride on the SpongeBob SquarePants Rock Bottom Plunge from the
hours of 6am to 12am (midnight). All contestants will attempt to stay on the
"SpongeBob SquarePants Rock Bottom Plunge" ride at Nickelodeon Universe longer
than the other contestants without getting off the ride for any reason (outside those
authorized by MOA/KDWB). The contestant that lasts the longest will be declared the
grand prize winner. MOA/KDWB reserve the right to put contestants on any other ride
at Nickelodeon Universe in addition to SpongeBob SquarePants Rock Bottom Plunge and
to conduct additional "challenge" contests of any nature, whereby contestants may be
eliminated at any time.
4. All contestants must wear a KDWB T-Shirt the entire length of the contest. Shirts will
be provided by KDWB. No other logo'd apparel or items allowed. Anyone found to be in
possession of any such items will be disqualified.
5. There will be one, 10-minute break approximately every one hour, starting at 7am on
Wednesday, March 25, 2009 in which contestants will exit the ride (escorted by
MOA/KDWB personnel) to use the rest room. There will be a total of three (3) extended
breaks for meal times. Contestants must stay on the SpongeBob SquarePants Rock
Bottom Plunge for the overnight break, 12am (midnight) to 6am when the ride is not in
operation. Due to maintenance checks, contestants may not be allowed to stay on the
ride for the entire overnight break. All breaks (food and other) are to be determined at
the discretion of MOA/KDWB personnel. Extended breaks will be 45 minutes. All
contestants will take breaks at the same time. Any contestant not back at the ride
within the designated time given for each break will be disqualified. At any time,
MOA/KDWB has the right to alter the timing or frequency of rotations and breaks.
Breaks will occur during necessary servicing of the ride.
6. Food will be provided by MOA. MOA reserves the right to feed the contestants
whatever food and drink is provided at the designated times. No special dietary
requests will be allowed.
7. No items of any kind (besides the clothing attire, approved by MOA/KDWB, which you
are wearing) will be allowed inside the SpongeBob SquarePants Rock Bottom Plunge
during the hours of operation of the ride. When ride is not in operation, contestants
must still remain inside the ride. All contestants will be allowed to bring the following:
cell phone, 1 pillow, 1 blanket, 1 toothbrush, toothpaste and floss, lip balm, one change
of emergency clothing (to be used at the discretion of MOA/KDWB judges), and any
needed medication. One luxury item will also be allowed during breaks as approved by
MOA/KDWB representatives prior to start of contest. (example iPod, etc). Contestants
will be allowed to use cell phones on breaks only. Cell phones are not permitted on the
overnight break. iPods will be permitted ONLY during break times and on the overnight
break. Pillow and blankets will be allowed during break times and from the hours of
12am to 6am for the overnight break. Blankets and pillows are not allowed on the
SpongeBob SquarePants Rock Bottom Plunge during hours of operation. MOA will
provide a storage bin for specified contestant belongings. MOA and KDWB will not
assume liability for security of these items.
8. No indecent exposure permitted. No sexual aberration is allowed by any of the
contestants either alone or with others. No sexual activity of any sort is allowed inside
the vehicle or within the park. Any activity of this nature taking place will be grounds for
disqualification, at the sole discretion of MOA/KDWB representatives.
9. No verbal abuse, violence, obscenities, or foul play will be tolerated. Any improper
conduct will constitute grounds for immediate disqualification from contest and may be
called at the sole discretion of KDWB and/or MOA representatives. There will be no
pushing, shoving, hitting or spitting or any physical violence of any sort towards any of
the contestants to make them exit or prevent them from re-entering the ride. If, at any
time during the Contest, the Contest staff deems a contestant's performance as
inappropriate (including, without limitation, by use of obscene gestures, swearing or
behavior that may offend the general public) the contestant will be immediately
disqualified. MOA reserves the right to immediately disqualify any contestant that, in its
sole opinion, refers, depicts or in any way reflects negatively upon MOA, KDWB, the
Mall of America, the Contest or any other person or entity.
10. Consumption of alcoholic beverages will not be permitted. Smoking is not permitted
in Nickelodeon Universe. Anyone appearing to be under the influence of drugs or
alcohol will be immediately disqualified.
11. Toilet facilities are limited to the public facilities in Nickelodeon Universe. Family
members or friends can bring items of necessity (such as medical prescriptions in the
proper pharmacy container or feminine products) for the contestants; however, these
items cannot be delivered to the contestants by anyone other than MOA/KDWB
representatives.
12. Vomiting and/or bodily waste elimination, and the release of any bodily fluids will
result in immediate disqualification of any contestant. This includes vomiting food
and/or water. If such incidents occur, MOA/KDWB reserves the right to call an official
"timeout" to allow for clean up of the seating area before the contest resumes.
MOA/KDWB reserves the right to call a timeout and temporarily suspend and then
resume the contest at any time.
13. At all times, MOA or KDWB representatives will monitor the contest. Paramedics will
be on hand for the duration of the contest in the case of a medical emergency.
Contestants will be subject to disqualification by judges if, in their sole discretion, health
and/or safety concerns warrant the same.
14. In the event that by 6:00am, Thursday, April 2, 2009 there is more than one
contestant remaining in the contest, a tiebreaker contest will determine the winner. The
tiebreaker contest will be determined by MOA/KDWB at that time.
15. No contestant will be allowed to wear diapers or use a "Motorman's Friend" (a
device used by truckers to extract urine from the body.) Any person using any devices to
extract bodily fluids will be disqualified.
16. Contestants will be required to sign a liability release/waiver prior to participating in
the contest. Pursuant to the liability release, contestants will agree to hold Clear
Channel Communications, Nickelodeon Universe, MTV Networks, Gersltauer, Mall of
America affiliated entities, their corporate licensees, parent corporations, affiliated
companies and the officers, shareholders, directors, employees, agents and
representatives of each of them harmless against any and all claims or liability arising
directly or indirectly from the contest. Prize winners may be required to sign
affidavits/disclaimers and tax forms, and winners are responsible for any and all taxes
on prize money. Winners must sign any such required forms before receiving their
prize. Winners consent and agree to the use of their names, photographs, and voices or
likenesses for broadcast and promotional purposes by MOA before, during and after the
Contest, without compensation by MOA, and may be required by MOA to sign a general
release and waiver regarding such consent.
17. Contest is not open to employees, agents or representatives of Clear Channel
Communications, Nickelodeon Universe, MTV Networks, Gerstlauer, Mall of America
affiliated entities, its affiliated advertising, promotional and prize sponsoring agencies,
employees of any radio stations within the United States. Only one contestant and
winner per family or household.
Grand Prize: A vacation for a family of four (4) on Nickelodeon Family Cruises with Royal
Caribbean International which includes Interior Stateroom for 4 people on board Royal
Caribbean's Freedom of the Seas, 4 Coach class round trip tickets from Minneapolis / St.
Paul airport to Orlando, Florida airport (Airfare provided by Nickelodeon Universe), all
meals on board (excluding specialty dining restaurants), soda and select juices, ship
entertainment & activities, port taxes and gratuities, and one thousand dollars
($1,000.00) cash (provided by Nickelodeon Universe). Grand prize winner will also
receive four golden 'lifetime passes' to Nickelodeon Universe for the winner and three
friends or family members. All runner ups will receive two annual passes to
Nickelodeon Universe for the winner and one friend or family member. Winners are
responsible for any applicable federal, state and/or local taxes, license taxes and/or tab
fees, and registration fees resulting from the winning of any prize in connection with the
contest.
Not included in the grand prize is: Alcoholic beverages, specialty beverages, Shore
excursions, Casino gambling, Kids Arcade, Spa services & Fitness Center paid activities,
On board Specialty dining at Chops Grill, Portofino's, Johnny Rockets, Ben & Jerry's,
Seattle gourmet coffee, meals and accommodations while ashore, internet access,
phone calls, medical fees, in-stateroom babysitting, and laundry service and other
customary expenses not typically covered by the standard price of the cruise. Winner
will be responsible for those services if he/she chooses to use them. Ground
transportation from Orlando, FL to Port Canaveral.
Sponsor and Prize Donor: The contest is sponsored by KDWB, 1600 Utica Ave. South,
Suite 400, Minneapolis, MN 55416, Nickelodeon Universe, 5000 Center Court,
Bloomington, MN 55425 and Mall of America, 60 East Broadway, Bloomington, MN
55425. The prize will be supplied by Nickelodeon Recreation, 1515 Broadway, New York,
New York 10036 and Nickelodeon Universe.
18. No substitution of prizes permitted, prizes are not transferable.
19. Contestants will be given a copy of the official rules and Nickelodeon Universe Rider
Safety Guide. Contestants will be responsible for reading and understanding all the rules
and materials and must meet all ride requirements including but not limited to - must
be at least 48 inches tall. SpongeBob SquarePants Rock Bottom Plunge may not
accommodate riders of a larger size. This applies to but might not be limited to guests
who exceed 275 pounds or are taller than 6'6". All participating contestants must be
able to latch the safety bar to participate in the contest. Any contestant who does not
comply with these rules or ride requirements will be immediately disqualified or if found
to have not complied after the contest can be denied any prize.
20. By participating in this contest, contestants grant MOA/KDWB radio the right to
publicize and/or broadcast their name, character likeness, voice, biographical material,
and the fact that the contestant has participated in and/or won the contest without any
additional compensation. Contestant further grants KDWB and MOA the right to
broadcast over the Internet, live and pre-recorded audio and video transmissions of any
activity conducted inside the vehicle during the contest.
21. MOA/KDWB reserves the right, in their sole discretion to modify or terminate the
Contest in the event of any act, occurrence or reason that it believes would (a) corrupt
the integrity, administration or fairness of the Contest, or (b) endanger the contestants,
audience, or MOA employees, visitors, guests or merchants. All decisions of the judges
are final.
22. Governing Law: This Contest is governed by the laws of the State of Minnesota.
23. For a complete list of winners and/or copies of the Official Contest Rules, send a
self-addressed, stamped envelope to: Attn: Barb Hueser, Clear Channel, KDWB, 1600
Utica Ave. South, Suite 400, Minneapolis, MN 55416. All such requests must be
received within six (6) weeks after the end of the contest.