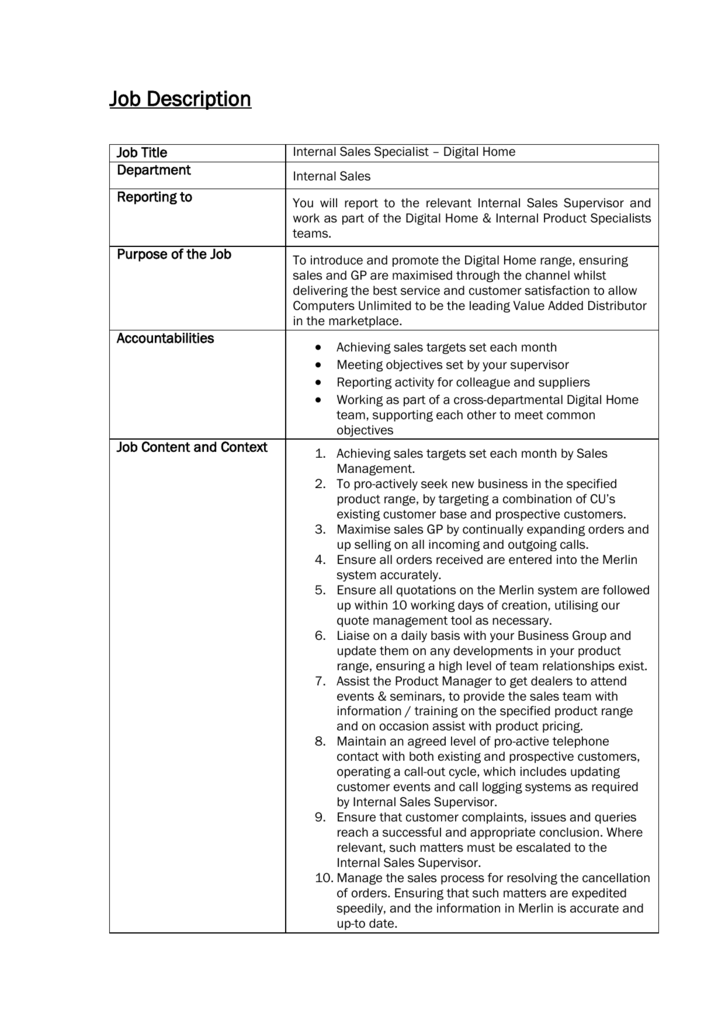 Job Description
Job Title
Department
Reporting to
Purpose of the Job
Accountabilities
Job Content and Context
Internal Sales Specialist – Digital Home
Internal Sales
You will report to the relevant Internal Sales Supervisor and
work as part of the Digital Home & Internal Product Specialists
teams.
To introduce and promote the Digital Home range, ensuring
sales and GP are maximised through the channel whilst
delivering the best service and customer satisfaction to allow
Computers Unlimited to be the leading Value Added Distributor
in the marketplace.




Achieving sales targets set each month
Meeting objectives set by your supervisor
Reporting activity for colleague and suppliers
Working as part of a cross-departmental Digital Home
team, supporting each other to meet common
objectives
1. Achieving sales targets set each month by Sales
Management.
2. To pro-actively seek new business in the specified
product range, by targeting a combination of CU's
existing customer base and prospective customers.
3. Maximise sales GP by continually expanding orders and
up selling on all incoming and outgoing calls.
4. Ensure all orders received are entered into the Merlin
system accurately.
5. Ensure all quotations on the Merlin system are followed
up within 10 working days of creation, utilising our
quote management tool as necessary.
6. Liaise on a daily basis with your Business Group and
update them on any developments in your product
range, ensuring a high level of team relationships exist.
7. Assist the Product Manager to get dealers to attend
events & seminars, to provide the sales team with
information / training on the specified product range
and on occasion assist with product pricing.
8. Maintain an agreed level of pro-active telephone
contact with both existing and prospective customers,
operating a call-out cycle, which includes updating
customer events and call logging systems as required
by Internal Sales Supervisor.
9. Ensure that customer complaints, issues and queries
reach a successful and appropriate conclusion. Where
relevant, such matters must be escalated to the
Internal Sales Supervisor.
10. Manage the sales process for resolving the cancellation
of orders. Ensuring that such matters are expedited
speedily, and the information in Merlin is accurate and
up-to date.
11. Manage and maintain any authorisation schemes &
price lists relevant to your products.
12. Ensure that the external sales team are kept informed
of any developments relevant to their accounts.
13. Ensure the rest of the sales team are kept informed of
developments within your product range.
14. Meet and exceed the agreed performance objectives.
15. Perform any ad hoc duties deemed appropriate by the
Sales Management Team.
Performance Standards
1. To attend product training as arranged by Sales
Management.
2. To achieve team and individual targets as set by Sales
Management Team in time scales agreed.
3. To keep in regular contact with specialist dealers and
with your BGM and relevant sales persons.
4. Customer queries that cannot be dealt with
satisfactorily are to be passed to a member of the
Sales Management Team.
5. Maintain a professional standard at all times.
6. To be punctual, maintain dress standards, be polite
and courteous to customers at all times.