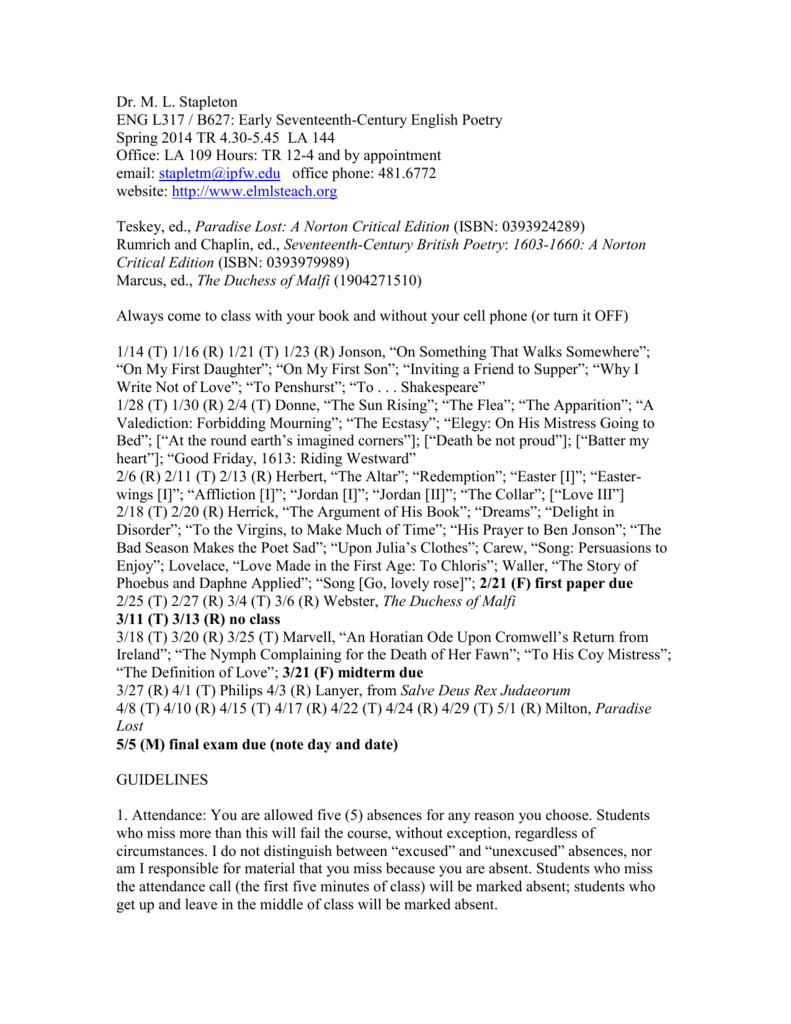 Dr. M. L. Stapleton
ENG L317 / B627: Early Seventeenth-Century English Poetry
Spring 2014 TR 4.30-5.45 LA 144
Office: LA 109 Hours: TR 12-4 and by appointment
email: [email protected] office phone: 481.6772
website: http://www.elmlsteach.org
Teskey, ed., Paradise Lost: A Norton Critical Edition (ISBN: 0393924289)
Rumrich and Chaplin, ed., Seventeenth-Century British Poetry: 1603-1660: A Norton
Critical Edition (ISBN: 0393979989)
Marcus, ed., The Duchess of Malfi (1904271510)
Always come to class with your book and without your cell phone (or turn it OFF)
1/14 (T) 1/16 (R) 1/21 (T) 1/23 (R) Jonson, "On Something That Walks Somewhere";
"On My First Daughter"; "On My First Son"; "Inviting a Friend to Supper"; "Why I
Write Not of Love"; "To Penshurst"; "To . . . Shakespeare"
1/28 (T) 1/30 (R) 2/4 (T) Donne, "The Sun Rising"; "The Flea"; "The Apparition"; "A
Valediction: Forbidding Mourning"; "The Ecstasy"; "Elegy: On His Mistress Going to
Bed"; ["At the round earth's imagined corners"]; ["Death be not proud"]; ["Batter my
heart"]; "Good Friday, 1613: Riding Westward"
2/6 (R) 2/11 (T) 2/13 (R) Herbert, "The Altar"; "Redemption"; "Easter [I]"; "Easterwings [I]"; "Affliction [I]"; "Jordan [I]"; "Jordan [II]"; "The Collar"; ["Love III"]
2/18 (T) 2/20 (R) Herrick, "The Argument of His Book"; "Dreams"; "Delight in
Disorder"; "To the Virgins, to Make Much of Time"; "His Prayer to Ben Jonson"; "The
Bad Season Makes the Poet Sad"; "Upon Julia's Clothes"; Carew, "Song: Persuasions to
Enjoy"; Lovelace, "Love Made in the First Age: To Chloris"; Waller, "The Story of
Phoebus and Daphne Applied"; "Song [Go, lovely rose]"; 2/21 (F) first paper due
2/25 (T) 2/27 (R) 3/4 (T) 3/6 (R) Webster, The Duchess of Malfi
3/11 (T) 3/13 (R) no class
3/18 (T) 3/20 (R) 3/25 (T) Marvell, "An Horatian Ode Upon Cromwell's Return from
Ireland"; "The Nymph Complaining for the Death of Her Fawn"; "To His Coy Mistress";
"The Definition of Love"; 3/21 (F) midterm due
3/27 (R) 4/1 (T) Philips 4/3 (R) Lanyer, from Salve Deus Rex Judaeorum
4/8 (T) 4/10 (R) 4/15 (T) 4/17 (R) 4/22 (T) 4/24 (R) 4/29 (T) 5/1 (R) Milton, Paradise
Lost
5/5 (M) final exam due (note day and date)
GUIDELINES
1. Attendance: You are allowed five (5) absences for any reason you choose. Students
who miss more than this will fail the course, without exception, regardless of
circumstances. I do not distinguish between "excused" and "unexcused" absences, nor
am I responsible for material that you miss because you are absent. Students who miss
the attendance call (the first five minutes of class) will be marked absent; students who
get up and leave in the middle of class will be marked absent.
2. Papers and exams are due on the scheduled dates by 9 a.m.: 21 February, 21 March, 5
May. Late papers = 0. No exceptions. 4-5 pp. for undergrads, 10-12 pp. for grads. We'll
submit these in a Word document over email so that I can return them to you this way,
also.
3. Plagiarism: It should go without saying that students are also expected to do their own
work; indebtedness to secondary sources (either printed or electronic) must be clearly
indicated so as to avoid plagiarism:
—(piecemeal) using someone else's words and phrases as if they were your own, not
paraphrasing or summarizing properly, even with proper documentation;
—(grotesque) using someone else's ideas as if they were your own, without proper
documentation;
—(more grotesque) allowing someone else to write your paper for you.
PLEASE DO NOT BE A PLAGIARIST! THIS IS UNNECESSARY, AS WELL AS
UNETHICAL.
4. The course grade will be determined by a rough averaging together of your three
exams-papers and any revision of these. I reserve the right to take additional factors into
account: improvement, class participation (or the extreme lack of it), and, of course,
attendance. Grades are not negotiable, personal, or subject to the influence of
extracurricular academic factors.