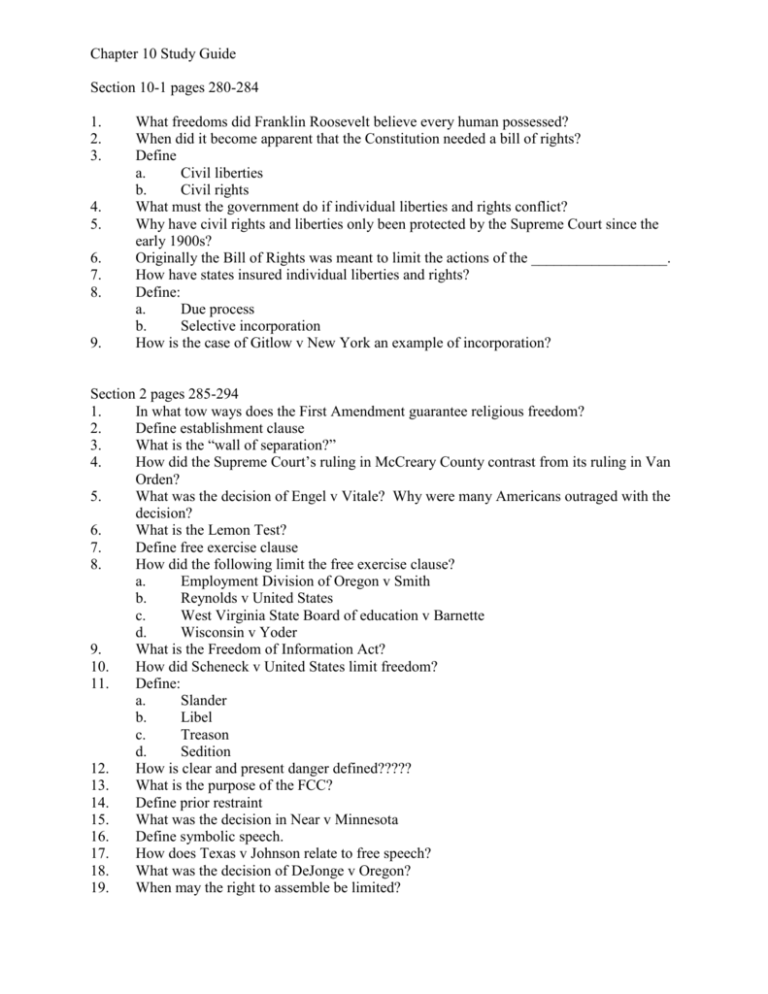 Chapter 10 Study Guide
Section 10-1 pages 280-284
1.
2.
3.
4.
5.
6.
7.
8.
9.
What freedoms did Franklin Roosevelt believe every human possessed?
When did it become apparent that the Constitution needed a bill of rights?
Define
a.
Civil liberties
b.
Civil rights
What must the government do if individual liberties and rights conflict?
Why have civil rights and liberties only been protected by the Supreme Court since the
early 1900s?
Originally the Bill of Rights was meant to limit the actions of the __________________.
How have states insured individual liberties and rights?
Define:
a.
Due process
b.
Selective incorporation
How is the case of Gitlow v New York an example of incorporation?
Section 2 pages 285-294
1.
In what tow ways does the First Amendment guarantee religious freedom?
2.
Define establishment clause
3.
What is the "wall of separation?"
4.
How did the Supreme Court's ruling in McCreary County contrast from its ruling in Van
Orden?
5.
What was the decision of Engel v Vitale? Why were many Americans outraged with the
decision?
6.
What is the Lemon Test?
7.
Define free exercise clause
8.
How did the following limit the free exercise clause?
a.
Employment Division of Oregon v Smith
b.
Reynolds v United States
c.
West Virginia State Board of education v Barnette
d.
Wisconsin v Yoder
9.
What is the Freedom of Information Act?
10.
How did Scheneck v United States limit freedom?
11.
Define:
a.
Slander
b.
Libel
c.
Treason
d.
Sedition
12.
How is clear and present danger defined?????
13.
What is the purpose of the FCC?
14.
Define prior restraint
15.
What was the decision in Near v Minnesota
16.
Define symbolic speech.
17.
How does Texas v Johnson relate to free speech?
18.
What was the decision of DeJonge v Oregon?
19.
When may the right to assemble be limited?
20.
21.
Define freedom of association
What was decided in NAACP v Alabama
Section 3 pages 296-302
1.
What was the decision of
a.
United States v Miller
b.
McDonald v Chicago
2.
Define
a.
Probable cause
b.
Search warrant
c.
Exclusionary rule
3.
What was the decision of Katz v United States?
4.
To what extent do you believe the Patriot Act has weakened civil liberties?
5.
What decisions have been made about drug testing in the work place?
6.
Describe the decisions of:
a.
New Jersey v T.L.O.
b.
Veronia School District v Acton
c.
BOE Pottawatomie County v Earls
d.
Griswold v Connecticut
e.
Roe v Wade
f.
Mackey v Montrym
7.
Define
a.
police power
b.
Procedural due process
c.
Substantive due process
Section 4 pages 303-313
1.
Define
a.
Civil law
b.
Criminal law
c.
Indictment
d.
Bail
e.
Capital punishment
f.
Miranda warning
g.
Bench trial
h.
Double jeopardy
2.
What are the three types of alternative dispute resolutions?
3.
Define and give examples of
a.
Misdemeanors
b.
Felonies
4.
What was the decision in
a.
Ex parte Milligan?
b.
Boumediene v Bush
c.
Miranda v Arizona
d.
Chandler v Florida
e.
Gideon v Wainwright
f.
Furman v Georgia
5.
What are the rights/protections of the accused?
6.
What rights do you have concerning punishments?