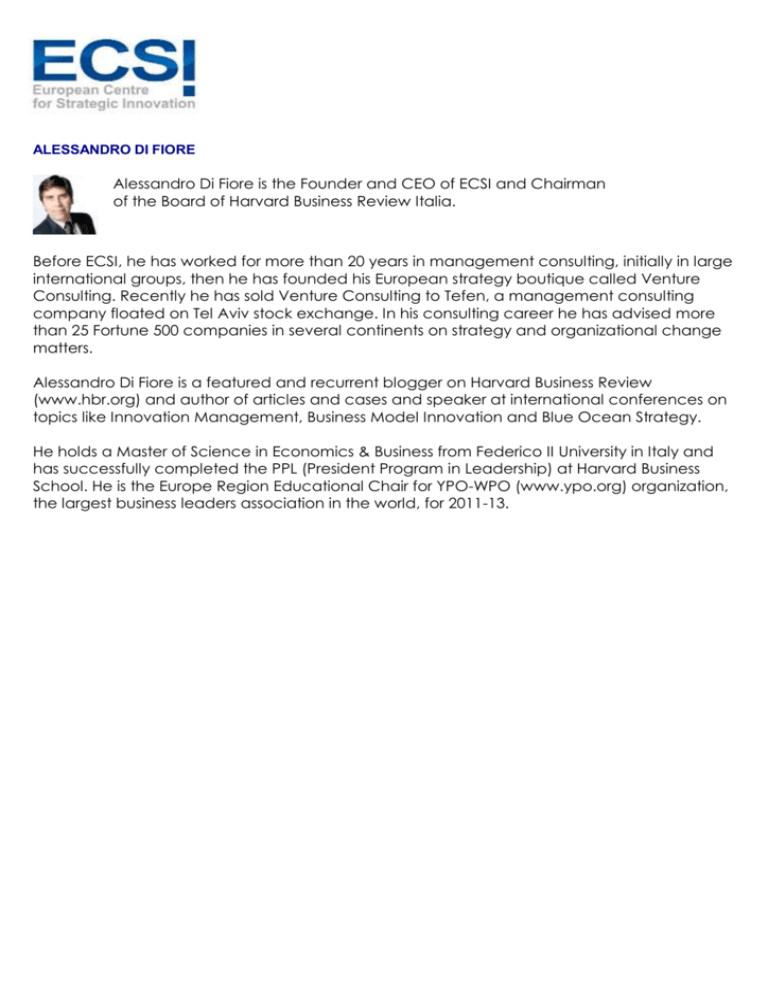 ALESSANDRO DI FIORE
Alessandro Di Fiore is the Founder and CEO of ECSI and Chairman
of the Board of Harvard Business Review Italia.
Before ECSI, he has worked for more than 20 years in management consulting, initially in large
international groups, then he has founded his European strategy boutique called Venture
Consulting. Recently he has sold Venture Consulting to Tefen, a management consulting
company floated on Tel Aviv stock exchange. In his consulting career he has advised more
than 25 Fortune 500 companies in several continents on strategy and organizational change
matters.
Alessandro Di Fiore is a featured and recurrent blogger on Harvard Business Review
(www.hbr.org) and author of articles and cases and speaker at international conferences on
topics like Innovation Management, Business Model Innovation and Blue Ocean Strategy.
He holds a Master of Science in Economics & Business from Federico II University in Italy and
has successfully completed the PPL (President Program in Leadership) at Harvard Business
School. He is the Europe Region Educational Chair for YPO-WPO (www.ypo.org) organization,
the largest business leaders association in the world, for 2011-13.