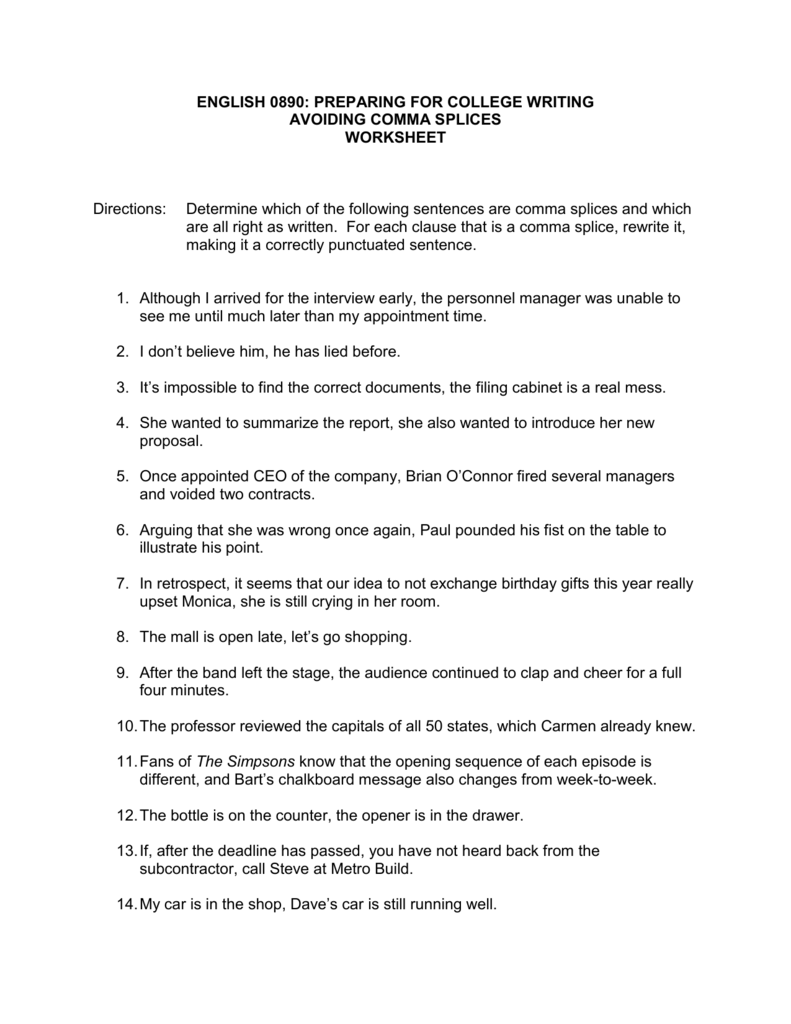 ENGLISH 0890: PREPARING FOR COLLEGE WRITING
AVOIDING COMMA SPLICES
WORKSHEET
Directions:
Determine which of the following sentences are comma splices and which
are all right as written. For each clause that is a comma splice, rewrite it,
making it a correctly punctuated sentence.
1. Although I arrived for the interview early, the personnel manager was unable to
see me until much later than my appointment time.
2. I don't believe him, he has lied before.
3. It's impossible to find the correct documents, the filing cabinet is a real mess.
4. She wanted to summarize the report, she also wanted to introduce her new
proposal.
5. Once appointed CEO of the company, Brian O'Connor fired several managers
and voided two contracts.
6. Arguing that she was wrong once again, Paul pounded his fist on the table to
illustrate his point.
7. In retrospect, it seems that our idea to not exchange birthday gifts this year really
upset Monica, she is still crying in her room.
8. The mall is open late, let's go shopping.
9. After the band left the stage, the audience continued to clap and cheer for a full
four minutes.
10. The professor reviewed the capitals of all 50 states, which Carmen already knew.
11. Fans of The Simpsons know that the opening sequence of each episode is
different, and Bart's chalkboard message also changes from week-to-week.
12. The bottle is on the counter, the opener is in the drawer.
13. If, after the deadline has passed, you have not heard back from the
subcontractor, call Steve at Metro Build.
14. My car is in the shop, Dave's car is still running well.
15. Because it may become necessary to fire Mitch, the new accountant, the board
would like to refrain from reviewing his request for a raise.
16. The worksheet on the executive branch is due on Tuesday, the worksheet on the
judicial system is due on Friday, and the worksheet on the legislative branch is
due next Monday.
17. When it seemed most hopeless, Jason decided that he needed to rely on himself
to change the direction of his life, he wanted to start over.
18. Please place the dirty dishes on the counter, place the used trays on this rack.
19. You'll have to reset the alarm, if it rings before then.
20. Marion pruned the hedges, they were very overgrown.