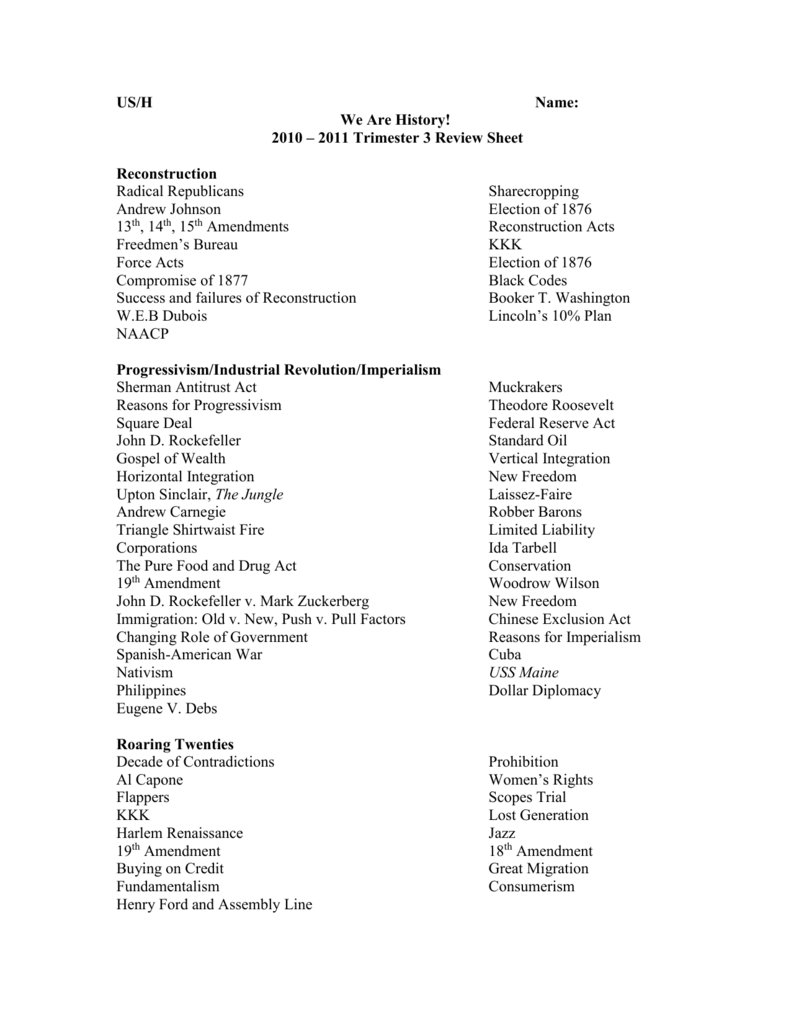 US/H
Name:
We Are History!
2010 – 2011 Trimester 3 Review Sheet
Reconstruction
Radical Republicans
Andrew Johnson
13th, 14th, 15th Amendments
Freedmen's Bureau
Force Acts
Compromise of 1877
Success and failures of Reconstruction
W.E.B Dubois
NAACP
Sharecropping
Election of 1876
Reconstruction Acts
KKK
Election of 1876
Black Codes
Booker T. Washington
Lincoln's 10% Plan
Progressivism/Industrial Revolution/Imperialism
Sherman Antitrust Act
Reasons for Progressivism
Square Deal
John D. Rockefeller
Gospel of Wealth
Horizontal Integration
Upton Sinclair, The Jungle
Andrew Carnegie
Triangle Shirtwaist Fire
Corporations
The Pure Food and Drug Act
19th Amendment
John D. Rockefeller v. Mark Zuckerberg
Immigration: Old v. New, Push v. Pull Factors
Changing Role of Government
Spanish-American War
Nativism
Philippines
Eugene V. Debs
Muckrakers
Theodore Roosevelt
Federal Reserve Act
Standard Oil
Vertical Integration
New Freedom
Laissez-Faire
Robber Barons
Limited Liability
Ida Tarbell
Conservation
Woodrow Wilson
New Freedom
Chinese Exclusion Act
Reasons for Imperialism
Cuba
USS Maine
Dollar Diplomacy
Roaring Twenties
Decade of Contradictions
Al Capone
Flappers
KKK
Harlem Renaissance
19th Amendment
Buying on Credit
Fundamentalism
Henry Ford and Assembly Line
Prohibition
Women's Rights
Scopes Trial
Lost Generation
Jazz
18th Amendment
Great Migration
Consumerism
Great Depression & New Deal
Black Tuesday
New Deal: 3 R's: Relief, Recovery, Reform
FDIC
TVA
Wagner Act
New Deal Coalition
Keynesian Economics
First and Second New Deals
Herbert Hoover's policies
CCC
Legacy of New Deal
Social Security
AAA
Huey Long
Change in role of govt.
World War II & Start of Cold War
Causes and Effects of WWII
D-Day
Axis Powers
Hiroshima and Nagasaki
War Production Board
Holocaust
United Nations
V-E Day, V-J Day
Govt. role in US Economy
Iron Curtain
Truman Doctrine
Berlin Airlift
NATO
Korean War
Joseph McCarthy
Pearl Harbor
Allied Powers
Manhattan Project
Women and WWII
Internment Camps
Lend-Lease Act
Tehran, Yalta, Potsdam
Stalin, Churchill, FDR
Cold War
Containment Policy
Marshall Plan
Berlin Wall
Warsaw Pact
Start of Vietnam War
The 1960s: JFK, Civil Rights, Vietnam
Domino Theory
Gulf of Tonkin Resolution
Neo-Conservatives
Civil Rights Act of 1964
Voting Rights Act of 1965
Great Society/War on
Poverty
Montgomery Bus Boycott
Malcolm X
Medicare/Medicaid
Barry Goldwater
Tet Offensive
Robert F. Kennedy
The Liberal Hour
Doves/Hawks
Hippies
Freedom Riders
Sit-Ins
Ho Chi Minh
Emmett Till
Little Rock 1957
Martin Luther King
Brown v. Board of Ed.
Rosa Parks
Cuban Missile Crisis
Freedom Summer 1963
Peace Corps
Lyndon B. Johnson
Fall of Liberal Hour
Changing Civil Rights Movement
Domestic and Foreign Policies of Democrats and Republicans
The 1970s & 1980s & Ronald Reagan
Malaise and Reasons For It
Supply-Side Economics
Reagan Revolution
Reagan Democrats
Stock Market Boom of 1980s
Conservatism
Detente
Laffer Curve
Trickle-Down Economics
Stagflation
Yuppies
End of Cold War
**Remember to create a narrative with all these terms and concepts. Connect the terms
to a larger story about America (its role in the world, the role of government, what the
American Dream stands for, etc.) that makes sense to you.
Test Format:
Part I: Multiple Choice and True and False: You will need to answer any combination of
40 M.C. questions and/or T/F questions. The combination will be up to you.
Part II: Essay Questions. ONE of the following TWO essay questions will be on the
exam. You may work on both of them before the final, but you will not be able to bring
anything to the final.
Essay Question One:
In what ways did the Great Society resemble the New Deal in its origins, goals,
and social and political legacy? Cite specific programs and policies in support of
your arguments.
*Remember to address the origins, goals and social and political legacy of both
programs. You might want to make a 3x3 chart to assess the two programs.
New Deal
Great Society
Origins
Goals
Social & Political Legacy
Essay Question Two:
What should Ronald Reagan's legacy be? In other words, how should we
remember Ronald Reagan? Cite specific policies, impact on politics, etc.
Part III: Introductory paragraph (7 – 10 sentences). You must create an introductory
paragraph ONLY for the following question. Your introductory paragraph must include
a THESIS STATEMENT and 2 EXAMPLES.
Question: Is liberalism or conservatism part of the American psyche? In other
words, is the New Deal/Great Society ("We are our brother's keeper") impulse
part of the American fabric/identity or is the Reagan Revolution ("Rugged
Individualism") part of the American fabric/identity? Please refer to the
movements we have studied in the 20th century to support your thesis.
To help you on this question, I've attached optional readings that you mind find
useful.
**If you use information that we did not go over in class WITHOUT asking my
permission first, you will be docked points off for your essay. Use information from your
readings, handouts, films, lecture notes, discussion notes.