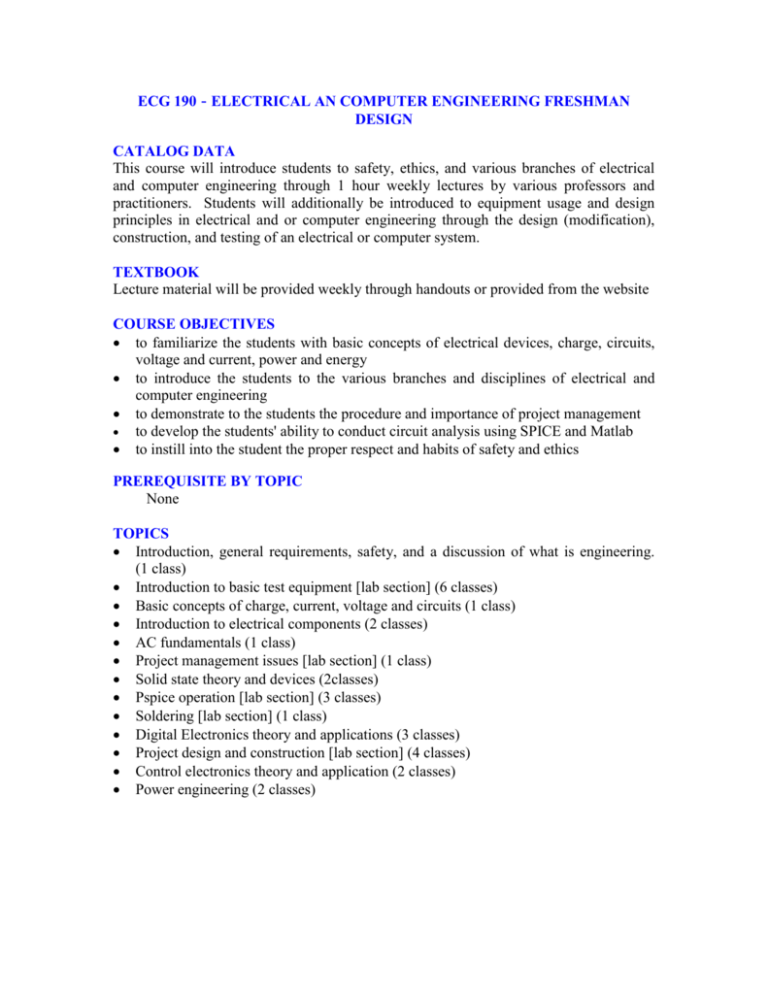 ECG 190 - ELECTRICAL AN COMPUTER ENGINEERING FRESHMAN
DESIGN
CATALOG DATA
This course will introduce students to safety, ethics, and various branches of electrical
and computer engineering through 1 hour weekly lectures by various professors and
practitioners. Students will additionally be introduced to equipment usage and design
principles in electrical and or computer engineering through the design (modification),
construction, and testing of an electrical or computer system.
TEXTBOOK
Lecture material will be provided weekly through handouts or provided from the website
COURSE OBJECTIVES
 to familiarize the students with basic concepts of electrical devices, charge, circuits,
voltage and current, power and energy
 to introduce the students to the various branches and disciplines of electrical and
computer engineering
 to demonstrate to the students the procedure and importance of project management
 to develop the students' ability to conduct circuit analysis using SPICE and Matlab
 to instill into the student the proper respect and habits of safety and ethics
PREREQUISITE BY TOPIC
None
TOPICS
 Introduction, general requirements, safety, and a discussion of what is engineering.
(1 class)
 Introduction to basic test equipment [lab section] (6 classes)
 Basic concepts of charge, current, voltage and circuits (1 class)
 Introduction to electrical components (2 classes)
 AC fundamentals (1 class)
 Project management issues [lab section] (1 class)
 Solid state theory and devices (2classes)
 Pspice operation [lab section] (3 classes)
 Soldering [lab section] (1 class)
 Digital Electronics theory and applications (3 classes)
 Project design and construction [lab section] (4 classes)
 Control electronics theory and application (2 classes)
 Power engineering (2 classes)
COURSE OUTCOMES
Upon completion of the course, students should be able to:
 understand the differences between the various types and disciplines of electrical and
computer engineering
 identify and explain the function of the five basic types of electronic components
 analyze simple circuits using KVL and KCL analysis
 recognize and apply safety and ethics issues to engineering tasks
 be able to identify the capabilities and limitations of; and properly use the four basic
types of electronic test instruments
COMPUTER USAGE
Students use SPICE and/or Matlab to verify their calculations.
DESIGN CONTENT
33 % design content. Students will use design techniques in the design or modification of
the individual class project.
CLASS SCHEDULE
Two 75 minute sessions per week
PROFESSIONAL CONTRIBUTION
??????? Engineering Science: 3 credits or 100%
RELATIONSHIP BETWEEN COURSE AND PROGRAM OUTCOMES
These course outcomes fulfill the following program objectives:
a.
b.
d.
COURSE PREPARER AND DATE OF PREPARATION
Kevin Forcade, July 30, 2002 (version 1).