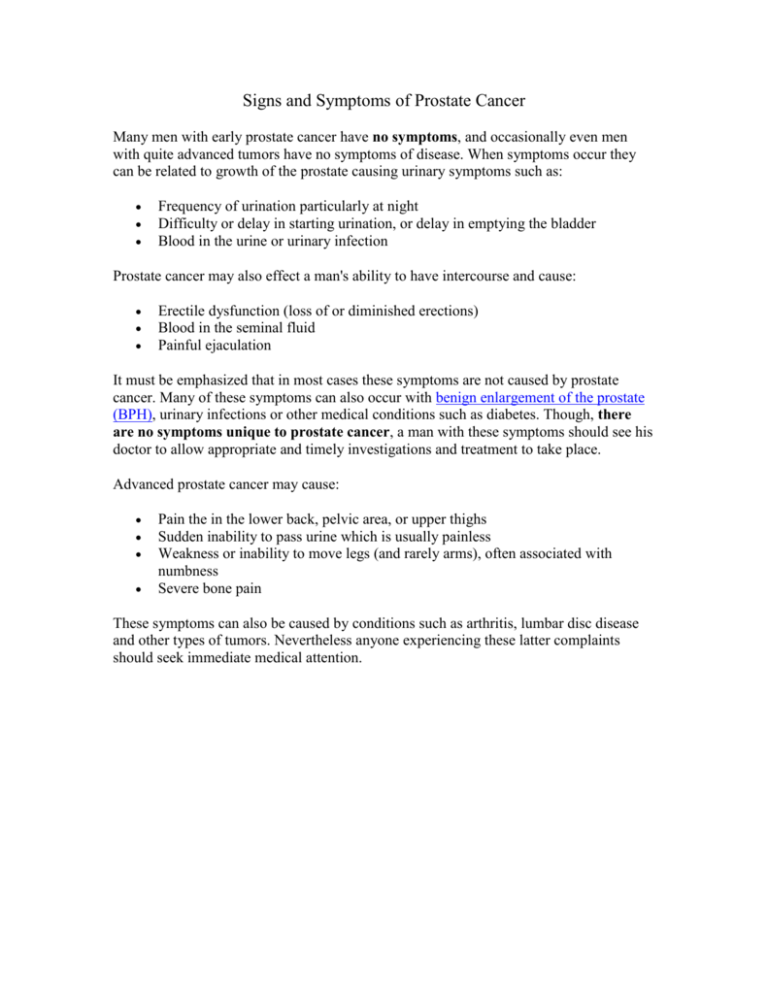 Signs and Symptoms of Prostate Cancer
Many men with early prostate cancer have no symptoms, and occasionally even men
with quite advanced tumors have no symptoms of disease. When symptoms occur they
can be related to growth of the prostate causing urinary symptoms such as:



Frequency of urination particularly at night
Difficulty or delay in starting urination, or delay in emptying the bladder
Blood in the urine or urinary infection
Prostate cancer may also effect a man's ability to have intercourse and cause:



Erectile dysfunction (loss of or diminished erections)
Blood in the seminal fluid
Painful ejaculation
It must be emphasized that in most cases these symptoms are not caused by prostate
cancer. Many of these symptoms can also occur with benign enlargement of the prostate
(BPH), urinary infections or other medical conditions such as diabetes. Though, there
are no symptoms unique to prostate cancer, a man with these symptoms should see his
doctor to allow appropriate and timely investigations and treatment to take place.
Advanced prostate cancer may cause:




Pain the in the lower back, pelvic area, or upper thighs
Sudden inability to pass urine which is usually painless
Weakness or inability to move legs (and rarely arms), often associated with
numbness
Severe bone pain
These symptoms can also be caused by conditions such as arthritis, lumbar disc disease
and other types of tumors. Nevertheless anyone experiencing these latter complaints
should seek immediate medical attention.