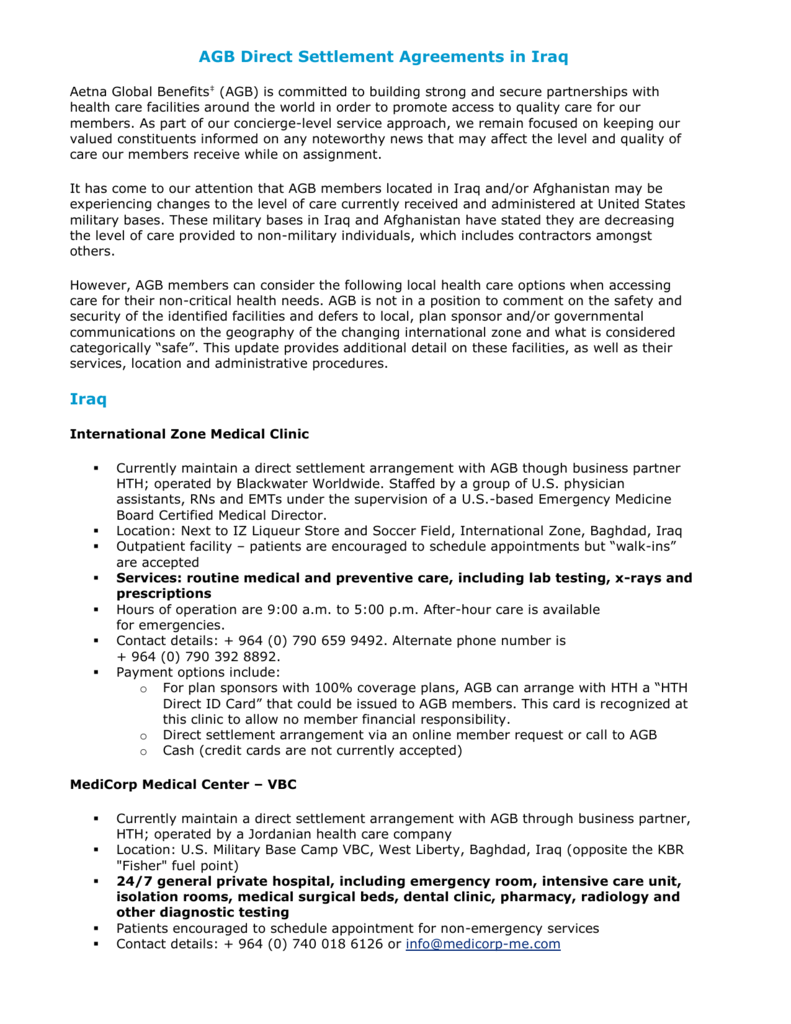 AGB Direct Settlement Agreements in Iraq
Aetna Global Benefits‡ (AGB) is committed to building strong and secure partnerships with
health care facilities around the world in order to promote access to quality care for our
members. As part of our concierge-level service approach, we remain focused on keeping our
valued constituents informed on any noteworthy news that may affect the level and quality of
care our members receive while on assignment.
It has come to our attention that AGB members located in Iraq and/or Afghanistan may be
experiencing changes to the level of care currently received and administered at United States
military bases. These military bases in Iraq and Afghanistan have stated they are decreasing
the level of care provided to non-military individuals, which includes contractors amongst
others.
However, AGB members can consider the following local health care options when accessing
care for their non-critical health needs. AGB is not in a position to comment on the safety and
security of the identified facilities and defers to local, plan sponsor and/or governmental
communications on the geography of the changing international zone and what is considered
categorically "safe". This update provides additional detail on these facilities, as well as their
services, location and administrative procedures.
Iraq
International Zone Medical Clinic







Currently maintain a direct settlement arrangement with AGB though business partner
HTH; operated by Blackwater Worldwide. Staffed by a group of U.S. physician
assistants, RNs and EMTs under the supervision of a U.S.-based Emergency Medicine
Board Certified Medical Director.
Location: Next to IZ Liqueur Store and Soccer Field, International Zone, Baghdad, Iraq
Outpatient facility – patients are encouraged to schedule appointments but "walk-ins"
are accepted
Services: routine medical and preventive care, including lab testing, x-rays and
prescriptions
Hours of operation are 9:00 a.m. to 5:00 p.m. After-hour care is available
for emergencies.
Contact details: + 964 (0) 790 659 9492. Alternate phone number is
+ 964 (0) 790 392 8892.
Payment options include:
o For plan sponsors with 100% coverage plans, AGB can arrange with HTH a "HTH
Direct ID Card" that could be issued to AGB members. This card is recognized at
this clinic to allow no member financial responsibility.
o Direct settlement arrangement via an online member request or call to AGB
o Cash (credit cards are not currently accepted)
MediCorp Medical Center – VBC





Currently maintain a direct settlement arrangement with AGB through business partner,
HTH; operated by a Jordanian health care company
Location: U.S. Military Base Camp VBC, West Liberty, Baghdad, Iraq (opposite the KBR
"Fisher" fuel point)
24/7 general private hospital, including emergency room, intensive care unit,
isolation rooms, medical surgical beds, dental clinic, pharmacy, radiology and
other diagnostic testing
Patients encouraged to schedule appointment for non-emergency services
Contact details: + 964 (0) 740 018 6126 or [email protected]

Payment options include:
o Direct settlement arrangement via an online member request or call to AGB
o Cash, Visa and American Express accepted
o Arrangements by company accounts
Additional details
Please note, while these facilities have agreed to provide either access or direct settlement
arrangements for AGB members, it is their policy to collect the patient's financial responsibility
(according to their benefit plan) at the time of service. Members are strongly encouraged to
submit a direct settlement request, where possible, prior to non-emergency visits to limit their
financial outlay. All direct payment requests for facilities in Iraq will be treated as
urgent requests and a Verification of Benefits, if required by the facility, will be emailed to the facility and member no later than the following business day.
Members can initiate a direct settlement request online at www.aetnaglobalbenefits.com or
through the AGB Member Service Center at 1-800-231-7729 (toll-free) or 001-813-775-0190
(collect). To dial the toll-free number from outside the U.S., please enter the appropriate AT&T
access code.
Members may also elect to pay for the services and submit them for reimbursement, in
accordance with the terms and provisions of their plan. Access the AGB claim form.
We will continue to coordinate medically necessary evacuations and transportations as
appropriate, apart from situations handled under the Defense Based Act. We will also continue
to provide any and all updates on the status of our direct settlement agreements and overall
facility updates in this region as they occur.
For more information, please contact your AGB representative today.