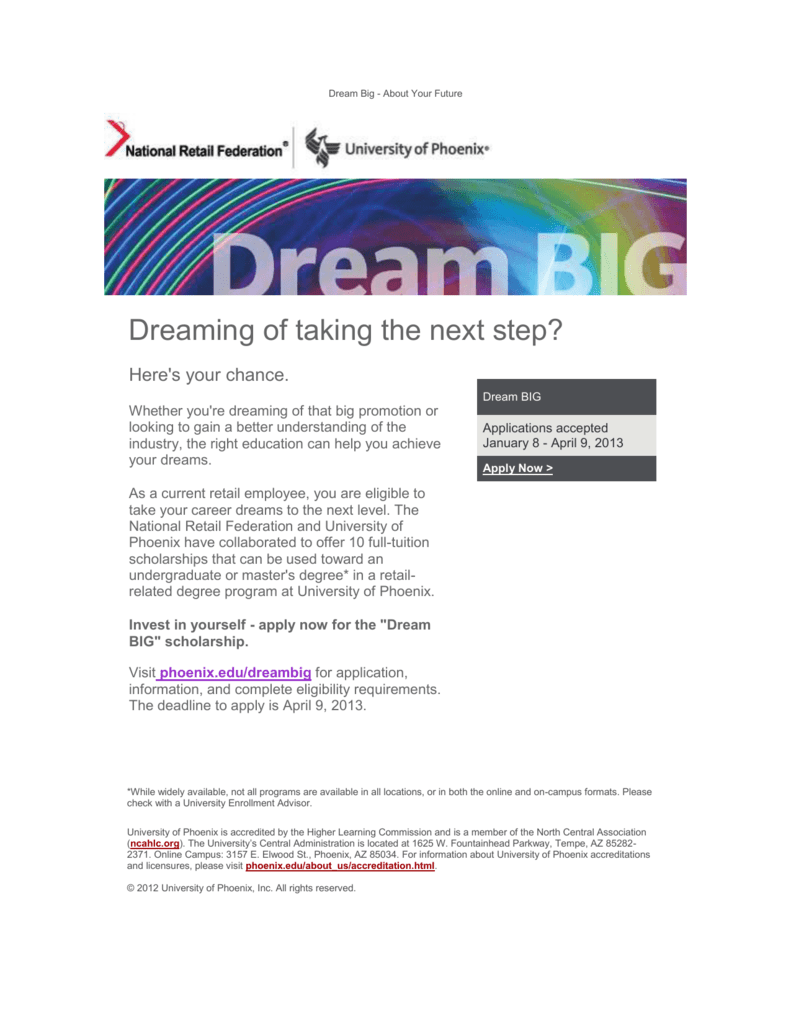 Dream Big - About Your Future
Dreaming of taking the next step?
Here's your chance.
Dream BIG
Whether you're dreaming of that big promotion or
looking to gain a better understanding of the
industry, the right education can help you achieve
your dreams.
Applications accepted
January 8 - April 9, 2013
Apply Now >
As a current retail employee, you are eligible to
take your career dreams to the next level. The
National Retail Federation and University of
Phoenix have collaborated to offer 10 full-tuition
scholarships that can be used toward an
undergraduate or master's degree* in a retailrelated degree program at University of Phoenix.
Invest in yourself - apply now for the "Dream
BIG" scholarship.
Visit phoenix.edu/dreambig for application,
information, and complete eligibility requirements.
The deadline to apply is April 9, 2013.
*While widely available, not all programs are available in all locations, or in both the online and on-campus formats. Please
check with a University Enrollment Advisor.
University of Phoenix is accredited by the Higher Learning Commission and is a member of the North Central Association
(ncahlc.org). The University's Central Administration is located at 1625 W. Fountainhead Parkway, Tempe, AZ 852822371. Online Campus: 3157 E. Elwood St., Phoenix, AZ 85034. For information about University of Phoenix accreditations
and licensures, please visit phoenix.edu/about_us/accreditation.html.
© 2012 University of Phoenix, Inc. All rights reserved.