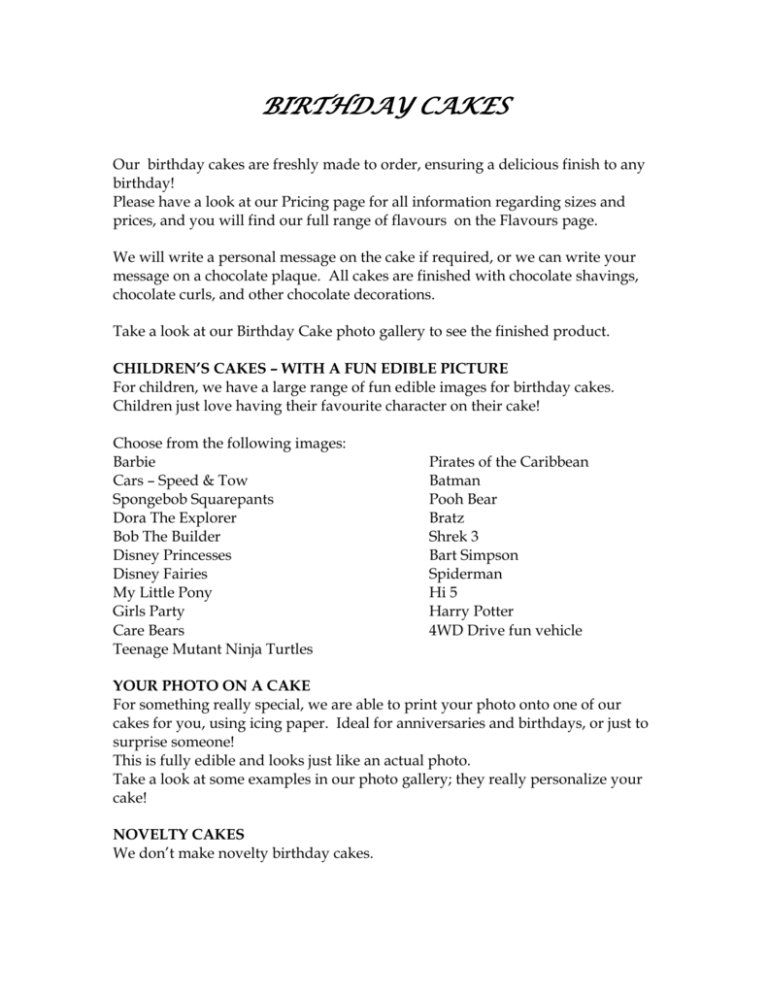 BIRTHDAY CAKES
Our birthday cakes are freshly made to order, ensuring a delicious finish to any
birthday!
Please have a look at our Pricing page for all information regarding sizes and
prices, and you will find our full range of flavours on the Flavours page.
We will write a personal message on the cake if required, or we can write your
message on a chocolate plaque. All cakes are finished with chocolate shavings,
chocolate curls, and other chocolate decorations.
Take a look at our Birthday Cake photo gallery to see the finished product.
CHILDREN'S CAKES – WITH A FUN EDIBLE PICTURE
For children, we have a large range of fun edible images for birthday cakes.
Children just love having their favourite character on their cake!
Choose from the following images:
Barbie
Cars – Speed & Tow
Spongebob Squarepants
Dora The Explorer
Bob The Builder
Disney Princesses
Disney Fairies
My Little Pony
Girls Party
Care Bears
Teenage Mutant Ninja Turtles
Pirates of the Caribbean
Batman
Pooh Bear
Bratz
Shrek 3
Bart Simpson
Spiderman
Hi 5
Harry Potter
4WD Drive fun vehicle
YOUR PHOTO ON A CAKE
For something really special, we are able to print your photo onto one of our
cakes for you, using icing paper. Ideal for anniversaries and birthdays, or just to
surprise someone!
This is fully edible and looks just like an actual photo.
Take a look at some examples in our photo gallery; they really personalize your
cake!
NOVELTY CAKES
We don't make novelty birthday cakes.