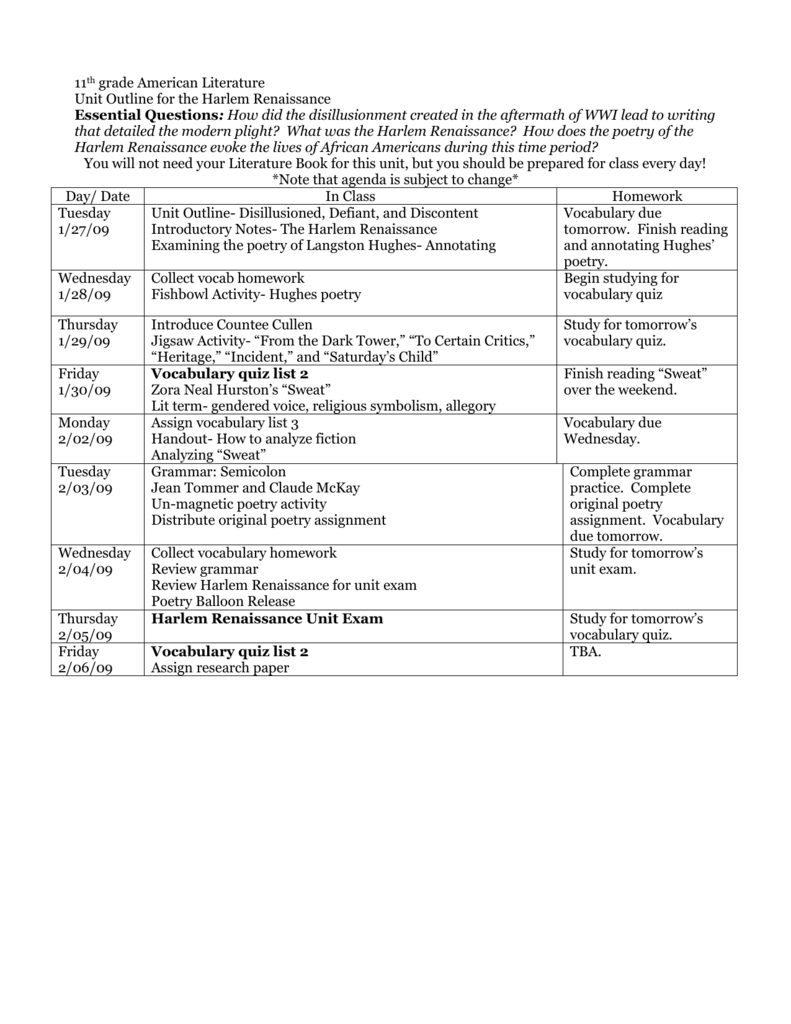 11th grade American Literature
Unit Outline for the Harlem Renaissance
Essential Questions: How did the disillusionment created in the aftermath of WWI lead to writing
that detailed the modern plight? What was the Harlem Renaissance? How does the poetry of the
Harlem Renaissance evoke the lives of African Americans during this time period?
You will not need your Literature Book for this unit, but you should be prepared for class every day!
*Note that agenda is subject to change*
Day/ Date
In Class
Homework
Tuesday
Unit Outline- Disillusioned, Defiant, and Discontent
Vocabulary due
1/27/09
Introductory Notes- The Harlem Renaissance
tomorrow. Finish reading
Examining the poetry of Langston Hughes- Annotating
and annotating Hughes'
poetry.
Wednesday Collect vocab homework
Begin studying for
1/28/09
Fishbowl Activity- Hughes poetry
vocabulary quiz
Thursday
1/29/09
Friday
1/30/09
Monday
2/02/09
Tuesday
2/03/09
Wednesday
2/04/09
Thursday
2/05/09
Friday
2/06/09
Introduce Countee Cullen
Jigsaw Activity- "From the Dark Tower," "To Certain Critics,"
"Heritage," "Incident," and "Saturday's Child"
Vocabulary quiz list 2
Zora Neal Hurston's "Sweat"
Lit term- gendered voice, religious symbolism, allegory
Assign vocabulary list 3
Handout- How to analyze fiction
Analyzing "Sweat"
Grammar: Semicolon
Jean Tommer and Claude McKay
Un-magnetic poetry activity
Distribute original poetry assignment
Collect vocabulary homework
Review grammar
Review Harlem Renaissance for unit exam
Poetry Balloon Release
Harlem Renaissance Unit Exam
Vocabulary quiz list 2
Assign research paper
Study for tomorrow's
vocabulary quiz.
Finish reading "Sweat"
over the weekend.
Vocabulary due
Wednesday.
Complete grammar
practice. Complete
original poetry
assignment. Vocabulary
due tomorrow.
Study for tomorrow's
unit exam.
Study for tomorrow's
vocabulary quiz.
TBA.