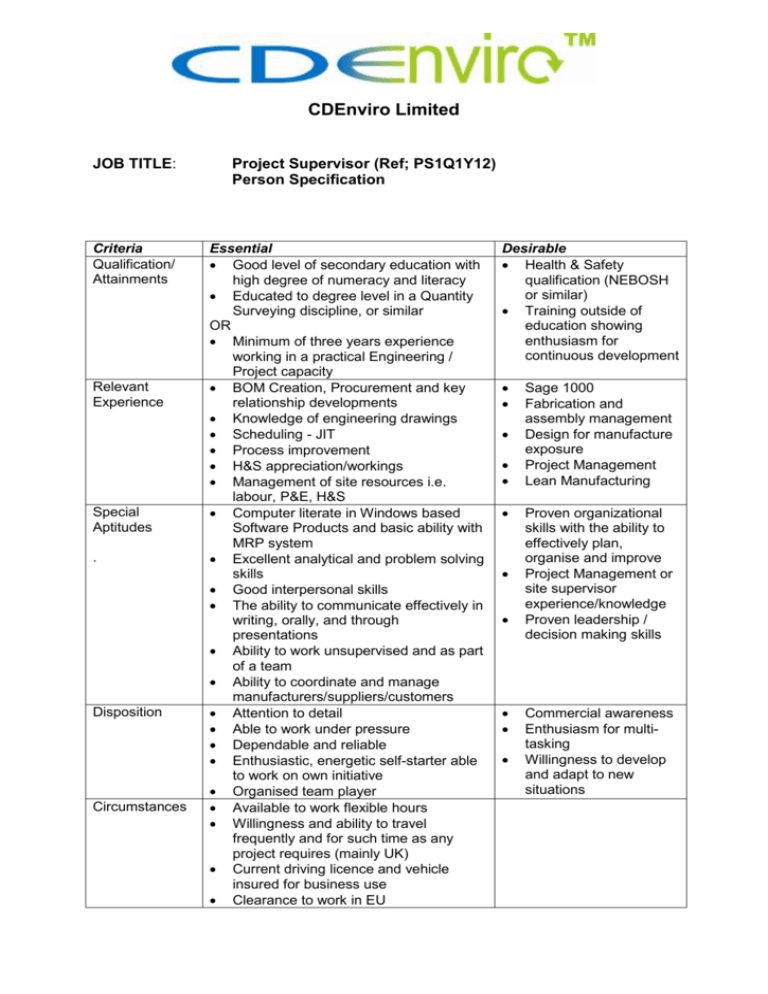 CDEnviro Limited
JOB TITLE:
Criteria
Qualification/
Attainments
Relevant
Experience
Special
Aptitudes
.
Disposition
Circumstances
Project Supervisor (Ref; PS1Q1Y12)
Person Specification
Essential
 Good level of secondary education with
high degree of numeracy and literacy
 Educated to degree level in a Quantity
Surveying discipline, or similar
OR
 Minimum of three years experience
working in a practical Engineering /
Project capacity
 BOM Creation, Procurement and key
relationship developments
 Knowledge of engineering drawings
 Scheduling - JIT
 Process improvement
 H&S appreciation/workings
 Management of site resources i.e.
labour, P&E, H&S
 Computer literate in Windows based
Software Products and basic ability with
MRP system
 Excellent analytical and problem solving
skills
 Good interpersonal skills
 The ability to communicate effectively in
writing, orally, and through
presentations
 Ability to work unsupervised and as part
of a team
 Ability to coordinate and manage
manufacturers/suppliers/customers
 Attention to detail
 Able to work under pressure
 Dependable and reliable
 Enthusiastic, energetic self-starter able
to work on own initiative
 Organised team player
 Available to work flexible hours
 Willingness and ability to travel
frequently and for such time as any
project requires (mainly UK)
 Current driving licence and vehicle
insured for business use
 Clearance to work in EU
Desirable
 Health & Safety
qualification (NEBOSH
or similar)
 Training outside of
education showing
enthusiasm for
continuous development











Sage 1000
Fabrication and
assembly management
Design for manufacture
exposure
Project Management
Lean Manufacturing
Proven organizational
skills with the ability to
effectively plan,
organise and improve
Project Management or
site supervisor
experience/knowledge
Proven leadership /
decision making skills
Commercial awareness
Enthusiasm for multitasking
Willingness to develop
and adapt to new
situations
CDEnviro Limited
JOB TITLE:
Project Supervisor – Roles and Responsibilities
Roles:
- Lead and manage on-site resources with particular focus on health and safety, cost
and quality.
- Enjoy working as part of a fast developing team.
- Continuous Improvement of current product range in terms of ease of assembly and
fabrication
- Responsible for liaising with production on scheduling/prioritizing for projects and
manage and liaise with customers and suppliers
- Assume 'ownership' of on-site Health & Safety file along with RAMS and SSoW
- Actively participate in process improvement through aligning production processes in
line with industry standards with a particular focus on dependability
- Learning all aspects of the business to become a well-rounded employee
Responsibilities:
-
-
Promote and emphasise utility industry quality and delivery expectations – set and
monitor standards and adherence to these standards
Support the team to reduce cost of existing product range through materials used
and ease of assembly/fabrication
Ensure all products are in accordance with industry standards including, but not
limited to; Health and Safety, Environmental Standards and British/European
Standards
Develop skills and knowledge to be able to manage projects from initial sales contact
through to customer sign off, whilst maximising quality, cost and on time delivery
Identify new markets suitable for current and new technologies thus developing
current product range
Develop relationships with industry standard suppliers/fabricators
Identify process improvements and implement, monitor and maintain these
improvements
Adhere to CDEnviro's HR and H&S policies
CV's will not be accepted, to download an application form visit www.cdenviro.com
Application forms will only be accepted with a completed monitoring form.
Closing date is 23rd of January 2012.
Desirable criteria may be used for shortlisting. The Company reserves the right to enhance
criteria at the shortlisting stage.
We are an equal opportunities employer.