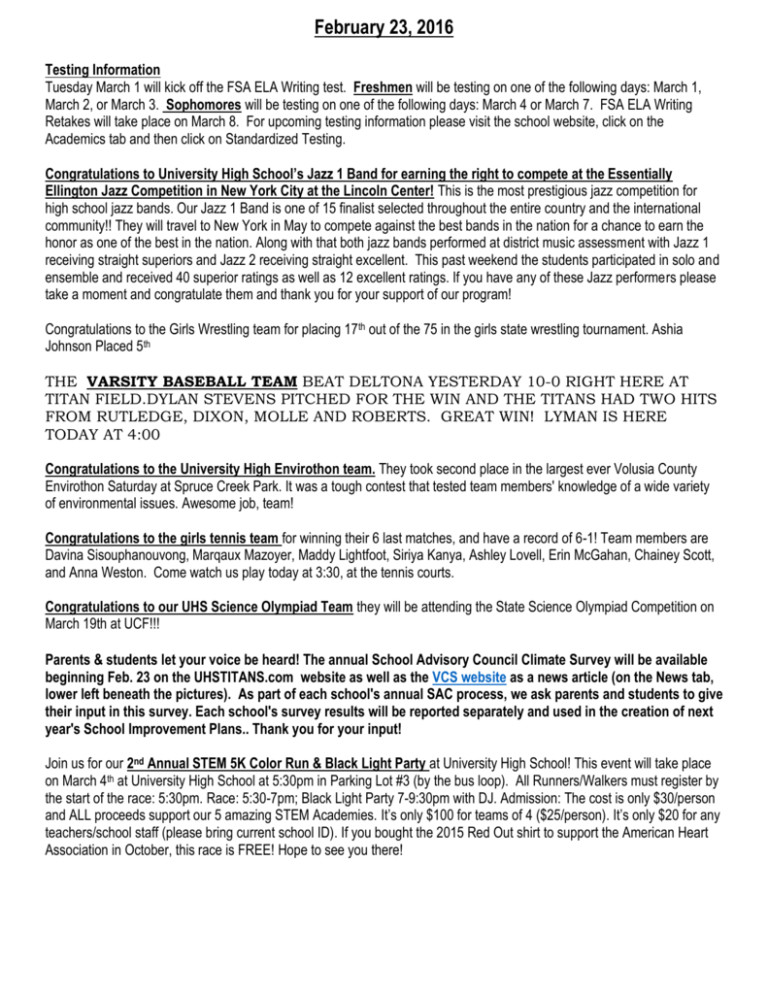 February 23, 2016
Testing Information
Tuesday March 1 will kick off the FSA ELA Writing test. Freshmen will be testing on one of the following days: March 1,
March 2, or March 3. Sophomores will be testing on one of the following days: March 4 or March 7. FSA ELA Writing
Retakes will take place on March 8. For upcoming testing information please visit the school website, click on the
Academics tab and then click on Standardized Testing.
Congratulations to University High School's Jazz 1 Band for earning the right to compete at the Essentially
Ellington Jazz Competition in New York City at the Lincoln Center! This is the most prestigious jazz competition for
high school jazz bands. Our Jazz 1 Band is one of 15 finalist selected throughout the entire country and the international
community!! They will travel to New York in May to compete against the best bands in the nation for a chance to earn the
honor as one of the best in the nation. Along with that both jazz bands performed at district music assessment with Jazz 1
receiving straight superiors and Jazz 2 receiving straight excellent. This past weekend the students participated in solo and
ensemble and received 40 superior ratings as well as 12 excellent ratings. If you have any of these Jazz performers please
take a moment and congratulate them and thank you for your support of our program!
Congratulations to the Girls Wrestling team for placing 17th out of the 75 in the girls state wrestling tournament. Ashia
Johnson Placed 5th
THE VARSITY BASEBALL TEAM BEAT DELTONA YESTERDAY 10-0 RIGHT HERE AT
TITAN FIELD.DYLAN STEVENS PITCHED FOR THE WIN AND THE TITANS HAD TWO HITS
FROM RUTLEDGE, DIXON, MOLLE AND ROBERTS. GREAT WIN! LYMAN IS HERE
TODAY AT 4:00
Congratulations to the University High Envirothon team. They took second place in the largest ever Volusia County
Envirothon Saturday at Spruce Creek Park. It was a tough contest that tested team members' knowledge of a wide variety
of environmental issues. Awesome job, team!
Congratulations to the girls tennis team for winning their 6 last matches, and have a record of 6-1! Team members are
Davina Sisouphanouvong, Marqaux Mazoyer, Maddy Lightfoot, Siriya Kanya, Ashley Lovell, Erin McGahan, Chainey Scott,
and Anna Weston. Come watch us play today at 3:30, at the tennis courts.
Congratulations to our UHS Science Olympiad Team they will be attending the State Science Olympiad Competition on
March 19th at UCF!!!
Parents & students let your voice be heard! The annual School Advisory Council Climate Survey will be available
beginning Feb. 23 on the UHSTITANS.com website as well as the VCS website as a news article (on the News tab,
lower left beneath the pictures). As part of each school's annual SAC process, we ask parents and students to give
their input in this survey. Each school's survey results will be reported separately and used in the creation of next
year's School Improvement Plans.. Thank you for your input!
Join us for our 2nd Annual STEM 5K Color Run & Black Light Party at University High School! This event will take place
on March 4th at University High School at 5:30pm in Parking Lot #3 (by the bus loop). All Runners/Walkers must register by
the start of the race: 5:30pm. Race: 5:30-7pm; Black Light Party 7-9:30pm with DJ. Admission: The cost is only $30/person
and ALL proceeds support our 5 amazing STEM Academies. It's only $100 for teams of 4 ($25/person). It's only $20 for any
teachers/school staff (please bring current school ID). If you bought the 2015 Red Out shirt to support the American Heart
Association in October, this race is FREE! Hope to see you there!
The senior class club will be having a meeting on Wednesday, February 24th during the first half of lunch in Miss Ficco's
room (room 1B 102) We will be generating ideas for a class song, motto, flower and t shirt designs. Any and all ideas are
welcomed; interested seniors are encouraged to attend.
This Thursday SGA will be holding the annual powder puff game. The games will be played here at UHS with the
freshmen vs. Sophomores at 6pm and Juniors vs Seniors at 7pm. Admission is free so come out and cheer on your class!
If you are clearing out "winter" clothes or household items please consider the AMVET Blue bins on campus or the
little green box in the mail room for your donations. Local Vets and their families will be grateful.
Daytona State College is offering free SAT math tutoring every Saturday from 10am until 11:30am at the main campus in
Daytona Beach, from March 26 through April 30th. Registration is recommended. Contact Erika Blanken at 386-506-3919.
On February 29th Daytona State College will be hosting an on-site admission day for seniors planning on attending in the
fall. Sign up sheets are available in the guidance office. Please take advantage of this opportunity as graduation time is
quickly approaching.
Seniors: Don't forget that you must apply for Bright Futures Scholarships by going to www.floridastudentfinancialaid.org.
If you need assistance, see your counselor.
Seniors, for more information on scholarships stop into the guidance office during lunch time to pick up the current
scholarship bulletin. Also, see the attached Newsletter.
Help support University's Multi VE students and their programs by bringing in your aluminum cans!! There are green
recycle bins designated for aluminum cans located outside of bld 4, the cafeteria and building 1B.
Freshmen class t-shirts are on sale in room 4-307, Sophomore Class shirts are on sale in room 1C-312 & Junior class
shirts are on sale in room 1A 304 they are each $10.
The next community volunteer training class with Ms. McConkey is scheduled for Tuesday, March 8th during lunch. Sign up
in the guidance office today, space is limited. You must complete this class first in order to earn community service hours.
There are quite a few volunteer opportunities for students that have already completed this class with Ms. McConkey.
The City of Debary is in need of Volunteers for the following events:
Youth Flag Football on Friday & Saturday Evenings : March 5 thru May 7
Youth Cheerleading Coaches for games & practices : Feb 22- May 7
Welcoming Hearts is hosting the 1st Annual Dash for Downs at Gemini Springs on Saturday, March 19th to be followed
by the 2nd Annual Spring Family Festival. To volunteer contact Chastity Hanners @386-742-9916 or email:
welcominghearts@gmail.com.
Please check out the volunteer board in guidance for more these and other volunteer opportunities.
Any student with overdue textbooks or outstanding monetary obligations such as club, class or sport fees please be aware
outstanding obligations can affect your UHS extracurricular involvement. Turn-in overdue textbooks or make payments via
check or cash in the Titan Textbook Room 1B-104 OR you may use your debit/credit card online @ our school's website by
clicking on the green make a payment button then click on the student obligations tab. Remember: It is your responsibility
to know what overdue textbooks and/or monetary obligations you have; don't wait till it's too late. If you have any questions
contact Mrs. Merk in 1B-104 or @ Extension 46262.
2016 Grad Bash is on Friday, April 29. Tickets are currently on sale in the school store. Tickets are $85. Your ticket covers
the cost of the charter bus and entrance into both Universal Studios & Islands of Adventures. Seniors stop into the schools
tore today to pick up your grad bash parent permission slip. The last to purchase a ticket is quickly approaching , it will be
Monday, Feb 24th. Diont miss out get your ticket today.
UHS 2016 Prom will be held on Saturday, April 23rd at the Daytona Beach Hilton from 7-11pm. This year's theme is "New
York, New York" Prom tickets are $75. Tickets on sale Wed. Feb 3 rd in the school store. Tickets can be purchased by
juniors & seniors with a current student ID and no outstanding obligations. Formal attire is required, valet parking, dinner
and photo booth pictures are included with your ticket.
Any junior interested in running for Mr. or Ms. UHS 2017 please stop into the school store or room 1A-304 and pick up
an application.
Just a reminder round 2 of Talent show auditions will take place on Wed. Feb 24th. You can still pick up a talent show
application from the band room 2E-117.
Announcements are posted daily on our school website www.uhstitans.com
Outside of the school store and emailed to all teachers.