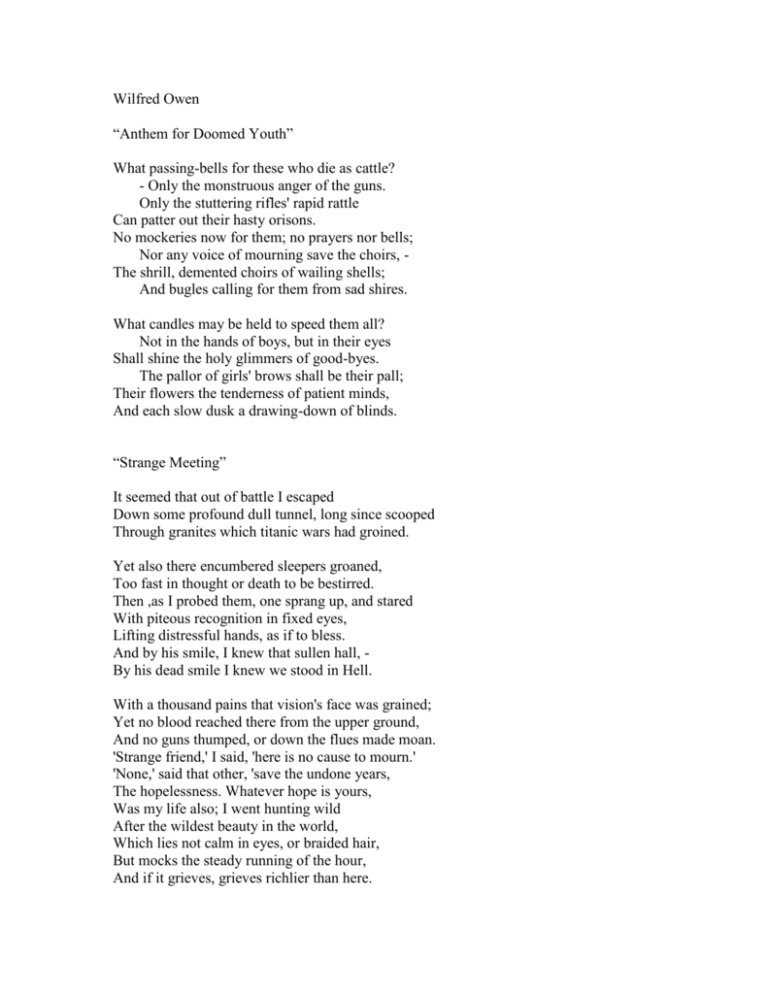 Wilfred Owen
"Anthem for Doomed Youth"
What passing-bells for these who die as cattle?
- Only the monstruous anger of the guns.
Only the stuttering rifles' rapid rattle
Can patter out their hasty orisons.
No mockeries now for them; no prayers nor bells;
Nor any voice of mourning save the choirs, The shrill, demented choirs of wailing shells;
And bugles calling for them from sad shires.
What candles may be held to speed them all?
Not in the hands of boys, but in their eyes
Shall shine the holy glimmers of good-byes.
The pallor of girls' brows shall be their pall;
Their flowers the tenderness of patient minds,
And each slow dusk a drawing-down of blinds.
"Strange Meeting"
It seemed that out of battle I escaped
Down some profound dull tunnel, long since scooped
Through granites which titanic wars had groined.
Yet also there encumbered sleepers groaned,
Too fast in thought or death to be bestirred.
Then ,as I probed them, one sprang up, and stared
With piteous recognition in fixed eyes,
Lifting distressful hands, as if to bless.
And by his smile, I knew that sullen hall, By his dead smile I knew we stood in Hell.
With a thousand pains that vision's face was grained;
Yet no blood reached there from the upper ground,
And no guns thumped, or down the flues made moan.
'Strange friend,' I said, 'here is no cause to mourn.'
'None,' said that other, 'save the undone years,
The hopelessness. Whatever hope is yours,
Was my life also; I went hunting wild
After the wildest beauty in the world,
Which lies not calm in eyes, or braided hair,
But mocks the steady running of the hour,
And if it grieves, grieves richlier than here.
For by my glee might many men have laughed,
And of my weeping something had been left,
Which must die now. I mean the truth untold,
The pity of war, the pity war distilled.
Now men will go content with what we spoiled,
Or, discontent, boil bloody, and be spilled.
They will be swift with swiftness of the tigress.
None will break ranks, though nations trek from progress.
Courage was mine, and I had mystery,
Wisdom was mine, and I had mastery:
To miss the march of this retreating world
Into vain citadels that are not walled.
Then, when much blood had clogged their chariot-wheels,
I would go up and wash them from sweet wells,
Even with truths that lie too deep for taint.
I would have poured my spirit without stint
But not through wounds; not on the cess of war.
Foreheads of men have bled where no wounds were.
I am the enemy you killed, my friend.
I knew you in this dark: for so you frowned
Yesterday through me as you jabbed and killed.
I parried; but my hands were loath and cold.
Let us sleep now...'
"Dulce Et Decorum Est"
Bent double, like old beggars under sacks,
Knock-kneed, coughing like hags, we cursed through sludge,
Till on the haunting flares we turned our backs
And towards our distant rest began to trudge.
Men marched asleep. Many had lost their boots
But limped on, blood-shod. All went lame; all blind;
Drunk with fatigue; deaf even to the hoots
Of disappointed shells that dropped behind.
GAS! Gas! Quick, boys!-- An ecstasy of fumbling,
Fitting the clumsy helmets just in time;
But someone still was yelling out and stumbling
And floundering like a man in fire or lime.-Dim, through the misty panes and thick green light
As under a green sea, I saw him drowning.
In all my dreams, before my helpless sight,
He plunges at me, guttering, choking, drowning.
If in some smothering dreams you too could pace
Behind the wagon that we flung him in,
And watch the white eyes writhing in his face,
His hanging face, like a devil's sick of sin;
If you could hear, at every jolt, the blood
Come gargling from the froth-corrupted lungs,
Obscene as cancer, bitter as the cud
Of vile, incurable sores on innocent tongues,-My friend, you would not tell with such high zest
To children ardent for some desperate glory,
The old Lie: Dulce et decorum est
Pro patria mori.
Siegfried Sassoon,
"Suicide in the Trenches"
I KNEW a simple soldier boy
Who grinned at life in empty joy,
Slept soundly through the lonesome dark,
And whistled early with the lark.
In winter trenches, cowed and glum,
With crumps and lice and lack of rum,
He put a bullet through his brain.
No one spoke of him again.
. . . .
You smug-faced crowds with kindling eye
Who cheer when soldier lads march by,
Sneak home and pray you'll never know
The hell where youth and laughter go.
Isaac Rosenberg
"Dead Man's Dump"
The plunging limbers over the shattered track
Racketed with their rusty freight,
Stuck out like many crowns of thorns,
And the rusty stakes like sceptres old
To stay the flood of brutish men
Upon our brothers dear.
The wheels lurched over sprawled dead
But pained them not, though their bones crunched,
Their shut mouths made no moan,
They lie there huddled, friend and foeman,
Man born of man, and born of woman,
And shells go crying over them
From night till night and now.
Earth has waited for them
All the time of their growth
Fretting for their decay:
Now she has them at last!
In the strength of their strength
Suspended--stopped and held.
What fierce imaginings their dark souls lit
Earth! have they gone into you?
Somewhere they must have gone,
And flung on your hard back
Is their souls' sack,
Emptied of God-ancestralled essences.
Who hurled them out? Who hurled?
None saw their spirits' shadow shake the grass,
Or stood aside for the half used life to pass
Out of those doomed nostrils and the doomed mouth,
When the swift iron burning bee
Drained the wild honey of their youth.
What of us, who flung on the shrieking pyre,
Walk, our usual thoughts untouched,
Our lucky limbs as on ichor fed,
Immortal seeming ever?
Perhaps when the flames beat loud on us,
A fear may choke in our veins
And the startled blood may stop.
The air is loud with death,
The dark air spurts with fire
The explosions ceaseless are.
Timelessly now, some minutes past,
These dead strode time with vigorous life,
Till the shrapnel called 'an end!'
But not to all. In bleeding pangs
Some borne on stretchers dreamed of home,
Dear things, war-blotted from their hearts.
A man's brains splattered on
A stretcher-bearer's face;
His shook shoulders slipped their load,
But when they bent to look again
The drowning soul was sunk too deep
For human tenderness.
They left this dead with the older dead,
Stretched at the cross roads.
Burnt black by strange decay,
Their sinister faces lie
The lid over each eye,
The grass and coloured clay
More motion have than they,
Joined to the great sunk silences.
Here is one not long dead;
His dark hearing caught our far wheels,
And the choked soul stretched weak hands
To reach the living word the far wheels said,
The blood-dazed intelligence beating for light,
Crying through the suspense of the far torturing wheels
Swift for the end to break,
Or the wheels to break,
Cried as the tide of the world broke over his sight.
Will they come? Will they ever come?
Even as the mixed hoofs of the mules,
The quivering-bellied mules,
And the rushing wheels all mixed
With his tortured upturned sight,
So we crashed round the bend,
We heard his weak scream,
We heard his very last sound,
And our wheels grazed his dead face.