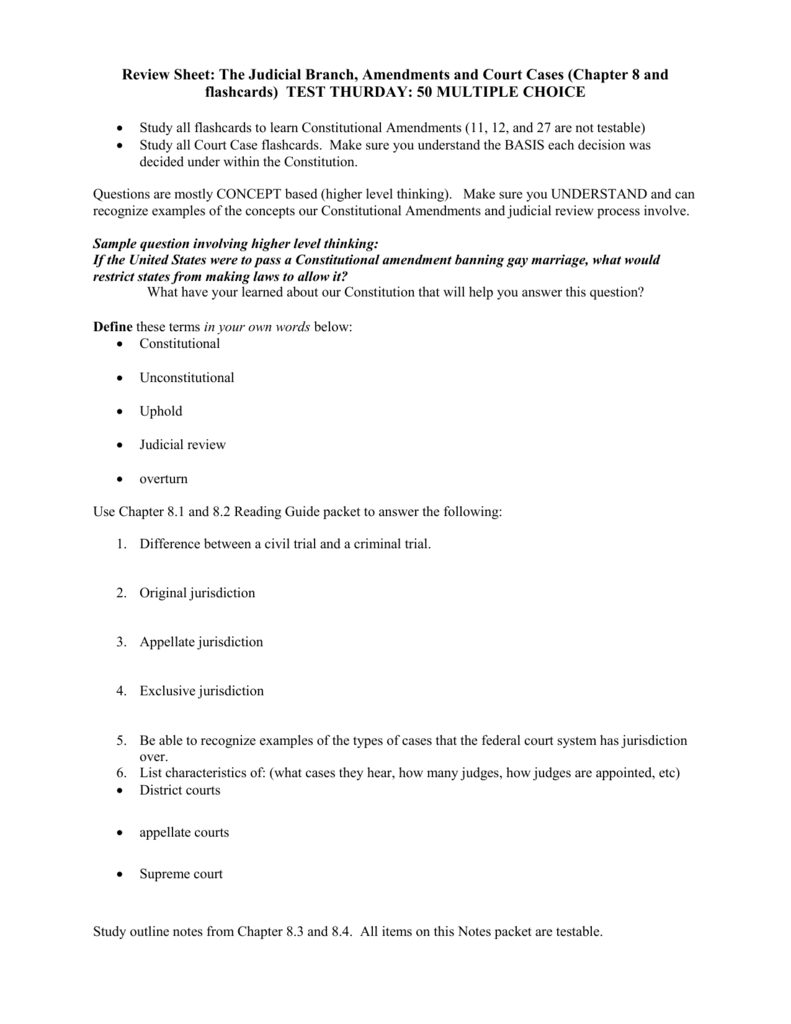 Review Sheet: The Judicial Branch, Amendments and Court Cases (Chapter 8 and
flashcards) TEST THURDAY: 50 MULTIPLE CHOICE


Study all flashcards to learn Constitutional Amendments (11, 12, and 27 are not testable)
Study all Court Case flashcards. Make sure you understand the BASIS each decision was
decided under within the Constitution.
Questions are mostly CONCEPT based (higher level thinking). Make sure you UNDERSTAND and can
recognize examples of the concepts our Constitutional Amendments and judicial review process involve.
Sample question involving higher level thinking:
If the United States were to pass a Constitutional amendment banning gay marriage, what would
restrict states from making laws to allow it?
What have your learned about our Constitution that will help you answer this question?
Define these terms in your own words below:
 Constitutional

Unconstitutional

Uphold

Judicial review

overturn
Use Chapter 8.1 and 8.2 Reading Guide packet to answer the following:
1. Difference between a civil trial and a criminal trial.
2. Original jurisdiction
3. Appellate jurisdiction
4. Exclusive jurisdiction
5. Be able to recognize examples of the types of cases that the federal court system has jurisdiction
over.
6. List characteristics of: (what cases they hear, how many judges, how judges are appointed, etc)
 District courts

appellate courts

Supreme court
Study outline notes from Chapter 8.3 and 8.4. All items on this Notes packet are testable.