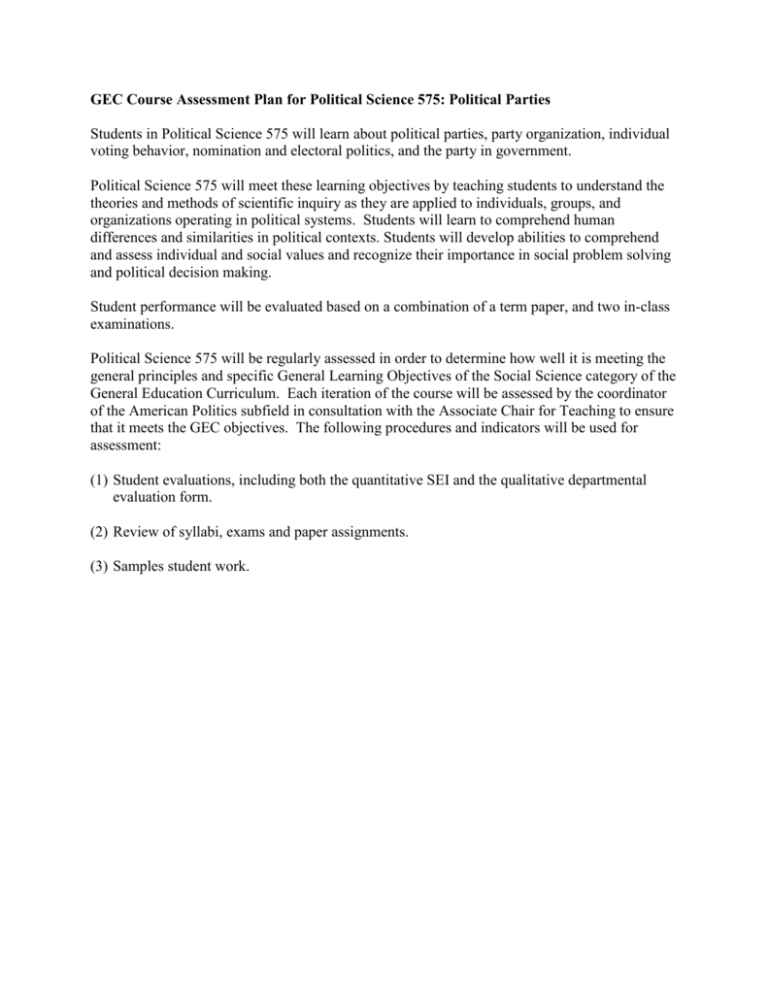 GEC Course Assessment Plan for Political Science 575: Political Parties
Students in Political Science 575 will learn about political parties, party organization, individual
voting behavior, nomination and electoral politics, and the party in government.
Political Science 575 will meet these learning objectives by teaching students to understand the
theories and methods of scientific inquiry as they are applied to individuals, groups, and
organizations operating in political systems. Students will learn to comprehend human
differences and similarities in political contexts. Students will develop abilities to comprehend
and assess individual and social values and recognize their importance in social problem solving
and political decision making.
Student performance will be evaluated based on a combination of a term paper, and two in-class
examinations.
Political Science 575 will be regularly assessed in order to determine how well it is meeting the
general principles and specific General Learning Objectives of the Social Science category of the
General Education Curriculum. Each iteration of the course will be assessed by the coordinator
of the American Politics subfield in consultation with the Associate Chair for Teaching to ensure
that it meets the GEC objectives. The following procedures and indicators will be used for
assessment:
(1) Student evaluations, including both the quantitative SEI and the qualitative departmental
evaluation form.
(2) Review of syllabi, exams and paper assignments.
(3) Samples student work.