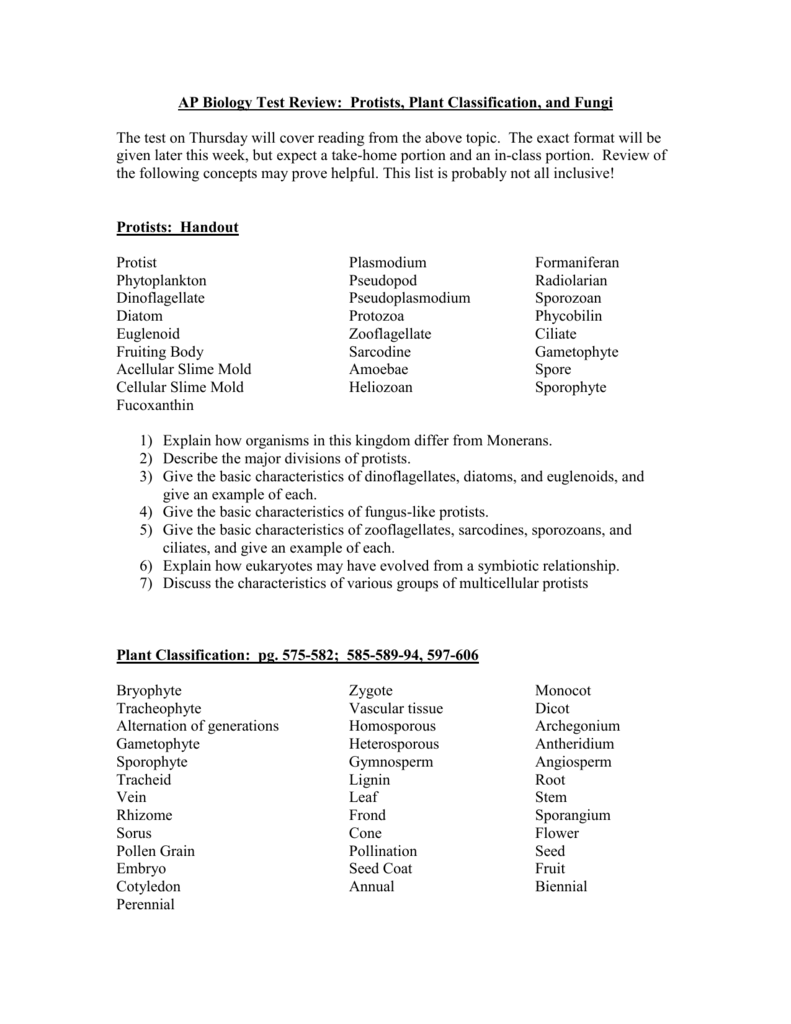 AP Biology Test Review: Protists, Plant Classification, and Fungi
The test on Thursday will cover reading from the above topic. The exact format will be
given later this week, but expect a take-home portion and an in-class portion. Review of
the following concepts may prove helpful. This list is probably not all inclusive!
Protists: Handout
Protist
Phytoplankton
Dinoflagellate
Diatom
Euglenoid
Fruiting Body
Acellular Slime Mold
Cellular Slime Mold
Fucoxanthin
Plasmodium
Pseudopod
Pseudoplasmodium
Protozoa
Zooflagellate
Sarcodine
Amoebae
Heliozoan
Formaniferan
Radiolarian
Sporozoan
Phycobilin
Ciliate
Gametophyte
Spore
Sporophyte
1) Explain how organisms in this kingdom differ from Monerans.
2) Describe the major divisions of protists.
3) Give the basic characteristics of dinoflagellates, diatoms, and euglenoids, and
give an example of each.
4) Give the basic characteristics of fungus-like protists.
5) Give the basic characteristics of zooflagellates, sarcodines, sporozoans, and
ciliates, and give an example of each.
6) Explain how eukaryotes may have evolved from a symbiotic relationship.
7) Discuss the characteristics of various groups of multicellular protists
Plant Classification: pg. 575-582; 585-589-94, 597-606
Bryophyte
Tracheophyte
Alternation of generations
Gametophyte
Sporophyte
Tracheid
Vein
Rhizome
Sorus
Pollen Grain
Embryo
Cotyledon
Perennial
Zygote
Vascular tissue
Homosporous
Heterosporous
Gymnosperm
Lignin
Leaf
Frond
Cone
Pollination
Seed Coat
Annual
Monocot
Dicot
Archegonium
Antheridium
Angiosperm
Root
Stem
Sporangium
Flower
Seed
Fruit
Biennial
1)
2)
3)
4)
List the features common to all plants.
Discuss adaptations that permitted plants to colonize land.
Describe the differences between bryophytes and tracheophytes.
Give characteristics and examples of bryophytes, seedless vascular plants,
gymnosperms, and angiosperms.
5) Describe the differences between gymnosperm and angiosperms.
6) List features common to monocots and to dicots.
7) Explain the alternation of generations exhibited by plants.
8) Classify plants given identifying features.
9) Distinguish among homosporous and heterosporous.
10) Discuss the life cycle of bryophytes as compared to the life cycle of seedless
vascular plants and gymnosperms and angiosperms. Identify structures
responsible for the production of gametes or spores in each.
Fungi
Absorbtion
Hyphae
Mycelium
Septa
Chitin
Coenocytic
Haustoria
1)
2)
3)
4)
5)
6)
Plasmogamy
Karyogamy
Dikaryon
Chytrids
Zygote Fungi
Mycorrhizae
Sac Fungi
Asci
Ascocarp
Conidia
Basidium
Club Fungus
Basidiocarps
Mold
Imperfect Fungi
Yeast
Lichens
Soredia
Explain how fungi differ from organisms in other kingdoms.
Describe the basic body plan of a fungus.
Describe the difference between a septate and an aseptate fungus.
List some advantages to the dikaryotic state.
Describe the major divisions of the fungus kingdom.
Describe asexual and sexual reproduction in each of the major divisions of the
fungi. Describe the sexual structure that characterizes each group.
7) Explain the difference between conidia and ascospores.
8) Explain what is meant by the term "imperfect fungus", and give an example.
9) Describe how yeast differ from other forms of fungus.
10) Describe the symbiotic relationships found in lichens and mycorrhizae.