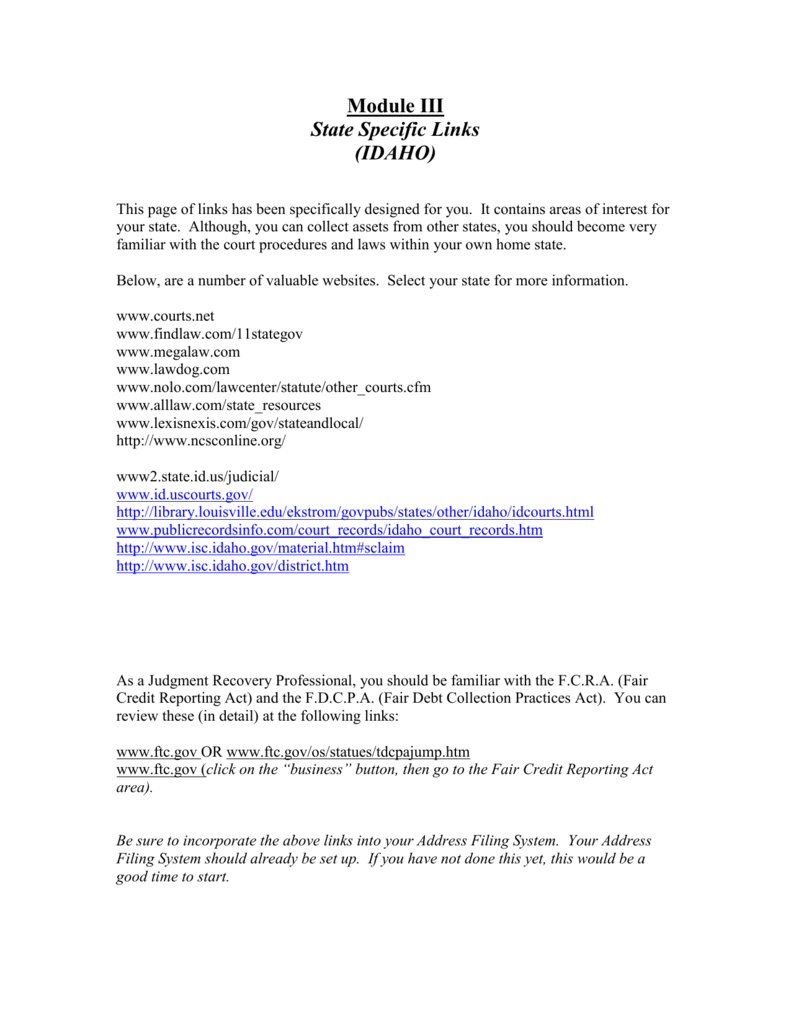 Module III
State Specific Links
(IDAHO)
This page of links has been specifically designed for you. It contains areas of interest for
your state. Although, you can collect assets from other states, you should become very
familiar with the court procedures and laws within your own home state.
Below, are a number of valuable websites. Select your state for more information.
www.courts.net
www.findlaw.com/11stategov
www.megalaw.com
www.lawdog.com
www.nolo.com/lawcenter/statute/other_courts.cfm
www.alllaw.com/state_resources
www.lexisnexis.com/gov/stateandlocal/
http://www.ncsconline.org/
www2.state.id.us/judicial/
www.id.uscourts.gov/
http://library.louisville.edu/ekstrom/govpubs/states/other/idaho/idcourts.html
www.publicrecordsinfo.com/court_records/idaho_court_records.htm
http://www.isc.idaho.gov/material.htm#sclaim
http://www.isc.idaho.gov/district.htm
As a Judgment Recovery Professional, you should be familiar with the F.C.R.A. (Fair
Credit Reporting Act) and the F.D.C.P.A. (Fair Debt Collection Practices Act). You can
review these (in detail) at the following links:
www.ftc.gov OR www.ftc.gov/os/statues/tdcpajump.htm
www.ftc.gov (click on the "business" button, then go to the Fair Credit Reporting Act
area).
Be sure to incorporate the above links into your Address Filing System. Your Address
Filing System should already be set up. If you have not done this yet, this would be a
good time to start.