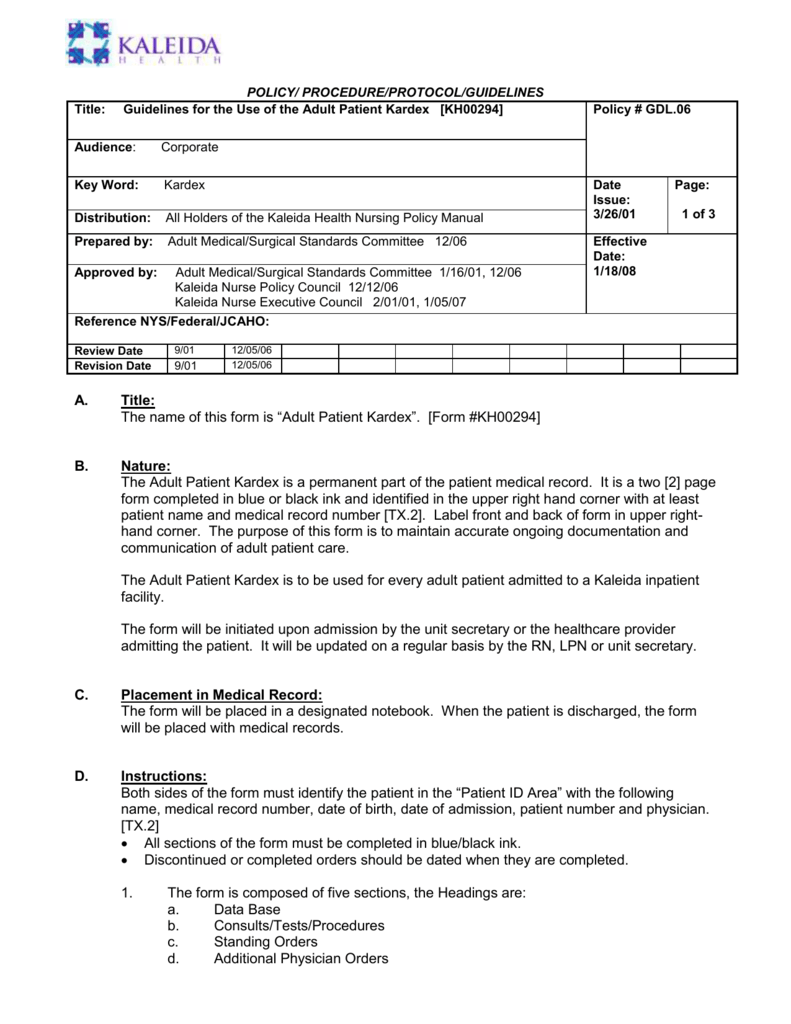 Title:
POLICY/ PROCEDURE/PROTOCOL/GUIDELINES
Guidelines for the Use of the Adult Patient Kardex [KH00294]
Audience:
Corporate
Key Word:
Kardex
Distribution:
All Holders of the Kaleida Health Nursing Policy Manual
Prepared by:
Adult Medical/Surgical Standards Committee 12/06
Approved by:
Adult Medical/Surgical Standards Committee 1/16/01, 12/06
Kaleida Nurse Policy Council 12/12/06
Kaleida Nurse Executive Council 2/01/01, 1/05/07
Reference NYS/Federal/JCAHO:
Review Date
Revision Date
9/01
9/01
Policy # GDL.06
Date
Issue:
3/26/01
Page:
1 of 3
Effective
Date:
1/18/08
12/05/06
12/05/06
A.
Title:
The name of this form is "Adult Patient Kardex". [Form #KH00294]
B.
Nature:
The Adult Patient Kardex is a permanent part of the patient medical record. It is a two [2] page
form completed in blue or black ink and identified in the upper right hand corner with at least
patient name and medical record number [TX.2]. Label front and back of form in upper righthand corner. The purpose of this form is to maintain accurate ongoing documentation and
communication of adult patient care.
The Adult Patient Kardex is to be used for every adult patient admitted to a Kaleida inpatient
facility.
The form will be initiated upon admission by the unit secretary or the healthcare provider
admitting the patient. It will be updated on a regular basis by the RN, LPN or unit secretary.
C.
Placement in Medical Record:
The form will be placed in a designated notebook. When the patient is discharged, the form
will be placed with medical records.
D.
Instructions:
Both sides of the form must identify the patient in the "Patient ID Area" with the following
name, medical record number, date of birth, date of admission, patient number and physician.
[TX.2]
 All sections of the form must be completed in blue/black ink.
 Discontinued or completed orders should be dated when they are completed.
1.
The form is composed of five sections, the Headings are:
a.
Data Base
b.
Consults/Tests/Procedures
c.
Standing Orders
d.
Additional Physician Orders
Title:
Guidelines for the Use of the Adult Patient Kardex
a.
Date
Issued:
3/26/01
Page:
2 of 3
Policy #
GDL.06
Data Base:
Admission date:
Enter month, day, year of admission
Age:
Enter the age of patient in years
Diagnosis:
Enter the diagnose(s) as determined by physician.
Previous Medical/
Surgical History:
Enter pertinent medical/surgical history.
Patient Goal to be
Achieved:
Refer to pg. 2 – Adult Patient Screening Data
Base at top where patient is asked
"What is your goal for this Hospital Stay?"
Enter patient's statement in quotes.
Allergies:
Enter all patient allergies. (Refer to pg. 2 of the
Adult Patient Screening Data Base).
Language
Barriers:
Enter patient's primary language spoken (if other
than English.
Current Invasive
Procedures/
Operations:
Enter invasive procedures/operations and date as
they occur during this admission
Diet:
Enter date, type of diet/feedings/supplements
ordered.
Feed:
Check only if patient needs to be fed at
mealtimes.
Assist:
Check only if patient needs some assistance at
mealtimes.
Fluid Restrictions:
Enter fluid restriction(s) ordered by MD.
Code Status:
Circle all that apply: Full, DNR (Do not
Resuscitate. Enter date to DNR when
initiated/ordered.
Advance Directives:
Enter if there is an advance directive (health
care proxy) and the date of it if known.
Special
Considerations:
This optional section can be utilized to communicate
important patient information/issues. (e.g., seizure
precautions, special family needs, communication deficit
– hard of hearing, blood in right eye).
Vaccines:
Enter the dates that the vaccines were given.
Title:
Guidelines for the Use of the Adult Patient Kardex
Recurring Labs:
b.
Enter initial order date in first column for laboratory tests
that are to be done more than once during this
admission. Enter specific lab tests to be done in second
column.
Enter a renewal date in third column if lab test is
reordered.
Enter order date and name of each consult, test, or
procedure ordered by physician. Enter date when
consult/test or procedure actually done or completed.
This section is a pre-printed list of common orders. Enter
date and frequency next to each appropriate standing
order. For Treatments – enter specific treatment to be
done, date and frequency.
Additional Physician Orders:
Additional
Physician
Standing Orders:
E.
Policy #
GDL.06
Standing Orders:
Standing Orders:
d.
Page:
3 of 3
Consults/Tests/Procedures:
Consult/Tests/
Procedures:
c.
Date
Issued:
3/26/01
Enter date and specific physician order. Enter date
discontinued.
Approval/Review Revision:
Review/revision is coordinated through the Adult Medical/Surgical Standards Committee on an
annual basis.
This document was developed by the Nursing Practice Standards Committee at Kaleida Health in conjunction with Kaleida Health
administrative and clinical departments. This document was designed to aid the health care team in making clinical decisions about patient
care. These guidelines should not be construed as dictating an exclusive course of treatment or procedure. This document and its
bibliographic references are not considered authoritative. Variations of this policy and procedure in practice may be warranted based on
individual patient characteristics and unique clinical circumstances, as determined in the professional judgment of Kaleida Health
practitioners.