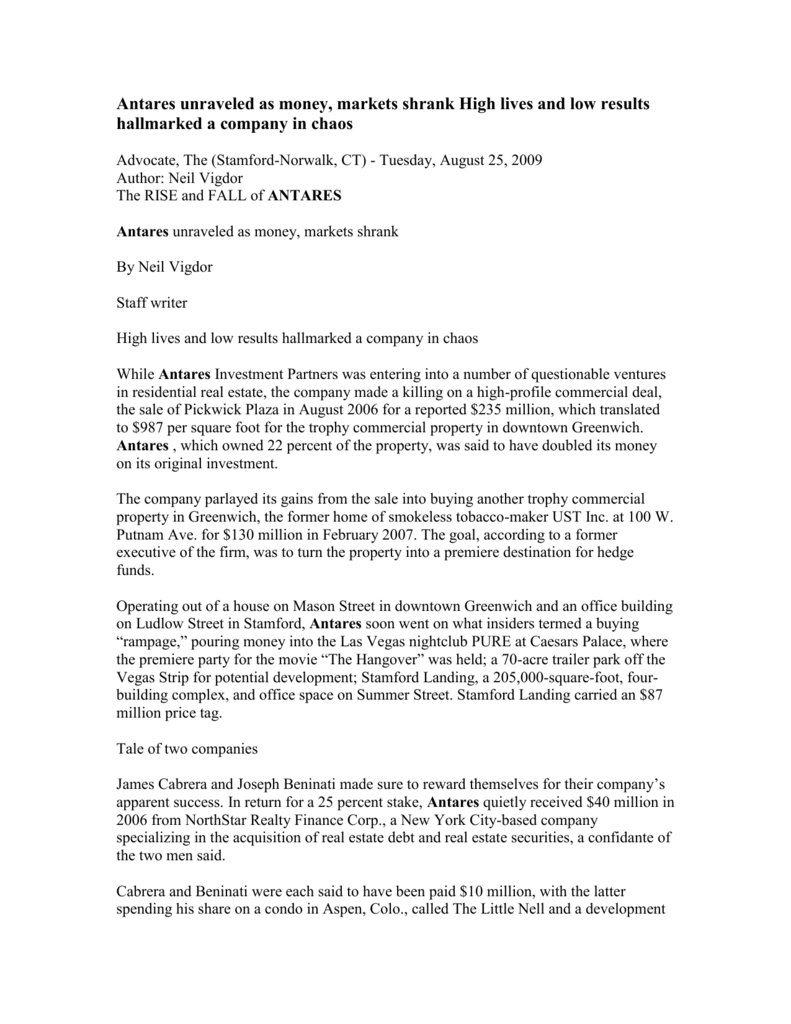 Antares unraveled as money, markets shrank High lives and low results
hallmarked a company in chaos
Advocate, The (Stamford-Norwalk, CT) - Tuesday, August 25, 2009
Author: Neil Vigdor
The RISE and FALL of ANTARES
Antares unraveled as money, markets shrank
By Neil Vigdor
Staff writer
High lives and low results hallmarked a company in chaos
While Antares Investment Partners was entering into a number of questionable ventures
in residential real estate, the company made a killing on a high-profile commercial deal,
the sale of Pickwick Plaza in August 2006 for a reported $235 million, which translated
to $987 per square foot for the trophy commercial property in downtown Greenwich.
Antares , which owned 22 percent of the property, was said to have doubled its money
on its original investment.
The company parlayed its gains from the sale into buying another trophy commercial
property in Greenwich, the former home of smokeless tobacco-maker UST Inc. at 100 W.
Putnam Ave. for $130 million in February 2007. The goal, according to a former
executive of the firm, was to turn the property into a premiere destination for hedge
funds.
Operating out of a house on Mason Street in downtown Greenwich and an office building
on Ludlow Street in Stamford, Antares soon went on what insiders termed a buying
"rampage," pouring money into the Las Vegas nightclub PURE at Caesars Palace, where
the premiere party for the movie "The Hangover" was held; a 70-acre trailer park off the
Vegas Strip for potential development; Stamford Landing, a 205,000-square-foot, fourbuilding complex, and office space on Summer Street. Stamford Landing carried an $87
million price tag.
Tale of two companies
James Cabrera and Joseph Beninati made sure to reward themselves for their company's
apparent success. In return for a 25 percent stake, Antares quietly received $40 million in
2006 from NorthStar Realty Finance Corp., a New York City-based company
specializing in the acquisition of real estate debt and real estate securities, a confidante of
the two men said.
Cabrera and Beninati were each said to have been paid $10 million, with the latter
spending his share on a condo in Aspen, Colo., called The Little Nell and a development
site in the Hamptons. Cabrera, always the more conservative of the two, used the money
to pay off his Greenwich house.
Among NorthStar's principals were David Hamamoto, who started the Whitehall Funds
real estate group at Goldman Sachs, and Edward Scheetz, chief executive officer of
Morgans Hotel Group.
Scheetz would get into the news for all the wrong reasons in September 2007, when he
found his 24-year-old "girlfriend," Michelle Hatchel, a former tanning salon worker from
Colorado, dead in his Turnberry Towers condo in Las Vegas.
"She's stiff. She's stiff, and she's turning funny colors," Scheetz, a married father of two
from Greenwich, said in a panicked 911 call.
Hatchel's death was ruled an accidental overdose from cocaine and oxycodone, and
Scheetz was not charged with a crime. Still, he would eventually resign his executive post
at the luxury hotel chain.
"It was insane," said Matthew Allen, an asset manager who worked for Antares from
September 2006 until he was laid off in October 2007. "We were all kind of watching
that deal, kind of wondering what the heck is going on."
Vegas was Greenwich West in the world of Antares . The bill for one extended weekend
spent by several company executives at a real estate conference around May 2007 tallied
nearly $600,000, one former executive said.
Fuzzy math
At the apex of its meteoric rise, Antares had raised more than $466 million in equity for
its 16 biggest real estate ventures, with company money only representing half a percent
or 1 percent of the total investment, according to a list of projects put together by one
former executive. Its commercial holdings included the former UST Inc. headquarters,
office buildings at 1 Dock St., 333 Ludlow St., 2187 Atlantic St., and 700, 850, 860 and
880 Canal St. in the South End; 1281 E. Main St. and 70 Seaview Ave. in Stamford; and
the Inn at National Hall hotel and retail complex in downtown Westport.
It was a lot of high-value property, supported by a lot of debt. Add in the cost of
developing the South End project, financing the delayed condo conversions in
Greenwich, carrying unsold luxury homes like Lake Carrington as the real estate market
showed early signs of stress, and renovating UST, and Antares cash flow was way out of
balance.
The firm needed to bring in about $2 million a month to support its central operations,
but fell far short because there was no stabilized portfolio to sustain that cash flow, the
former executive said. The monthly take available to fund the business was closer to
$200,000.
Things started to go bad for Antares in hurry. The condos weren't selling at Putnam
Green and Weaver's Hill. Antares was failing to generate enough income from the
project and other real estate ventures to pay off the interest that banks were building into
the loans they gave the company.
The firm started liquidating its mansions on Taconic Road at below break-even prices.
The loans it had taken out for its whirlwind of acquisitions were going into default.
"Obviously, their reputation started to get ahead of them and people realized what was
going on," Allen said.
The end is near
A "nail in the coffin" for the company, according to another former employee, came with
the release July 2007 of a Moody's report in which bond-rating firm said it could no
longer justify its ratings on collateralized debt obligations — derivatives supposedly
based on fixed-income assets — across the marketplace.
The report's release was set against the backdrop of the subprime mortgage crisis, the
nationwide pandemic of borrowers defaulting on home loans that they could no longer
afford because the value of their properties had tumbled in the weakening real estate
market. The meltdown turned up the heat on banks and their lending standards.
In the months following the report's release, the CDO and commercial mortgage-backed
securities markets shut down.
Antares , through its investment side, had made hay charging acquisition and capital
market fees arranging financing for the real estate side, a 2 percent cut on every
transaction the company closed. Now, that was no more.
"All of a sudden, the free cash that was flowing stopped," Allen said.
While trying to project a sense of confidence to investors, Antares was starting to
unravel behind the scenes.
"Internally, it was yelling and screaming and, 'Why can't you get this done?' " Allen
said.
Antares ' death throes began by autumn.
In October 2007, the company let go of about 50 employees, said to be about half
Antares ' work force at the time. Among them was Allen, who was earning just over
$100,000 per year and received one month's severance.
"You'd have to be brain-dead to have not been paying attention," Allen said.
To the company's credit, Allen said, the layoffs were handled professionally, though
many of the bonuses dangled at staffers like him for prior work never materialized.
Another 30 employees were let go in December 2007. The company remained on lifesupport with a skeleton crew until the creditors took over most of the remaining assets in
2008.
"I'm sad for them," Mallory said. "It's sort of a sign of the times."
The Land of Disenchantment
Frank Farricker, a Greenwich real estate broker and member of the Planning and Zoning
Commission, said the losses resulting from Antares highly leveraged financial condition
must have been staggering.
"I got to figure that a lot of people lost a lot of money with them," he said.
One former confidant of Cabrera and Beninati estimated that Antares had close to $1.5
billion in debt before the company fell out of the sky. That figure, he said, doesn't
include the $466 million that investors put up as equity for projects that never
materialized.
The New Mexico State Investment Council, responsible for managing the state's
permanent trust funds, endowments, public education and general fund money, took a big
hit because of toxic assets linked to Antares .
In 2005, New Mexico started up a limited liability company with what is now NorthStar
Realty Finance Corp., investing $55 million in taxpayer money that NorthStar infused
into various real estate developments in its portfolio, including Antares , said Charles
Wollmann, a spokesman for the State Investment Council.
"I do believe that investment went south," Wollmann said.
New Mexico received a devastating $16 million capital return on its initial investment,
which had seen its net asset value tank to $12.8 million as of the end of the first quarter of
2009, the most recent performance report available from the state.
"That's not one that we're happy with," Wollmann said.
A message seeking comment from NorthStar was left Tuesday with an investor relations
spokesman at the firm's Manhattan office.
Wollmann said he was prevented from discussing New Mexico's sour investment in
NorthStar and Antares because litigation may be forthcoming. The state, he said, has
"written-down" its Antares loss.
One of the few assets Antares is believed to held onto is the UST building in Greenwich.
But the economic collapse of 2008 and 2009 has dampened that project's once-shining
future as the financial firms Antares ' hoped to host there at rents well over $100 per
square foot per year have downsized or disappeared.
Hedge fund AQR Capital Management, a major tenant at 100 W. Putnam Ave., put up
50,000 square feet of office space for sublease. Another hedge fund put up $7 million to
get out of its lease in the building.
After Antares , Allen landed another job with the Ashforth Co., a commercial real estate
company based in Stamford.
There is that blemish on his resume, however: Asset manager, Antares Investment
Partners, September 2006 to October 2007.
Allen said he has learned to shrug it off and compares his situation to friends who worked
for defunct accounting firm Arthur Andersen or the energy industry's Waterloo, Enron.
He's just glad he got out when he did.
"The walls come tumbling down pretty quickly when you're leveraged as high up as they
were," Allen said.
***Correction 8/26/09 - A story about Antares Investment Partners in Tuesday's
newspaper incorrectly referenced NorthStar Realty Finance Corp., a publicly traded New
York-based real estate investment company. Financing for Antares was provided by
NorthStar Capital Investment Corp., an unaffiliated private entity that shares several
current and former managers and directors with NRF.
The story also incorrectly said AQR Capital Management had put up for sublease space it
took at Antares ' 100 W. Putnam Ave. building. AQR leased and is offering for sublease
space across the street from 100 W. Putnam at 33 Benedict Place, which is not an
Antares building.