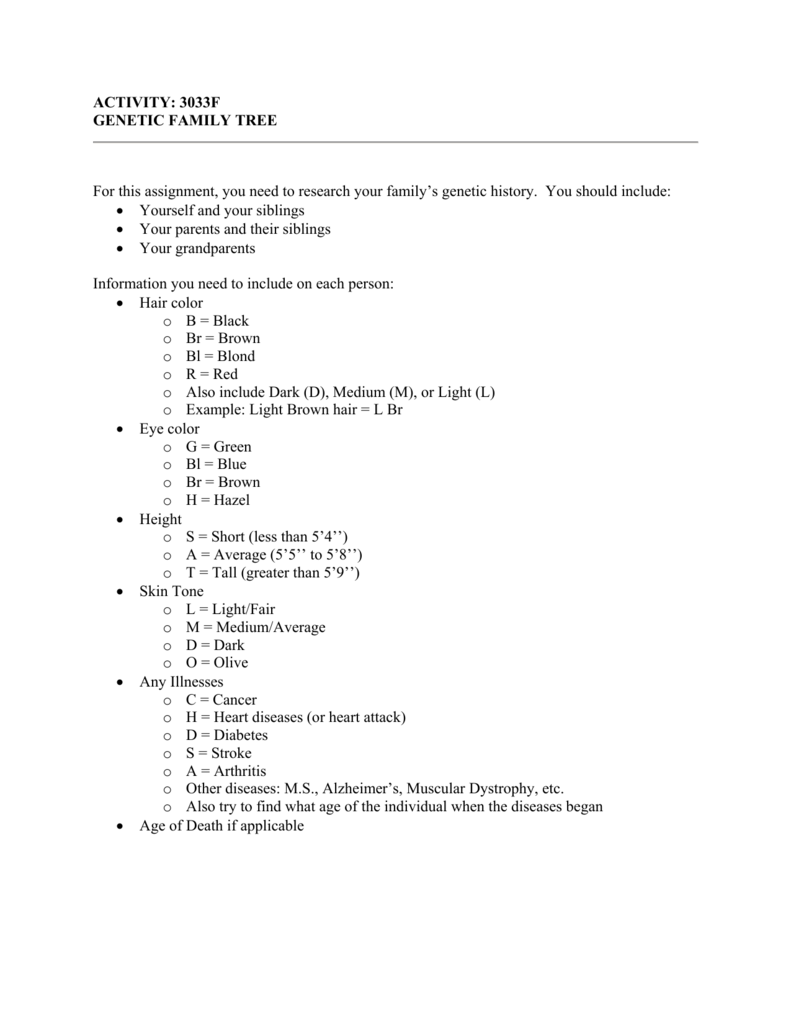 ACTIVITY: 3033F
GENETIC FAMILY TREE
For this assignment, you need to research your family's genetic history. You should include:
• Yourself and your siblings
• Your parents and their siblings
• Your grandparents
Information you need to include on each person:
• Hair color
o B = Black
o Br = Brown
o Bl = Blond
o R = Red
o Also include Dark (D), Medium (M), or Light (L)
o Example: Light Brown hair = L Br
• Eye color
o G = Green
o Bl = Blue
o Br = Brown
o H = Hazel
• Height
o S = Short (less than 5'4'')
o A = Average (5'5'' to 5'8'')
o T = Tall (greater than 5'9'')
• Skin Tone
o L = Light/Fair
o M = Medium/Average
o D = Dark
o O = Olive
• Any Illnesses
o C = Cancer
o H = Heart diseases (or heart attack)
o D = Diabetes
o S = Stroke
o A = Arthritis
o Other diseases: M.S., Alzheimer's, Muscular Dystrophy, etc.
o Also try to find what age of the individual when the diseases began
• Age of Death if applicable
Example
Grandma and Grandpa Jones
Joe
Bob
Stan
Grandma and Grandpa Smith
Jane
Alice (mom)
Ken
Grandpa Jones
L Bl hair
Bl eyes
T height
M skin
Cancer age 60
Died at 87
Grandma Jones
Br hair
Bl eyes
A height
M skin
No illnesses
Currently 81 years old
Jim (dad)
Randy
You
Grandpa Smith
Lt Bl hair
Bl eyes
T height
D skin
Cancer age 70
Died at 72
Grandma Smith
M Br hair
Bl eyes
A height
L skin
Cancer age 65 and Diabetes
Died at 67
Betty
Lori
List for all family members including yourself.
Name___________________
Date____________________
Block___________________
Genetic Family Total Sheet
On the items below, total all the numbers you found for the following items:
Trait
Number of family members included of family tree
Eye Color
Number with Blue eyes
Number with Brown eyes
Number with Green eyes
Number with Hazel eyes
Hair Color
Number with Brown hair
Number with Blond hair
Number with Black hair
Number with Red hair
Height
Number with Short height
Number with Average height
Number with Tall height
Number
Percent
---------
List any diseases that have occurred and total them
also
Record the age of death for any deceased family member, add them together and divide
by the total number of dead people to get an average age of death
Now, take the information above and use a calculator to figure the percentage of each
trait as it occurs in your family. Record this in the percentage column of the table above.
Then mark with a star which trait seems to be dominant in your family, and write a
description of what the dominant features of your family are.