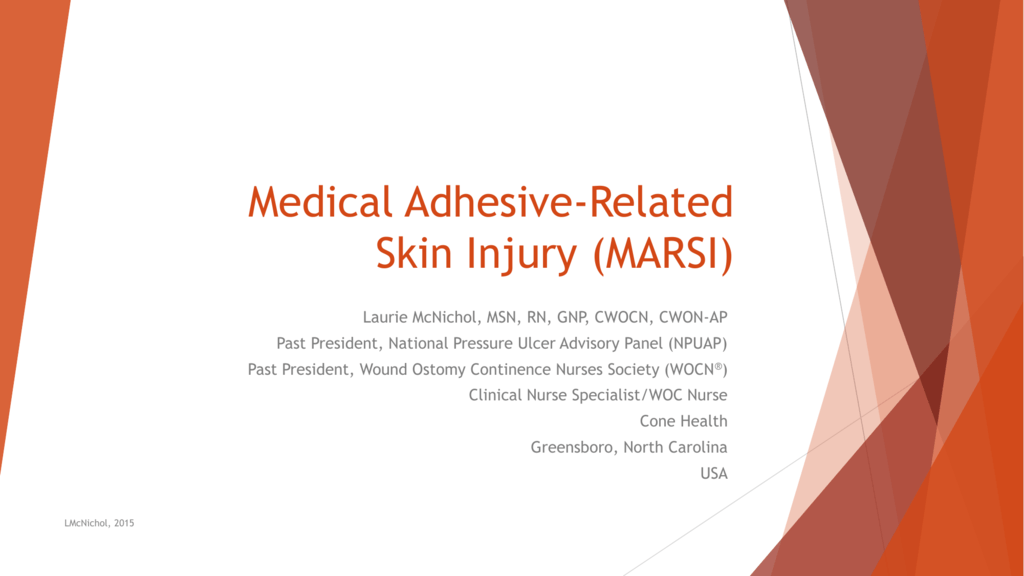 Medical Adhesive-Related
Skin Injury (MARSI)
Laurie McNichol, MSN, RN, GNP, CWOCN, CWON-AP
Past President, National Pressure Ulcer Advisory Panel (NPUAP)
Past President, Wound Ostomy Continence Nurses Society (WOCN®)
Clinical Nurse Specialist/WOC Nurse
Cone Health
Greensboro, North Carolina
USA
LMcNichol, 2015
Objectives

Identify key assessment points needed to accurately
differentiate medical adhesive related skin injury (MARSI)
from related causes of skin injuries including moisture
associated skin damage and medical device related
pressure injuries

Describe strategies to prevent medical adhesive related
skin injury (MARSI)
LMcNichol, 2015
Disclosure

Ms. McNichol is a member of the 3M Speaker's Bureau on
this topic

She received no guidance from 3M in the development of
this educational presentation
LMcNichol, 2015
Background

The consensus conference described in this presentation was
a 2-day roundtable discussion held December 10-11, 2012 in
St. Paul Minnesota and was made possible by an unrestricted
educational grant from 3M, St. Paul Minnesota.

The three-member Task Force investigating this problem
were gerontological CNS, L. McNichol, neonatal CNS, C. Lund
and dermatologist, Dr. T. Rosen.

The manuscript referred to in this presentation was
published in the J Wound Ostomy and Continence Nurs. 2013
July/August; 40(4):365-380
LMcNichol, 2015
Why Are We Talking About This?

"Isn't this just something
that happens?"

"Some people have
fragile skin and we need
to use adhesives-it can't
be helped."

"It's no one's fault."
LMcNichol, 2015
Today's Focus: Patient Experience

Part of a patient's evaluation
of their care experience
pertains to management of
(and protection from) pain

A "matter-of-fact" attitude
regarding injury is generally
not understood/appreciated

Most consumers are fearful of
injury/error while in our care
LMcNichol, 2015
Today's Focus: Cost of Care

Skin injury results in
increased cost of care

Average cost associated with
injuries has not been
explored, so we do not know
to what extent these injuries
impact cost of care
LMcNichol, 2015
Today's Focus: Culture of Patient
Safety
Patient centered outcomes
translates to adverse events
trending downward, e.g.

Falls

Pressure ulcers

Catheter-associated UTIs

Surgical site infections

etc.
LMcNichol, 2015
A Future Category: Skin Injury?

If proper technique for
application and/or removal
of adhesive products is not
used, tissue trauma can
occur, impacting patient
safety, quality of life and
increasing healthcare costs
LMcNichol, 2015
Medical Adhesive Related Skin Injury
(MARSI)
LMcNichol, 2015
Consensus Conference

Three colleagues formed a Task
Force and convened to study the
problem in July 2012.

It was decided to form a
consensus panel on this topic

A facilitator was identified

Twenty interdisciplinary key
opinion leaders with specialized
expertise were invited to
participate in a consensus
conference

Twenty-five (25) guideline
statements were written
LMcNichol, 2015
Consensus Panel

Twenty (20) Representatives:
 Nurses*,
Physicians, Physical Therapists, an Electrophysiologist, and an Infection Prevention Specialist
*Specialty nurses:
WOC (3), Orthopedic, Neonatal/pediatric, ICU,
Gerontology, Oncology, Palliative/Hospice,
Pulmonary, Infection Prevention, Dermatology

Geographic and Practice diversity.

All reviewed 31 key publications prior to meeting.
Outcomes of Consensus Conference:
2 Definitions


Definition of Medical Adhesives (abbreviated from US Food and Drug
Administration's Definition)
"A medical adhesive is a product used to approximate wound edges or to
affix an external device (i.e., tape, dressing, catheter, electrode, pouch,
or patch) to the skin."
Definition of a Medical Adhesive-Related Skin Injury (MARSI)
"A medical adhesive-related skin injury is an occurrence in which
erythema and/or other manifestation of cutaneous abnormality
(including, but not limited to, vesicle, bulla, erosion, or tear) persists
30 minutes or more after removal of the adhesive."
*We have to name something in order to study it, to discuss it and ensure we
are talking about the same thing.
Two Concepts Embraced
1.
Medical Adhesive Mechanics
 Pressure
sensitive: firm pressure
"activates" the adhesive
 Over
time, adhesive warms and
flows to "fill in" the gaps
between the adhesive and the
irregularities of the skin
surface, increasing the strength
of the bond
Two Concepts Embraced (continued)
2.
Time is of the Essence
 The
length of time for
maximum adhesion differs.
 Softer
adhesives such as
silicone have a lower surface
tension and fill in the gaps
quickly, maintaining the same
level of adherence over time.
 Other
adhesives, such as
acrylates, act more slowly and
their adherence increases over
time.
Mechanical
Skin tears
Epidermal stripping
Tension injuries
MARSI
Maceration
Folliculitis
Contact
Dermatitis
Allergic
Dermatitis
Mechanical Injury: Skin Tears
Skin tears
Wounds caused by shear, friction and/or blunt force
resulting in separation of skin layers; can be partial or
full thickness
LeBlanc K , Baranoski S . Skin tears: state of the science: consensus statements for the prevention, prediction,
assessment, and treatment of skin tears . Adv Skin Wound Care. 2011 ; 24 (9)( suppl 1 ): 2-15 .
Mechanical Injury: Skin Tears

Skin tears result when the
skin-to-adhesive attachment
is stronger than the skin
cell-to-skin cell interaction

Epidermal layers separate
or the epidermis separates
completely from the dermis
Association of Women's Health, Obstetric and Neonatal
Nurses (AWHONN). Neonatal skin care. 2nd ed. Evidencebased clinical practice guideline. Washington, DC:
AWHONN;2007.
Mechanical Injuries: Epidermal Stripping
Epidermal Stripping
Removal of one or more layers of
the stratum corneum occurring
following removal of adhesive tape
or dressings; lesions are frequently
shallow and irregular in shape and
the skin may appear shiny; open
lesions may be accompanied by
erythema and blister formation
Cutting KF . Impact of adhesive surgical tape and wound dressings on the
skin, with reference to skin stripping . J Wound
Care . 2008 ; 17 ( 4 ): 157-158 , 160-162 .
Mechanical Injuries: Tension Injuries/Blisters
Tension injuries or blisters
Injury (separation of the epidermis
from the dermis) caused by shear
force as a result of distension of
skin under an unyielding adhesive
tape or dressing, inappropriate
strapping of tape or dressing
during application, or when a joint
or other area of movement is
covered with an unyielding tape.
Koval KJ , et al. Tape blisters following hip surgery: a prospective,
randomized study of two types of tape. J Bone Jt Surg Am Ser A. 2003 ; 85
(10): 1884-1887 .
Maceration
Maceration
Changes in the skin resulting
from moisture being trapped
against the skin for a prolonged
period; skin appears wrinkled and
white/gray in color; softening of
the skin results in increased
permeability and susceptibility to
damage from friction and
irritants
Folliculitis
Folliculitis
Inflammatory reaction in hair
follicle caused by shaving or
entrapment of bacteria;
appears as small inflamed
elevations of skin surrounding
the hair follicle; may be
nonsuppurative (papules) or
contain pus (pustules)
Irritant Contact Dermatitis

Medical adhesive products are
a common cause of nonallergic, irritant contact
dermatitis.

Such reactions are more likely
to occur with extended
exposure and reflect the
shape of the irritant.

Some increase in incidence is
noted when skin sealants do
not dry prior to adhesive
application.
Dermatitis from medical devices, implants, and
equipment. In: Reitschel RL, Fowler JF Jr, eds.
Fisher's contact dermatitis. Philadelphia, PA:
Lippincott Williams & Wilkins; 2001:336-41.
Allergic Dermatitis

A cell-mediated immunologic
response to a component of
the adhesive with reaction
extending beyond the area of
exposure

The incidence of true allergic
dermatitis is not known;
suspected allergic dermatitis
should be considered for
referral and/or appropriate
investigation (such as patch
or scratch tests)
Usatine RP, Riojas M. Diagnosis and
management of contact dermatitis. Am
Fam Physician. 2010;82(3):249-255.
Widman TJ, Oostman H, Storrs FJ. Allergic
contact dermatitis from medical adhesive
bandages in patients who report having a
reaction to medical bandages. Dermatitis.
2007;19(1):32-37.
25 Consensus Statements
1.
Assessment (4 statements)
2.
Prevention (18 statements)
 General
 Selection
 Application/Removal
 Electrodes
 Infection
Prevention
3.
Treatment (2 statements)
4.
Future Research (1 statement)
A New Task: Make the Statements Relevant to
the WOC Nursing Community

In the Spring of 2015, 3
colleagues decided to seek
consensus among WOC nurses
on a few of these statements
made relevant to WOC practice

Stephanie Yates, Laurie
McNichol and Dr. Mikel Gray
Process: A webinar to introduce the
term, literature review and goals

380 WOC nurses registered and
participated

Feedback revealed that about half
recalled the initial work/were
familiar with the term

Announced a Symposium at 2015
WOCN Annual Conference where
both live participants and a
virtual audience could participate
in MARSI Consensus Statement
development pertaining to WOC
practice
WOCN Annual Conference
San Antonio, TX

Symposia with 300 live participants

277 Virtual participants

Goal:
1 General Statement
2 Ostomy related statements
2 wound related statements
2 continence related statements
Consensus Statement #1 (General)
Key assessment points needed to accurately differentiate MARSI from MASD and
MDRPU are:

Use of adhesive in area of injury

Shape of tissue injury

Patient report of injury

Patient history of previous sensitivity

Previous products used in the area of injury

Hair removal technique (in affected area)

Adhesive removal technique

Patient history of exposure to moisture
I agree with the statement as written.
1 = Yes
2 = No
Statement 1 Approval (92%)
Consensus Statement #2
Ostomy

When applying an ostomy skin barrier, use gentle warming hand
pressure to initiate the adhesion process into the contours of the
skin.
I agree with the statement as written.
1 = Yes
2 = No
Statement 2 Approval (93%)
Consensus Statement #3
Ostomy

Limit or avoid use of additional tackifiers (adhesive enhancers) under ostomy
products.
I agree with the statement as written.
1 = Yes
2 = No
Statement 3 Approval (83%)
We ran out of time! So….
A webinar to finish our intended
statements was planned

Announced that we would finish
electronically

140 people registered for webinar

Task Force sent proposed
statements out to registered
participants via Survey Monkey

Participants gave suggestions for
modifications to statements to Task
Force

Task Force added another General
Statement
Webinar to Determine Remaining
Consensus Statements: August 12, 2015
Consensus Statement #4
Continence
 Consider non-adhesive tube securement devices for indwelling urinary
catheters
I agree with the statement as written.
Vote
1 = Yes
2 = No
Agree
88.5%
Disagree 11.5%
Consensus Statements
Consensus Statement #5
Continence

Follow manufacturer's recommendations for removal of adhesive-based
catheter securement devices (e.g., alcohol or commercially available
adhesive removers or releasers)
I agree with the statement as written.
Vote
1 = Yes
2 = No
Agree
96.8%
Disagree 3.2%
Consensus Statements
Consensus Statement #6
Wound

When applying adhesives in areas where edema is expected, schedule
dressing changes at shorter intervals.
I agree with the statement as written.
Vote
1 = Yes
2 = No
Agree 82%
Disagree 18%
Consensus Statements
Consensus Statement #7
Wound

When applying adhesives in areas where movement is expected, choose an
adhesive with a stretchable backing
I agree with the statement as written.
Vote
1 = Yes
2 = No
Agree
97.7%
Disagree 2.3%
Consensus Statements

One more general statement was needed pertaining to medical adhesive
removal.
Consensus Statement #8
General

Using two hands, remove adhesives at a low angle, parallel to skin, slowly while
supporting the skin at the skin-tape interface
Vote
I agree with the statement as written.
1 = Yes
2 = No
Agree
92.6%
Disagree 7.4%
Next Steps

Communicate to WOC nursing
community that we have
specialty-specific MARSI
Consensus Statements

Incorporate MARSI into our
language, practice and
documentation

Educate others using new
nomenclature
Next Steps
Best practice guidelines:

Correct usage

Risk factors

Standardized treatment
strategies
Dissemination

Manuscript is being developed regarding process, results for
submission to a WOC Nursing journal

Poster abstracts reflect new nomenclature

Educational programs are incorporating content regarding categories
of MARSI in core curriculum

WOC Core curriculum wound textbook includes this terminology
We're Looking to YOU!
1.
Share these statements.
2.
Challenge the status quo.
3.
Talk about MARSI; heighten awareness
4.
Write about your clinical experiences.
5.
Include MARSI in your Prevalence and
Incidence studies.
6.
Change practice
MARSI Manuscript

McNichol, L., Lund, C., Rosen, T., Gray, M. Medical Adhesives and
Patient Safety: State of the Science: Consensus Statements for the
Assessment, Prevention, and Treatment of Adhesive-Related Skin
Injuries. J Wound Ostomy and Continence Nurs. 2013 July/August;
40(4):365-380
Conclusions

We must acknowledge the
phenomena and seek ways
to change it
Questions?
[email protected]
Thank You!
Enjoy the rest of your day.