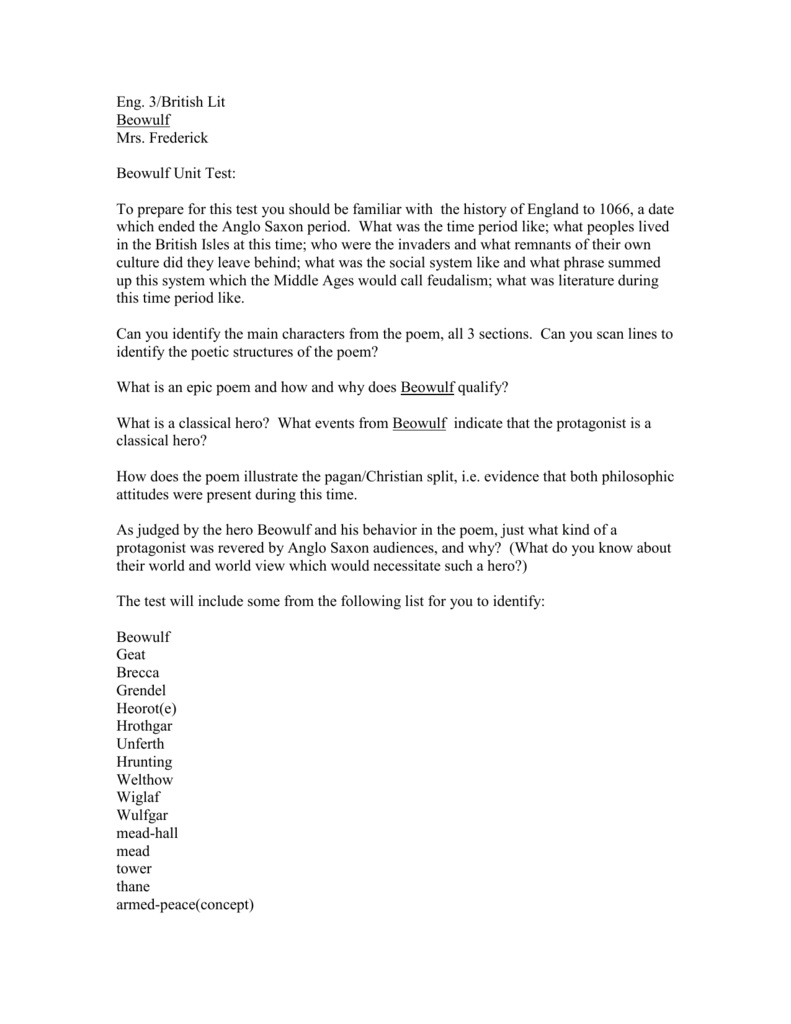 Eng. 3/British Lit
Beowulf
Mrs. Frederick
Beowulf Unit Test:
To prepare for this test you should be familiar with the history of England to 1066, a date
which ended the Anglo Saxon period. What was the time period like; what peoples lived
in the British Isles at this time; who were the invaders and what remnants of their own
culture did they leave behind; what was the social system like and what phrase summed
up this system which the Middle Ages would call feudalism; what was literature during
this time period like.
Can you identify the main characters from the poem, all 3 sections. Can you scan lines to
identify the poetic structures of the poem?
What is an epic poem and how and why does Beowulf qualify?
What is a classical hero? What events from Beowulf indicate that the protagonist is a
classical hero?
How does the poem illustrate the pagan/Christian split, i.e. evidence that both philosophic
attitudes were present during this time.
As judged by the hero Beowulf and his behavior in the poem, just what kind of a
protagonist was revered by Anglo Saxon audiences, and why? (What do you know about
their world and world view which would necessitate such a hero?)
The test will include some from the following list for you to identify:
Beowulf
Geat
Brecca
Grendel
Heorot(e)
Hrothgar
Unferth
Hrunting
Welthow
Wiglaf
Wulfgar
mead-hall
mead
tower
thane
armed-peace(concept)
Higlac
Thane
epithet
caesura
alliteration
Celts (Brythons), Angles, Saxons, Jutes, Normans, Romans
1066
ring-giver (concept)
wyrd
animism
feudalism
Every one of these is on a handout: Introduction to Anglo Saxon England, the poem
Beowulf, and the FYI sheet you were provided. It is up to you to inspect all carefully in
preparing for your test.