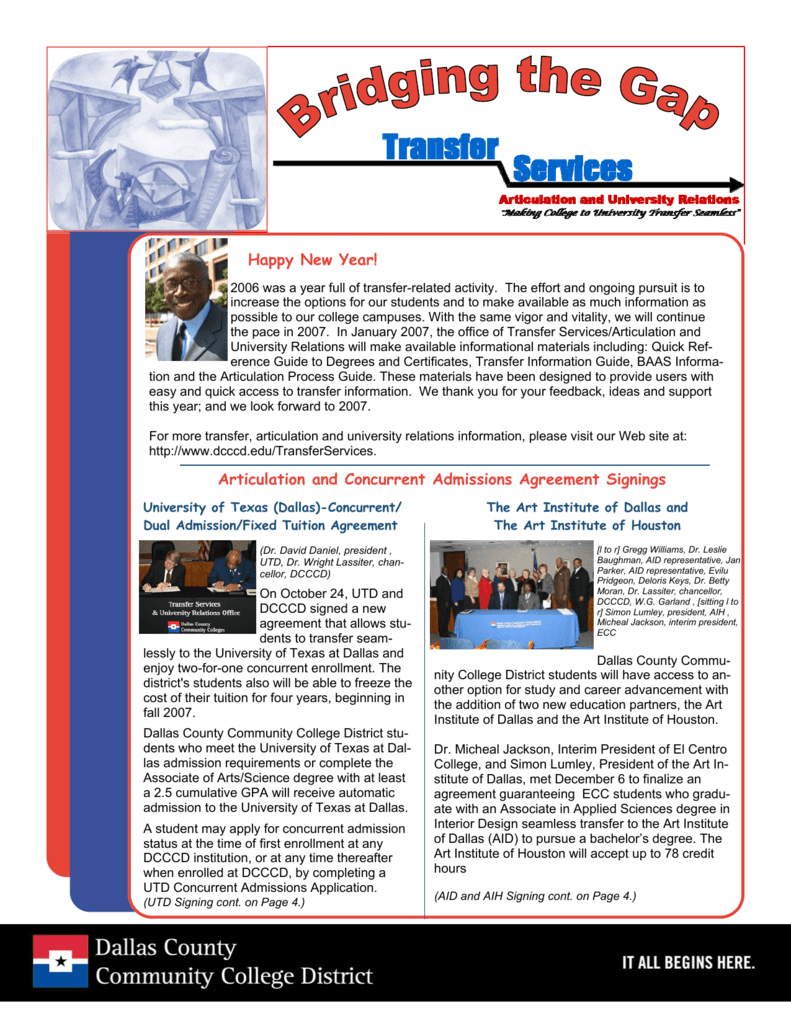 B
U
S
I
N
E
S
S
N
A
M
E
Happy New Year!
2006 was a year full of transfer-related activity. The effort and ongoing pursuit is to
increase the options for our students and to make available as much information as
possible to our college campuses. With the same vigor and vitality, we will continue
the pace in 2007. In January 2007, the office of Transfer Services/Articulation and
University Relations will make available informational materials including: Quick Reference Guide to Degrees and Certificates, Transfer Information Guide, BAAS Information and the Articulation Process Guide. These materials have been designed to provide users with
easy and quick access to transfer information. We thank you for your feedback, ideas and support
this year; and we look forward to 2007.
For more transfer, articulation and university relations information, please visit our Web site at:
http://www.dcccd.edu/TransferServices.
Articulation and Concurrent Admissions Agreement Signings
University of Texas (Dallas)-Concurrent/
Dual Admission/Fixed Tuition Agreement
(Dr. David Daniel, president ,
UTD, Dr. Wright Lassiter, chancellor, DCCCD)
On October 24, UTD and
DCCCD signed a new
agreement that allows students to transfer seamlessly to the University of Texas at Dallas and
enjoy two-for-one concurrent enrollment. The
district's students also will be able to freeze the
cost of their tuition for four years, beginning in
fall 2007.
Dallas County Community College District students who meet the University of Texas at Dallas admission requirements or complete the
Associate of Arts/Science degree with at least
a 2.5 cumulative GPA will receive automatic
admission to the University of Texas at Dallas.
A student may apply for concurrent admission
status at the time of first enrollment at any
DCCCD institution, or at any time thereafter
when enrolled at DCCCD, by completing a
UTD Concurrent Admissions Application.
(UTD Signing cont. on Page 4.)
The Art Institute of Dallas and
The Art Institute of Houston
[l to r] Gregg Williams, Dr. Leslie
Baughman, AID representative, Jan
Parker, AID representative, Evilu
Pridgeon, Deloris Keys, Dr. Betty
Moran, Dr. Lassiter, chancellor,
DCCCD, W.G. Garland , [sitting l to
r] Simon Lumley, president, AIH ,
Micheal Jackson, interim president,
ECC
Dallas County Community College District students will have access to another option for study and career advancement with
the addition of two new education partners, the Art
Institute of Dallas and the Art Institute of Houston.
Dr. Micheal Jackson, Interim President of El Centro
College, and Simon Lumley, President of the Art Institute of Dallas, met December 6 to finalize an
agreement guaranteeing ECC students who graduate with an Associate in Applied Sciences degree in
Interior Design seamless transfer to the Art Institute
of Dallas (AID) to pursue a bachelor's degree. The
Art Institute of Houston will accept up to 78 credit
hours
(AID and AIH Signing cont. on Page 4.)
///////////////////////
PAGE
2
Rising Star/TRIO Transfer Trips Get Students Connected
El Centro Rising Star and TRIO Student Support Services believe one of the best ways for a student to make an
informed college choice is to set foot on campus. Therefore, TRIO Student Support Services and Rising Star have
teamed up in supporting the transition stage of transfer planning with customized Transfer Trips to some of the
most accessible four-year institutions. Whether a student is in her first year, scoping out possible four-year destinations, or is a seasoned college veteran, securing a class schedule for his bachelor's program, TRIO and Rising Star
have a transfer trip for any student. Geared toward a smooth and successful move forward, the two programs have
coordinated Transfer Trips in the Spring 2007 semester to include:
•
•
•
•
•
University of North Texas-Dallas and Denton campuses
University of Texas at Arlington Nursing Program
Texas A&M Commerce
Texas Tech University
University of Texas at Dallas
These three-to-four-hour trips consist of touring the campus, collaborating with transfer advisors, learning about
campus resources, meeting with faculty and/or El Centro alumni, and much more. Upon return, students and Rising
Star and TRIO advisors are encouraged to process the Transfer Trip experience by completing evaluations and
discussing the high and low points of the campus visit.
Why Encourage Our Students to Complete the Core Curriculum?
Students who plan to transfer to a four-year college or university get more when they complete the Core. Students in Career and Technical Education programs also may benefit from taking Core courses in addition to those that prepare them
to enter the workforce immediately. Some of the benefits of completing the core curriculum include the following:
•
•
•
•
*TRANSFER GUARANTEE: It is a state law that students who complete the DCCCD Core Curriculum with at least a
2.0 grade point average are guaranteed that it will transfer to any Texas public college or university.*
GENERAL EDUCATION COMPLETION: Successful completion of the Core Curriculum satisfies the student's general
education requirements, and receiving institutions cannot require additional Core courses.
MONEY SAVINGS: Low tuition at DCCCD saves students money! How much? Just look at the price of one threehour course around town: UNT $767.10 | UTA $840 | UTD $1,200. In the DCCCD, the tuition for that same highquality, three-hour course for in-district students is only $117! See complete tuition chart online.
ACCOMPLISHMENT: With another 13 hours beyond the Core, students can earn an associate degree.
Encourage a student today to register as soon as possible for spring courses and to see an advisor about how
the Core Curriculum can fit into a sound educational plan!
*Some universities may require additional courses to meet their undergraduate requirements in some major subjects.
A New Transfer Resource Center at MVC
On December 9, 2005, the Texas Guaranteed Student Loan Corp. (TG) Board of Directors approved the TG Public Benefit
Grant Program. The grant agreement between TG and Mountain View College is for the purpose of providing grant funding for the Opening Pathways for Educational Excellence project. As a part of the Public Benefit Grant Program, TG's
board of directors approved MVC's Opening Pathways for Educational Excellence application and funding to establish a
Transfer Resource Center. This center will provide financial aid and academic credit transfer of new-to-college and firstgeneration students entering MVC from high school or other institutions and leaving the college to other institutions.
The project will operate as a comprehensive academic, support services advocacy program to include:
• Academic advising
• Personal and career advisement
• Transfer and admissions services
• Scholarships at four-year institutions
• Monitoring of academic progress through mid-term reports
A cohort of 200 students (where unmet need is determined) will receive financial stipends ($1,000 each), critical information and support services to ensure academic success.
///////////////////////
PAGE
Students Graduating From DCCCD
(July 2005-June 2006)*
DCCCD Core Curriculum Completers
(by year)*
Number of Students
2500
College
1944
2000
1680
1375
1500
1004
1000
521
500
133
0
200506
200405
200304
200203
200102
200001
Year
UTD
22%
UNT
21%
TWU
9%
124
CVC
250
408
EFC
408
256
ECC
470
150
MVC
350
149
NLC
382
147
RLC
782
295
3,036
1,529
University of Texas-Dallas
University of North Texas
University of Texas-Arlington
Texas Woman's University
Texas A&M University-College Station
University of Texas-Austin
Texas A&M University-Commerce
Texas Tech University
Texas State University
Stephen F. Austin University
Prairie View A&M University
Midwestern State University
Texas Southern University
Sam Houston State University
UT Austin
7%
TAMU-CS
8%
394
The Top 14 Institutions DCCCD Students
Choose When It's Time to Transfer
(Fall 2004)**
TSU
1%
SHSU
1%
Certificates
BHC
District
Where DCCCD Students Transfer
PVAMU
2%
MWU
TexStU
SFA 1%
2%
2%
TTU
5%
TAMU-Com
7%
Associate
Degrees
UT Arlington
12%
22%
21%
12%
9%
8%
7%
7%
5%
2%
2%
2%
1%
1%
1%
Total Number of DCCCD Students Transferring to a Four-Year University and Total
Number of Students
Minority Students Transferring***
10,000
5,000
Year
Total Students
Total Minority Students
1996
1997
1998
1999
2000
2001
2002
2003
2004
2005
8,887
8,175
7,887
7,677
7,634
8,119
8,344
8,739
9,265
9,476
1,901
2,070
2,317
2,517
2,663
3,029
3,311
*Prepared by District Office of Institutional Research and Planning, September 2006
**Source: The Texas Higher Education Coordinating Board-Student and Adult Learner Follow-Up System
***Legislative Budget Board
3
///////////////////////
PAGE
4
Does your institution need to work at customer service?
At first it seems like a routine and minor question. You have so much to do, so many decisions to make. Things are
going pretty well. Sure, costs are rising. Competition for new students is stiffer than it used to be. Does it really matter how welcome you make your students feel? Could exceptional, knock-your-socks-off customer service
actually help students to succeed and encourage them to stay in school? Does this relate to the financial health of
the campus? And how about staff morale?
You may have insights into the answers, but have you translated your thoughts into meaningful numbers to make
the investment decision easier to evaluate?
Score your institution on the checklist below
Look at your institution and see how your staff conduct themselves. The following checklist is just a sampling of
areas to consider. If you don't score 100 percent, improvement opportunities are possible.
•
•
•
•
•
Our telephones are answered by the second ring every time.
All employees have had formal training in telephone etiquette —answering, taking messages, transferring,
managing voice mail, etc.
Our campus staff members greet each person promptly with a smile when arriving for services.
Our front-line operating systems and procedures are thoughtfully designed and thoroughly understood by the
front-line people who need to implement them.
Our customers never get the "run-around" on campus. Everyone has a helpful attitude.
Good customer service is based on a thousand little things done right every day, not on any one great area of
performance.
(Excerpt from Noel-Levitz-Summer 2006 issue)
New Articulation Agreements Signed
New or renewed articulation agreements have been
signed with the following universities or colleges:
•
•
•
•
Strayer University
Midwestern University
Excelsior College
Northwood University and El Centro College
(UTD signing-from page 1)
Concurrent admission students will have access to
the Pre-health Resource Center at UTD and be invited
to participate in both pre-health and pre-law activities
and sponsored events. Pre-health and pre-law advisors will meet with concurrent admission students on
a DCCCD campus each semester.
Concurrent admission students:
• who have a Comet card will have access to UTD
libraries.
• will have the right to purchase tickets to athletic
and other selected events on the UTD campus at
the student guest rate.
• have the right to participate in UTD's Guaranteed
Tuition Program.
For questions, comments or suggestions,
contact: [email protected]
New Articulation Agreements in the Works
•
•
Oklahoma University (Online)
University of Houston (General, Culinary and Hotel/
Restaurant Management)
(AID and AIH signing-from page 1)
from DCCCD. The Art Institute of Dallas will accept 96 credit
hours, allowing DCCCD students to take more courses before transferring. This option makes the degree a 3 + 1
agreement (three years at DCCCD and one year at AID).
Larry Horn, President of the Art Institute of Houston, participated via teleconference to finalize the Institute of Houston's
agreement with DCCCD.
Looking for Concurrent Admission Forms?
Go to the Transfer Services Web site and find "Concurrent
Admission Forms" under the following listings:
• Students
• Advisors/Counselors
• Faculty/Staff
• University Partners
The TSAUR staff thanks you for your support and looks
forward to partnering with you as we serve our students.