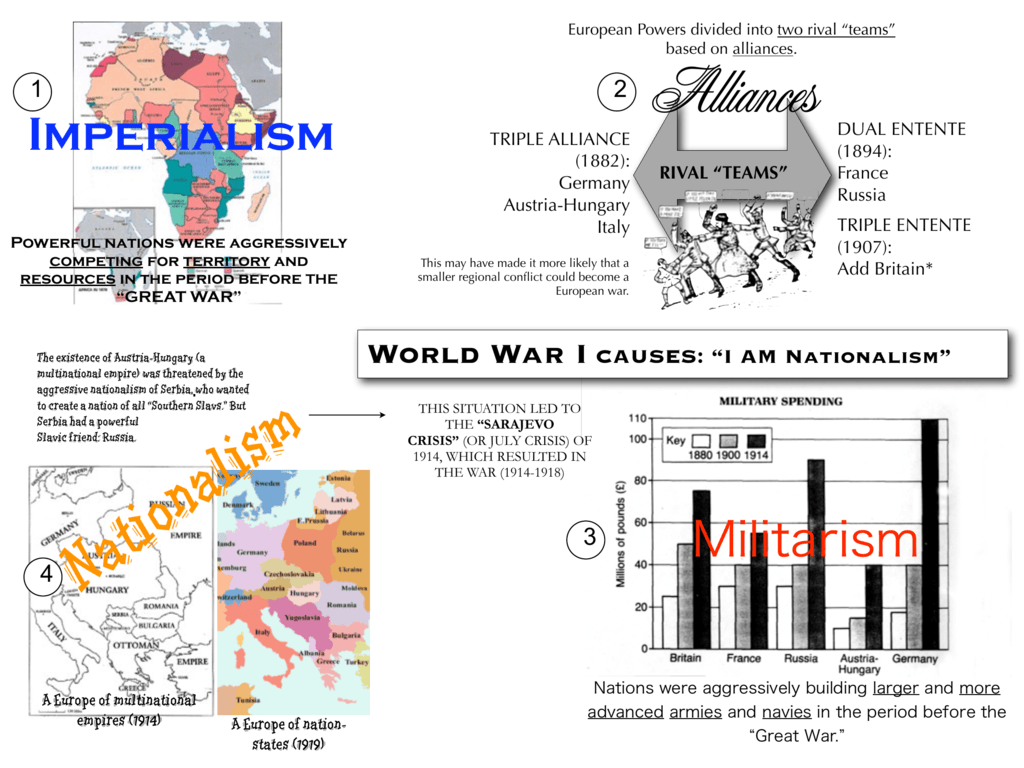 European Powers divided into two rival "teams"
based on alliances.
1
2
Imperialism
Powerful nations were aggressively
competing for territory and
resources in the period before THE
"GREAT WAR"
The existence of Austria-Hungary (a
multinational empire) was threatened by the
aggressive nationalism of Serbia, who wanted
to create a nation of all "Southern Slavs." But
Serbia had a powerful
Slavic friend: Russia.
l
a
n
o
4
i
t
a
N
A Europe of multinational
empires (1914)
m
is
A Europe of nationstates (1919)
TRIPLE ALLIANCE
(1882):
Germany
Austria-Hungary
Italy
This may have made it more likely that a
smaller regional conflict could become a
European war.
Alliances
RIVAL "TEAMS"
DUAL ENTENTE
(1894):
France
Russia
TRIPLE ENTENTE
(1907):
Add Britain*
World War I CAUSES: "I AM Nationalism"
THIS SITUATION LED TO
THE "SARAJEVO
CRISIS" (OR JULY CRISIS) OF
1914, WHICH RESULTED IN
THE WAR (1914-1918)
3
Militarism
Nations were aggressively building larger and more
advanced armies and navies in the period before the
Great War.
IMPERIALISM
Desire for empire caused increased
competition
KEY IMPERIAL RIVALRIES:
Britain vs. France in Africa
Britain vs. Russia in Asia
France vs. Italy in Africa
*
*
*
Increased competition over territory
caused increased tensions
SUEZ CRISIS (1882) & FASHODA CRISIS
(1898) - Britain and France nearly went to
war
TWO MOROCCAN CRISES (1905, 1911) - France vs.
Germany
Militarism
Belief that a military is a crucial factor in
a nation's strength and, therefore,
support for bigger, more advanced
militaries (even in peacetime).
Glorification of war (often in official
propaganda).
Infrastructure (railways, stations, roads,
warehouses) is built to aid the
movement of armies.
Tangled Alliances
Triple Alliance
1882; BINDING ALLIANCE IF DEFENSIVE TERMS MET
Austria-Hungary
1870s-1880s: Germany (under
Chancellor Bismarck) created
defensive alliances to isolate
France from other nations
(which worked)
Triple Entente
N
G
D
IN
IN
D
G
IN
-B
AL
N
LI
AN
CE
Russia
O
N
1900s: Britain makes
friendship agreements, but not
alliances, with France &
Russia to counter Germany
Italy
BI
1890s: Germany (under Emperor
Wilhelm II), in pursuit of Britain,
cut Russia loose; FrancoRussian alliance resulted (rival
alliances now exist)
Germany
France
NON-BINDING
Britain
Tangled Alliances
The alliance system meant
that a local conflict could
become a much larger
regional or world conflict.
Nationalism
Belief in the great worth, even
superiority, of a nation by its people.
Belief that a nation should be ruled by
its own people and not a foreign
nation or empire.
Desire to demonstrate a nation's
greatness to the world.
"THE STRONG ARMS OF CANADA": National pride was often
displayed in propaganda posters using symbolic "ideal" images.
The Balkan Nationalism Threat
(1912-1914)
Serbia
THE BALKAN LEAGUE (1912;
flags at right) was formed by new
Balkan states determined to drive the
Ottoman Turks from the region
forever.
THE BALKAN WARS (1912-13) led
to the enlargement of Serbia, Greece
and Rumania, at the expense of the
Turks.
SERBIAN AMBITION threatened
the multinational Austro-Hungarian
empire, whose leaders wanted a war to
put Serbia in its place in 1914.
Bulgaria
Greece
Montenegro
AustriaHungary
Ottoman
Empire
The Balkans
Serbia = Slavic
Russia = Slavic
Russia protects Serbia (Panslavism)
Austria-Hungary has a Slavic minority –
they do not want to be a part of AustriaHungary
Serbian nationalists wanted to create a
new nation (Yugoslavia) with all Slavic
peoples of the Balkans living under one
government
Bosnia-Herzegovina = Slavic
Austria-Hungary annexed BosniaHerzegovina, creating the Bosnian Crisis
(1908-09)
=
The oft-stated "Powder
Keg of Europe"
2
AUSTRIA-
HUNGARY
"Black Hand" RESPONDS
1
Assassinates Archduke
Franz Ferdinand on
June 28, 1914
(Franz Ferdinand was going to be the next
Emperor of Austria-Hungary)
3
1. Blames Serbian government.
2. Seeks (and receives) promise of backup support
from ally Germany.
3. Issues an ultimatum to Serbia.
4. Declares war July 28 when Serbia rejects 1 of 10
conditions.
Russia
MOBILIZES ON AUSTRIAN &
GERMAN BORDERS
It is preparing to defend Serbia. It has not
declared war, but German generals believed
Mobilization IS war.
B.A.R.G.E: five "july crisis" steps to war
5
d
n
a
l
g
s
n
E ter
n
r
E Wa
e
th
The British Expeditionary Force (BEF) landed in
Belgium in late August 1914.
ENGLAND
(Britain) DECIDED
TO PROTECT
BELGIUM AND
FRANCE (and look
out for its interests in
Europe). IT
DECLARED WAR
ON AUGUST 4,
1914.
4
Germany
1. Ultimatum to
Russia to cease
mobilization.
2. Asks Belgium for
passage of troops to
France
German Emperor Kaiser Wilhelm II attempted
to convince his cousin, Russian Tsar Nicholas
II, to stop mobilization, but failed. Instead,
the cousins went to war.
3. When Belgium
refuses, they launch
the SCHLIEFFEN
PLAN invasion of
Belgium and
France.