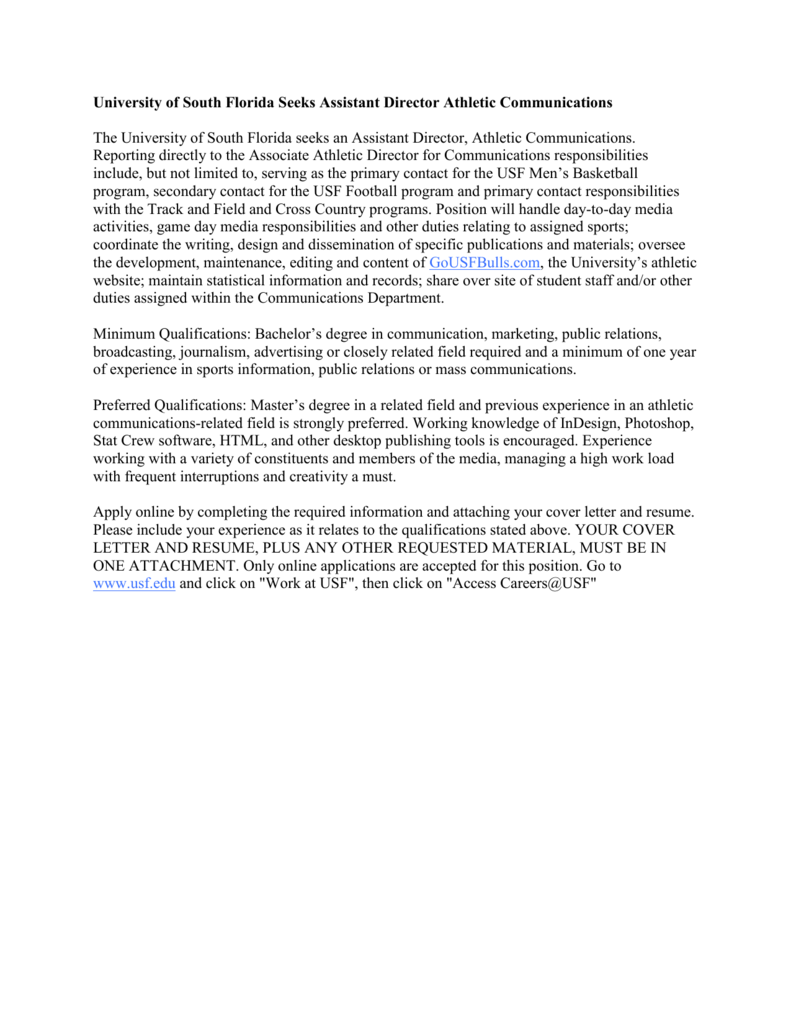 University of South Florida Seeks Assistant Director Athletic Communications
The University of South Florida seeks an Assistant Director, Athletic Communications.
Reporting directly to the Associate Athletic Director for Communications responsibilities
include, but not limited to, serving as the primary contact for the USF Men's Basketball
program, secondary contact for the USF Football program and primary contact responsibilities
with the Track and Field and Cross Country programs. Position will handle day-to-day media
activities, game day media responsibilities and other duties relating to assigned sports;
coordinate the writing, design and dissemination of specific publications and materials; oversee
the development, maintenance, editing and content of GoUSFBulls.com, the University's athletic
website; maintain statistical information and records; share over site of student staff and/or other
duties assigned within the Communications Department.
Minimum Qualifications: Bachelor's degree in communication, marketing, public relations,
broadcasting, journalism, advertising or closely related field required and a minimum of one year
of experience in sports information, public relations or mass communications.
Preferred Qualifications: Master's degree in a related field and previous experience in an athletic
communications-related field is strongly preferred. Working knowledge of InDesign, Photoshop,
Stat Crew software, HTML, and other desktop publishing tools is encouraged. Experience
working with a variety of constituents and members of the media, managing a high work load
with frequent interruptions and creativity a must.
Apply online by completing the required information and attaching your cover letter and resume.
Please include your experience as it relates to the qualifications stated above. YOUR COVER
LETTER AND RESUME, PLUS ANY OTHER REQUESTED MATERIAL, MUST BE IN
ONE ATTACHMENT. Only online applications are accepted for this position. Go to
www.usf.edu and click on "Work at USF", then click on "Access [email protected]"