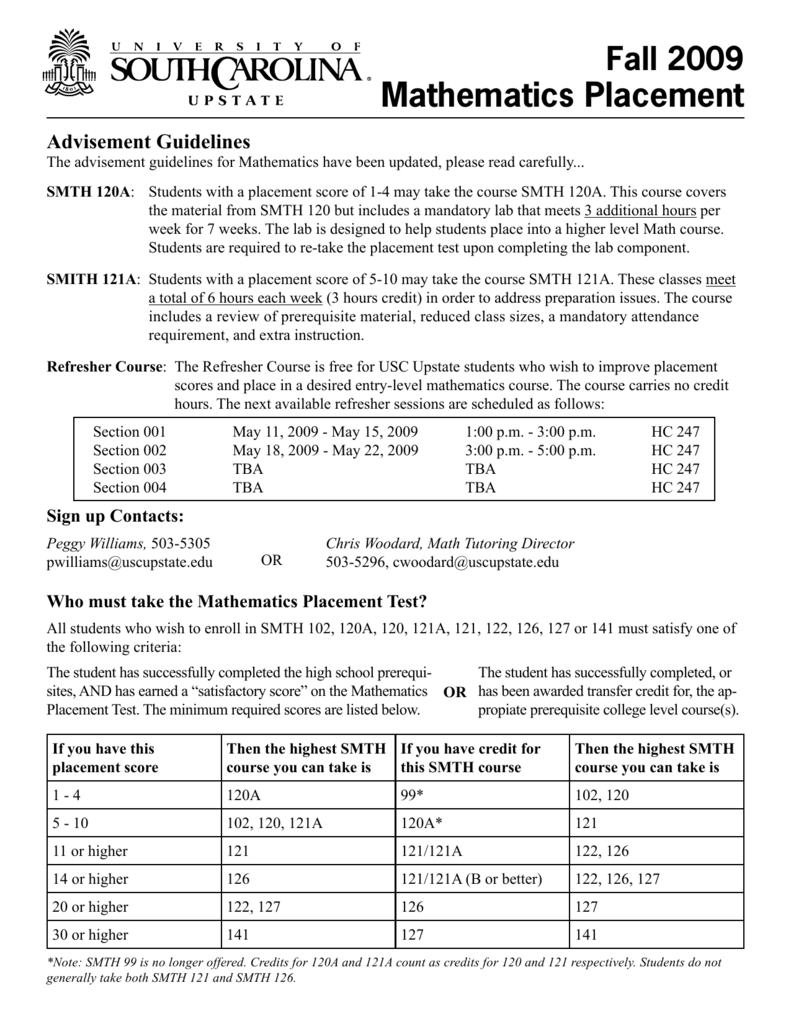 Fall 2009
Mathematics Placement
Advisement Guidelines
The advisement guidelines for Mathematics have been updated, please read carefully...
SMTH 120A:
Students with a placement score of 1-4 may take the course SMTH 120A. This course covers
the material from SMTH 120 but includes a mandatory lab that meets 3 additional hours per
week for 7 weeks. The lab is designed to help students place into a higher level Math course.
Students are required to re-take the placement test upon completing the lab component.
SMITH 121A: Students with a placement score of 5-10 may take the course SMTH 121A. These classes meet
a total of 6 hours each week (3 hours credit) in order to address preparation issues. The course
includes a review of prerequisite material, reduced class sizes, a mandatory attendance
requirement, and extra instruction.
Refresher Course: The Refresher Course is free for USC Upstate students who wish to improve placement
scores and place in a desired entry-level mathematics course. The course carries no credit
hours. The next available refresher sessions are scheduled as follows:
Section 001
Section 002
Section 003
Section 004
May 11, 2009 - May 15, 2009
May 18, 2009 - May 22, 2009
TBA
TBA
1:00 p.m. - 3:00 p.m.
3:00 p.m. - 5:00 p.m.
TBA
TBA
HC 247
HC 247
HC 247
HC 247
Sign up Contacts:
Peggy Williams, 503-5305
OR
[email protected]
Chris Woodard, Math Tutoring Director
503-5296, [email protected]
Who must take the Mathematics Placement Test?
All students who wish to enroll in SMTH 102, 120A, 120, 121A, 121, 122, 126, 127 or 141 must satisfy one of
the following criteria:
The student has successfully completed the high school prerequiThe student has successfully completed, or
sites, AND has earned a "satisfactory score" on the Mathematics OR has been awarded transfer credit for, the apPlacement Test. The minimum required scores are listed below.
propiate prerequisite college level course(s).
If you have this
placement score
Then the highest SMTH If you have credit for
course you can take is
this SMTH course
Then the highest SMTH
course you can take is
1-4
120A
99*
102, 120
5 - 10
102, 120, 121A
120A*
121
11 or higher
121
121/121A
122, 126
14 or higher
126
121/121A (B or better)
122, 126, 127
20 or higher
122, 127
126
127
30 or higher
141
127
141
*Note: SMTH 99 is no longer offered. Credits for 120A and 121A count as credits for 120 and 121 respectively. Students do not
generally take both SMTH 121 and SMTH 126.
Advisement for students without acceptable college-level prerequisites
Students without appropriate college-level prerequisites must take the placement test. Please sign up with Greg
Dailey in Admissions, [email protected], 503-5281.
General Overview of the Mathematics Placement Test
The mathematics placement test consists of five separate parts, each related to progressively more advanced
material. The table below lists the five parts of the placement test, and the online scores required to continue.
Test
Part I
Brief Description
Arithmetic &
Elementary Algebra
Points Required to
Continue to
Points Available Next Part
Total
Points
Possible
12
6
12
Part II
Introductory Algebra
4
9
16
Part III
Intermediate Algebra
6
15
22
Part IV
Advanced Algebra
8
22
30
Part V
Advanced Algebra
& Trigonometry
10
40
To take the online version, you will need access to a computer connected to the Internet with a recent browser (this
should be available at your school or at any public library). You will need a pencil and paper on which to work as
the test progresses. Allow an undisturbed 150 minutes to complete all parts of the test in one session. For the online
version, each portion is graded upon completion, and you must obtain a sufficient score on each portion before being allowed to begin the next portion. If you do not make a sufficient score, the test is complete.
If you make a sufficient score, then you may proceed immediately, or take the next portion at a later time.
You will be allowed two opportunities to take the online version. If you are not satisfied with your first test
score you may retake the test - but you must wait at least 24 hours. In addition, if you believe that you are
not fairly evaluated, or you are uncomfortable with this method of testing, then you can request to take a
written placement test before your USC Upstate orientation.
Students taking the written version are allowed 150 minutes to complete the test.
Whether you take the written or online version, the test results will be available to you, your advisor, and the
placement coordinators at USC Upstate.
What does my score mean?
Your score on the placement test determines whether you are eligible for the course you wish to take. If your
score is satisfactory for the course you wish to take, then you are eligible! Otherwise you will have to take a
lower level course, or improve your placement score. In this case, consider taking the Sharpen Your Math Skills
refresher course offered free to enrolled students.
Questions about the Mathematics Placement Test?
If you have questions, please contact Dr. Jerome Lewis, Chair of the Division of Mathematics and Computer
Science (MCS). He can be reached at 864-503-5291 or by e-mail, [email protected] Office house for
MCS are Monday through Friday from 8:30 a.m. to 5:00 p.m.