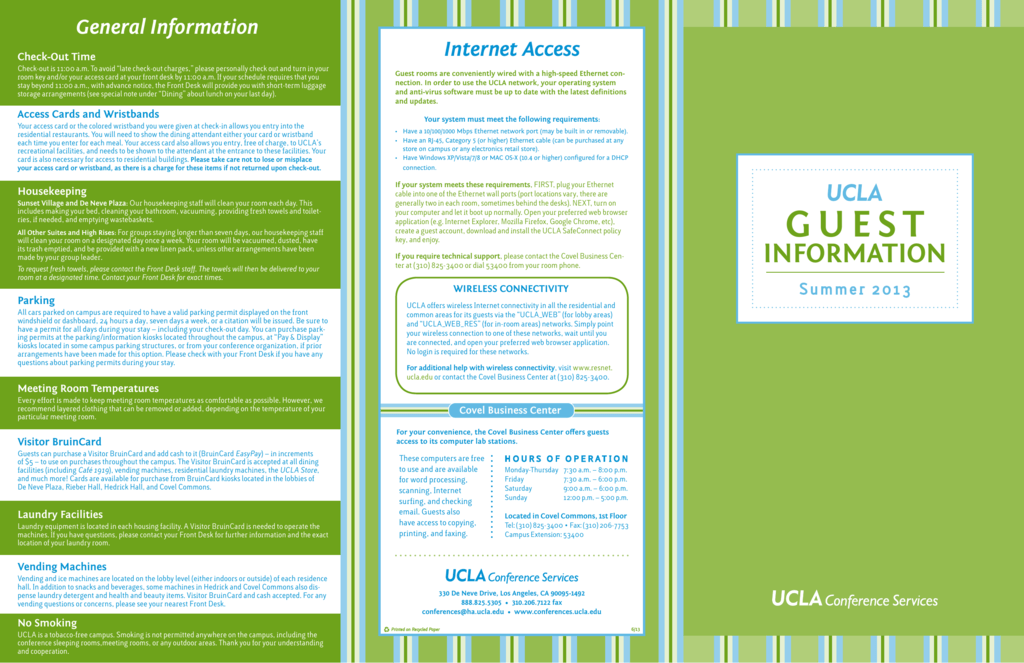 General Information
Internet Access
Check-Out Time
Check-out is 11:00 a.m. To avoid "late check-out charges," please personally check out and turn in your
room key and/or your access card at your front desk by 11:00 a.m. If your schedule requires that you
stay beyond 11:00 a.m., with advance notice, the Front Desk will provide you with short-term luggage
storage arrangements (see special note under "Dining" about lunch on your last day).
Access Cards and Wristbands
Your access card or the colored wristband you were given at check-in allows you entry into the
residential restaurants. You will need to show the dining attendant either your card or wristband
each time you enter for each meal. Your access card also allows you entry, free of charge, to UCLA's
recreational facilities, and needs to be shown to the attendant at the entrance to these facilities. Your
card is also necessary for access to residential buildings. Please take care not to lose or misplace
your access card or wristband, as there is a charge for these items if not returned upon check-out.
Housekeeping
Sunset Village and De Neve Plaza: Our housekeeping staff will clean your room each day. This
includes making your bed, cleaning your bathroom, vacuuming, providing fresh towels and toiletries, if needed, and emptying wastebaskets.
All Other Suites and High Rises: For groups staying longer than seven days, our housekeeping staff
will clean your room on a designated day once a week. Your room will be vacuumed, dusted, have
its trash emptied, and be provided with a new linen pack, unless other arrangements have been
made by your group leader.
To request fresh towels, please contact the Front Desk staff. The towels will then be delivered to your
room at a designated time. Contact your Front Desk for exact times.
Guest rooms are conveniently wired with a high-speed Ethernet connection. In order to use the UCLA network, your operating system
and anti-virus software must be up to date with the latest definitions
and updates.
Your system must meet the following requirements:
•• Have a 10/100/1000 Mbps Ethernet network port (may be built in or removable).
•• Have an RJ-45, Category 5 (or higher) Ethernet cable (can be purchased at any
store on campus or any electronics retail store).
•• Have Windows XP/Vista/7/8 or MAC OS-X (10.4 or higher) configured for a DHCP
connection.
If your system meets these requirements, FIRST, plug your Ethernet
cable into one of the Ethernet wall ports (port locations vary, there are
generally two in each room, sometimes behind the desks). NEXT, turn on
your computer and let it boot up normally. Open your preferred web browser
application (e.g. Internet Explorer, Mozilla Firefox, Google Chrome, etc),
create a guest account, download and install the UCLA SafeConnect policy
key, and enjoy.
guest
INFORMATION
If you require technical support, please contact the Covel Business Center at (310) 825-3400 or dial 53400 from your room phone.
Summer 2013
WIRELESS CONNECTIVITY
Parking
All cars parked on campus are required to have a valid parking permit displayed on the front
wind­shield or dashboard, 24 hours a day, seven days a week, or a citation will be issued. Be sure to
have a permit for all days during your stay — including your check-out day. You can purchase parking permits at the parking/information kiosks located throughout the campus, at "Pay & Display"
kiosks located in some campus parking structures, or from your conference organization, if prior
arrangements have been made for this option. Please check with your Front Desk if you have any
questions about parking permits during your stay.
UCLA offers wireless Internet connectivity in all the residential and
common areas for its guests via the "UCLA_WEB" (for lobby areas)
and "UCLA_WEB_RES" (for in-room areas) networks. Simply point
your wireless connection to one of these networks, wait until you
are connected, and open your preferred web browser application.
No login is required for these networks.
For additional help with wireless connectivity, visit www.resnet.
ucla.edu or contact the Covel Business Center at (310) 825-3400.
Meeting Room Temperatures
Every effort is made to keep meeting room temperatures as comfortable as possible. However, we
recommend layered clothing that can be removed or added, depending on the temperature of your
particular meeting room.
Visitor BruinCard
Guests can purchase a Visitor BruinCard and add cash to it (BruinCard EasyPay) — in increments
of $5 — to use on purchases throughout the campus. The Visitor BruinCard is accepted at all dining
facilities (including Café 1919), vending machines, residential laundry machines, the UCLA Store,
and much more! Cards are available for purchase from BruinCard kiosks located in the lobbies of
De Neve Plaza, Rieber Hall, Hedrick Hall, and Covel Commons.
Laundry Facilities
Laundry equipment is located in each housing facility. A Visitor BruinCard is needed to operate the
machines. If you have questions, please contact your Front Desk for further information and the exact
location of your laundry room.
Covel Business Center
For your convenience, the Covel Business Center offers guests
access to its computer lab stations.
These computers are free
to use and are available
for word processing,
scanning, Internet
surfing, and checking
email. Guests also
have access to copying,
printing, and faxing.
H O U R S O F O P E R AT I O N
Monday-Thursday
Friday
Saturday
Sunday
7:30 a.m. — 8:00 p.m.
7:30 a.m. — 6:00 p.m.
9:00 a.m. — 6:00 p.m.
12:00 p.m. — 5:00 p.m.
Located in Covel Commons, 1st Floor
Tel: (310) 825-3400 • Fax: (310) 206-7753
Campus Extension: 53400
Vending Machines
Vending and ice machines are located on the lobby level (either indoors or outside) of each residence
hall. In addition to snacks and beverages, some machines in Hedrick and Covel Commons also dispense laundry detergent and health and beauty items. Visitor BruinCard and cash accepted. For any
vending questions or concerns, please see your nearest Front Desk.
No Smoking
UCLA is a tobacco-free campus. Smoking is not permitted anywhere on the campus, including the
conference sleeping rooms,meeting rooms, or any outdoor areas. Thank you for your understanding
and cooperation.
330 De Neve Drive, Los Angeles, CA 90095-1492
888.825.5305 • 310.206.7122 fax
[email protected] • www.conferences.ucla.edu
Printed on Recycled Paper
6/13
Dining
Welcome to
A
ll residential guests receive complimentary access to UCLA's recreational facilities.
Your access card allows you entrance into the facilities mentioned below, so be sure
to have it with you. Some housing facilities have indoor and outdoor recreational areas, and
sports equipment can be checked out from some front desks.
Dining in one of UCLA's residential restaurants is
sure to be an experience you will enjoy — all meals
are self-serve and all-you-care-to-eat!
Providing excellent customer service is our number one
priority. Please let us know if there is anything we can do to make
your stay with us more comfortable and enjoyable!
You will be dining in the residential restaurant assigned to your group .You will need your
access card attached to your room key or your wristband to enter for each meal.
Special note about lunch on your last day: Since you will have already checked out and returned your
access card to the front desk, you will be given a "last meal voucher" when you check out if your group
is scheduled for lunch. This voucher will allow you entrance into the residential restaurant.
Restaurant Hours
Front Desk Services
The Front Desk in each residence hall is open 24 hours to provide
you with helpful information and services including:
• Message and Mail Pick-Up
• Change for Vending Machines
• Guest Meal Tickets
• Ice Buckets
• Evening Van/Security Escort
Information
• Housekeeping Information and
Services
• Campus Maps and Local Area Maps
• Irons and Ironing Boards
• Bus Schedules
• Brochures for LA-Area Attractions
• Telephone Directories
• Information about Local Restaurants,
Shops,Theaters, Religious Services,
Banking, Dry Cleaning, and
Film Developing
• Maintenance for Your Room
• Cashing of Travelers Checks
($50 maximum)
Open Daily
Covel Commons & De Neve Plaza
Breakfast
Lunch
Dinner
7:00 a.m. – 9:00 a.m.
11:00 a.m. – 2:00 p.m.
5:00 p.m. – 8:00 p.m.
Hedrick Hall
Breakfast
Continental Breakfast
Lunch
Limited Service Lunch
Dinner
INDIVID
MEAL T UAL
7:00 a.m. – 9:45 a.m.
9:45 a.m. – 10:30 a.m.
11:00 a.m. – 2:00 p.m.
2:00 p.m. – 4:30 p.m.
5:00 p.m. – 9:00 p.m.
Additional Dining Options
• De Neve Plaza/Dykstra Hall
351 Charles E. Young Drive West, 131407
Los Angeles, CA 90024
Campus Extension: 55451
From outside UCLA: (310) 825-5451
Fax: (310) 206-8779
• SPROUL COURT:
Sproul Hall, Sproul Cove
& Sproul Landing
350 De Neve Drive, 131707
Los Angeles, CA 90024
Campus Extension: 52075
From outside UCLA: (310) 825-2075
Fax: (310) 825-7092
• Sunset Village/Courtside Collection
330 De Neve Drive, 131707
Los Angeles, CA 90024
Campus Extension: 67878
From outside UCLA: (310) 206-7878
Fax: (310) 206-9199
• HEDRICK COURT:
Hedrick Hall, Hedrick Summit
& Hitch Suites
250 De Neve Drive, 131507
Los Angeles, CA 90024
Campus Extension: 52965
From outside UCLA: (310) 825-2965
Fax: (310) 825-6797
RIEBER COURT:
• Rieber Hall, Rieber Terrace,
Rieber Vista & Saxon Suites
310 De Neve Drive, 131607
Los Angeles, CA 90024
Campus Extension: 52275
From outside UCLA: (310) 825-2275
Fax: (310) 206-3738
John Wooden Center
T
his popular indoor center features
facilities for basketball, volleyball,
badminton, rock climbing, racquetball,
handball, and squash. Weight training
and a variety of exercise equipment
are also available. Men's and women's
locker rooms offer showers and saunas,
as well as lockers for rent while using
the Center. You need your access card
or wristband to enter the JWC.
can be p ICKE T S
each Fro urchased at
n
excludin t Desk. Prices
g sales ta
x are:
Breakfa
st $11
Lunch $
13
Dinner $
15
• Safe Deposit Box Information
Front Desk Addresses & Phone Numbers
Recreation
Café 1919 is a quick-service restaurant that offers combo and à la carte meals, and is
open for breakfast, lunch, and dinner. It's located in the Sunset Village Plaza, across from
the UCLA Store Hilltop. Open to all guests, Café 1919 features Italian-themed cuisine,
including Pizzettes, Paninis, Salads, and Gelato. Pay by Visitor BruinCard EasyPay funds,
debit or credit card, or meal plan swipe. Sorry, no cash transactions.
Open Monday through Friday Only
7:30 a.m. until 8:00 p.m.
In Case of an Emergency
EMERGENCY NUMBERS FROM YOUR ROOM PHONE
• Police, Fire, Ambulance 911
• UCLA Police (non-emergencies) 51491
• UCLA Medical Center Emergency Room 52111
• Fire and earthquake safety information is posted on the back of your room door.
Monday - Thursday 5:30 a.m. – 10:45 p.m.
Friday
5:30 a.m. – 9:45 p.m.
Saturday
9:00 a.m. – 7:45 p.m.
Sunday
9:00 a.m. – 7:45 p.m.
Holidays
9:00 a.m. – 5:45 p.m.
Please call 68307 for more information.
Swimming Pools
SUNSET CANYON RECREATION CENTER (SCRC)
This outdoor, park-like facility features two swimming pools. Both pools are surrounded
by large grassy areas that are ideal for sunning, Frisbee, and volleyball. You will need your
access card to enter SCRC. Please call 53671 for more information. For group reservations
of 10 or more, please call 54224.
THE PARK POOL
This 50-meter lap pool with a diving area is open to those 14 years of age or over.
Open daily from 10:00 a.m. until 8:00 p.m.
THE FAMILY POOL
This 25-yard long shallow pool with an adjacent diving well is open to all ages. However,
each child under 48" must be accompanied, in the water, by an adult. Open Monday
through Friday from 12:00 p.m. until 8:00 p.m. Open Saturday and Sunday from
11:00 a.m. until 8:00 p.m.
Please, no pets, glass containers, alcohol, toys, or flotation devices within SCRC. UCLA is a tobacco-free campus,
thus, SCRC is a non-smoking facility. Personal stereos may be used with headphones. Dressing rooms with showers and coin-operated lockers are available. You may bring up to four guests into the SCRC facilities for a daily,
per-person fee, by showing your access card to the attendant.
Guests with food allergies or special dietary concerns due to medical conditions are encouraged
to contact our Registered Dietitian, Dolores Hernandez, MA, RD, at (310) 206-3193 for more
information on recipes, ingredients, and food preparation methods.
Dining locations and hours of operation are subject to change without notice, based on operational
needs. Please visit the UCLA Dining Services website at www.dining.ucla.edu or your Front Desk for
current summer hours of operation.
H O U R S O F O P E R AT I O N
Campus Court Reservations
C
ourt reservations are necessary for tennis, racquetball, handball, and squash. To make reservations
for tennis, please stop by the SCRC Front Desk to obtain a
reservation number, then call 53671 to reserve your court.
For racquetball, handball, and squash reservations, please
call 68307. You can also visit the recreation website at
www.recreation.ucla.edu for reservation policies.
TENNIS
COURT HOURS
Sunset Canyon Tennis Center:
7:00 a.m. - 10:00 p.m., Daily
For a complete listing of UCLA Recreation activities, pick up
a copy of the Summer Recreation Quarterly available at SCRC,
the JWC, and at your front desk, or visit www.recreation.ucla.edu.
Sycamore Courts:
7:00 a.m. until dusk,
Daily
All children under 16 years of age must be accompanied by an adult, 18 years of age or older.
Please, no smoking, food, or beverages. JWC and SCRC hours are subject to change without notice.