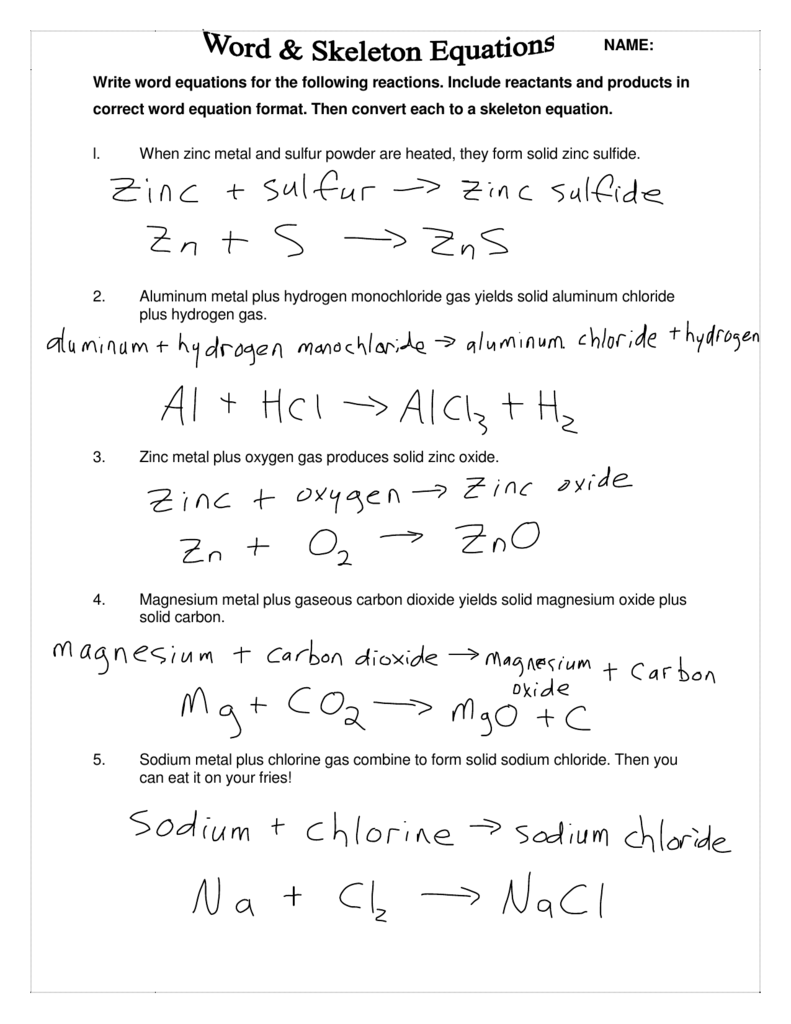 NAME:
Write word equations for the following reactions. Include reactants and products in
correct word equation format. Then convert each to a skeleton equation.
l.
When zinc metal and sulfur powder are heated, they form solid zinc sulfide.
2.
Aluminum metal plus hydrogen monochloride gas yields solid aluminum chloride
plus hydrogen gas.
3.
Zinc metal plus oxygen gas produces solid zinc oxide.
4.
Magnesium metal plus gaseous carbon dioxide yields solid magnesium oxide plus
solid carbon.
5.
Sodium metal plus chlorine gas combine to form solid sodium chloride. Then you
can eat it on your fries!
6.
Water vapour is formed from the explosive reaction between hydrogen gas and
oxygen gas.
7.
Silverware reacts with the sulfur in the air to become tarnished, producing silver
sulfide.
8.
Iron (Fe+3) reacts with the oxygen in the air to form rust (which is iron oxide).
9.
Magnesium will catch fire, combining with oxygen in a bright white light to form
magnesium oxide.
10.
When zinc metal is placed in a solution of hydrogen monochloride, hydrogen gas
and a zinc chloride solution are formed. The container gets warm.