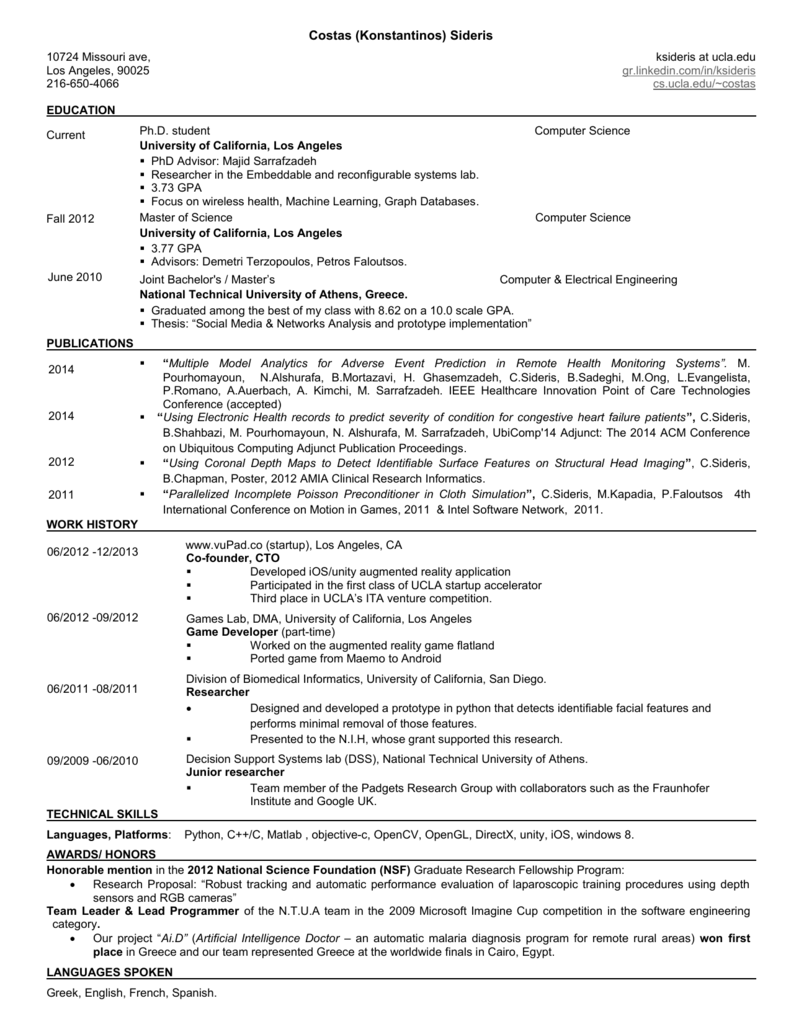 Costas (Konstantinos) Sideris
10724 Missouri ave,
Los Angeles, 90025
216-650-4066
ksideris at ucla.edu
gr.linkedin.com/in/ksideris
cs.ucla.edu/~costas
EDUCATION
Current
Fall 2012
June 2010
Ph.D. student
University of California, Los Angeles
 PhD Advisor: Majid Sarrafzadeh
 Researcher in the Embeddable and reconfigurable systems lab.
 3.73 GPA
 Focus on wireless health, Machine Learning, Graph Databases.
Master of Science
University of California, Los Angeles
 3.77 GPA
 Advisors: Demetri Terzopoulos, Petros Faloutsos.
Computer Science
Computer Science
Joint Bachelor's / Master's
Computer & Electrical Engineering
National Technical University of Athens, Greece.
 Graduated among the best of my class with 8.62 on a 10.0 scale GPA.
 Thesis: "Social Media & Networks Analysis and prototype implementation"
PUBLICATIONS
2014

2014

2012

2011

"Multiple Model Analytics for Adverse Event Prediction in Remote Health Monitoring Systems". M.
Pourhomayoun, N.Alshurafa, B.Mortazavi, H. Ghasemzadeh, C.Sideris, B.Sadeghi, M.Ong, L.Evangelista,
P.Romano, A.Auerbach, A. Kimchi, M. Sarrafzadeh. IEEE Healthcare Innovation Point of Care Technologies
Conference (accepted)
"Using Electronic Health records to predict severity of condition for congestive heart failure patients", C.Sideris,
B.Shahbazi, M. Pourhomayoun, N. Alshurafa, M. Sarrafzadeh, UbiComp'14 Adjunct: The 2014 ACM Conference
on Ubiquitous Computing Adjunct Publication Proceedings.
"Using Coronal Depth Maps to Detect Identifiable Surface Features on Structural Head Imaging", C.Sideris,
B.Chapman, Poster, 2012 AMIA Clinical Research Informatics.
"Parallelized Incomplete Poisson Preconditioner in Cloth Simulation", C.Sideris, M.Kapadia, P.Faloutsos 4th
International Conference on Motion in Games, 2011 & Intel Software Network, 2011.
WORK HISTORY
06/2012 -12/2013
06/2012 -09/2012
06/2011 -08/2011
09/2009 -06/2010
www.vuPad.co (startup), Los Angeles, CA
Co-founder, CTO

Developed iOS/unity augmented reality application

Participated in the first class of UCLA startup accelerator

Third place in UCLA's ITA venture competition.
Games Lab, DMA, University of California, Los Angeles
Game Developer (part-time)

Worked on the augmented reality game flatland

Ported game from Maemo to Android
Division of Biomedical Informatics, University of California, San Diego.
Researcher

Designed and developed a prototype in python that detects identifiable facial features and
performs minimal removal of those features.

Presented to the N.I.H, whose grant supported this research.
Decision Support Systems lab (DSS), National Technical University of Athens.
Junior researcher

Team member of the Padgets Research Group with collaborators such as the Fraunhofer
Institute and Google UK.
TECHNICAL SKILLS
Languages, Platforms:
Python, C++/C, Matlab , objective-c, OpenCV, OpenGL, DirectX, unity, iOS, windows 8.
AWARDS/ HONORS
Honorable mention in the 2012 National Science Foundation (NSF) Graduate Research Fellowship Program:

Research Proposal: "Robust tracking and automatic performance evaluation of laparoscopic training procedures using depth
sensors and RGB cameras"
Team Leader & Lead Programmer of the N.T.U.A team in the 2009 Microsoft Imagine Cup competition in the software engineering
category.

Our project "Ai.D" (Artificial Intelligence Doctor – an automatic malaria diagnosis program for remote rural areas) won first
place in Greece and our team represented Greece at the worldwide finals in Cairo, Egypt.
LANGUAGES SPOKEN
Greek, English, French, Spanish.