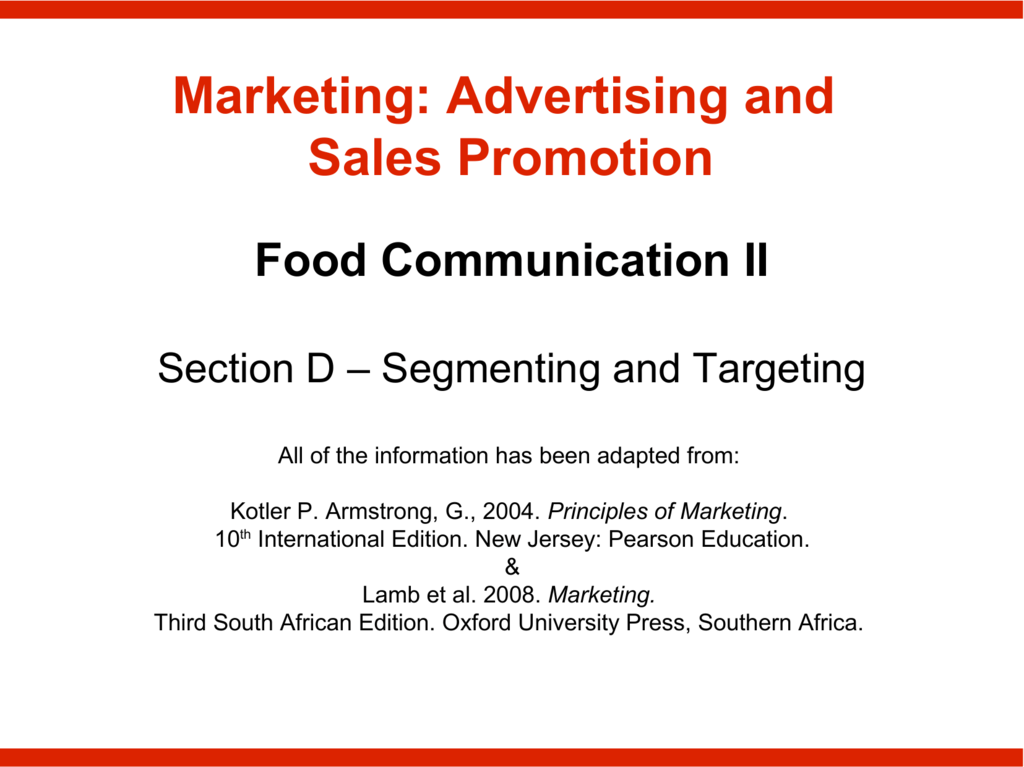 Marketing: Advertising and
Sales Promotion
Food Communication II
Section D – Segmenting and Targeting
All of the information has been adapted from:
Kotler P. Armstrong, G., 2004. Principles of Marketing.
10th International Edition. New Jersey: Pearson Education.
&
Lamb et al. 2008. Marketing.
Third South African Edition. Oxford University Press, Southern Africa.
Administrative info
Introduction
•
Companies today recognise that they cannot appeal
to all buyers in the marketplace, or at least not in the
same way.
•
Buyers are too numerous, too widely scattered, and
too varied in their needs and buying practices.
•
Also, the companies themselves vary widely in their
abilities to serve different segments of the market.
•
Rather than trying to compete in an entire market,
sometimes against superior competitors, each
company must identify the parts of the market that it
can serve best and most profitably.
Introduction
•
Thus, most companies are being more choosy about
the customers with whom they which to build
relationships.
•
Most have moved away from mass marketing and
toward market segmentation and targeting.
•
Instead of scattering their marketing efforts (the
"shotgun" approach), firms are focusing on the
buyers who have greater interest in the values they
create best (the "rifle" approach).
Market Segmentation
1. Identify bases for
Segmenting the market
2. Develop segment
profiles
Target Marketing
3. Develop measure of
Segment attractiveness
4. Select target
segments
Market Positioning
5. Develop positioning
For target segments
6. Develop a marketing
Mix for each segment
Steps in Segmenting, Targeting, and Positioning
SEGMENTATION
Market Segmentation
•
Market Segmentation: Dividing a market into
distinct groups with distinct needs, characteristics, or
behaviour who might require separate products or
marketing mixes.
•
Target Marketing: The process of evaluating each
market segment's attractiveness and selecting one
or more segments to enter.
•
Market Positioning: Arranging for a product to
occupy a clear, distinctive, and desirable place
relative to competing products in the minds of target
consumers.
Market Segmentation
•
Markets consist of buyers, and buyers differ in more
than one or more ways.
•
They may differ in their wants, resources, locations,
buying attitudes, and buying practices
•
Through market segmentation, companies divide
large, heterogeneous markets into smaller segments.
•
So that they can be reached more effectively and
efficiently with products and services that match
their unique needs.
Market Segmentation Criteria
1.
Identifiable & Measurable: The size, purchasing
power, and profiles of the segments must be able to
be identified and measured.
2.
Sustainable: A segment must be large and
profitable enough to warrant developing and
maintaining a special marketing mix.
3.
Accessible: The market segment must be able to be
effectively reached and served. (koi san)
4.
Differentiable: The segments must be conceptually
distinguishable and respond differently to different
marketing mix elements and programmes.
5.
Actionable: Effective programmes muse be able to
be designed to attract and serve the segments.
Market Segmentation Bases
Please see Table 8.1 Major segmentation variables
for consumer markets on the printed handout.

Geographic

Demographic

Psychographic

Behavioural

Benefit


Find an explanation on the printed handout titled
(Benefit Segmentation)
Also please consider the tabled example of the
snack food market. (Also a hand-out)
Market Segmentation Bases
Group Work
–
Read the piece titled "Marketing in practice:
Spot the Teen Reader."
–
Then, by using the hand-out titled "Table 8.1
Major segmentation variables for consumer
markets", complete the 3 questions underneath.
Market Segmentation Steps
1.
Select a market or product category.
2.
List the potential needs in this market/product
category.
3.
Choose the basis or bases for segmenting.
4.
Select identifiable descriptors.
5.
Profile and analyse homogeneous segments.
6.
Identify the determining dimensions.
7.
Name and select target markets.
See printed handout titled Figure 6.3 Steps in
segmenting a market for more details
TARGETING
Evaluating Market Segments
•
When evaluating the different market segments, a
firm must look at three factors:
–
Segment size and growth (sales, growth
rates, expected profitability)
–
Segment structural attractiveness (Porters 5
Forces)
–
Company objectives and resources (does
segment mesh with company objectives and
can company offer superior value)
Porters 5 Forces
Selecting Target Segments
•
Target Market: A set of buyers sharing common
needs or characteristics that the company decides to
serve.
Undifferentiated
(mass) marketing
Differentiated
(segmented)
marketing
Concentrated
(niche)
marketing
Targeting
Broadly
Micro-marketing
(local/ Individual)
marketing
Targeting
Narrowly
Target Marketing Strategies
Selecting Target Segments
•
Undifferentiated (mass) marketing: A marketcoverage strategy in which a firm decides to ignore
market segments and go after the whole market with
one offer.
•
Differentiated (segmented) marketing: A market
coverage strategy in which a firm decides to target
several market segments and design separate offers
(multi-segment strategy).
•
Concentrated (niche) marketing: A marketcoverage strategy in which the firm goes after a large
share of one or a few small segment niches.
Selecting Target Segments
•
Micro-marketing: The practice of tailoring products
and marketing programmes to the needs and wants
of specific individuals and local customers groups.
•
Local Marketing: Tailoring brands and promotions
to the needs and wants of local customer groups –
cities, neighbourhoods, and even specific stores.
•
Individual marketing: Tailoring products and
marketing programmes to the needs and preferences
of individual customers – also labelled
–
"Markets-of-one marketing"
–
"Customized marketing"
–
"One-to-one marketing"
Selecting Target Segments
Advantages and disadvantages of target marketing strategies
Targeting
Strategy
Advantages
Undifferentiated

Potential savings on
production and marketing
costs
Differentiated


Concentrated
Greater financial success
Economies of scale
Disadvantages
Unimaginative product
offerings
 Firm more susceptible to
competition



High costs
Cannibalisation
Concentration of resources  Segments too small, or
Can better meet the needs changing
of narrowly defined segment  Large competitors may more
 Allows some firms to better
effectively market to niche
compete with larger firms
segment
 Stronger positioning


Source: Marketing, Lamb et al, (2008)
Selecting Target Segments
•
Companies need to consider many factors when
choosing a target-marketing strategy.
•
Which strategy is best depends on company
resources.
•
When limited, concentrated targeting makes most
sense.
•
Undifferentiated marketing is more suited for uniform
products such as grapefruit or steel.
•
Products that can vary in design, such as cameras
and cars, are more suited to differentiation or
concentration.
Selecting Target Segments
•
The product life cycle must also be considered.
When a firm introduces a new product, it may be
practical to launch only one version, and
undifferentiated or concentrated marketing may
make most sense.
•
In the mature stage of the product life cycle,
however, differentiated marketing begins to make
more sense.
•
Considering competitor strategies is also important. If
they are using differentiated marketing, it would be
silly to be undifferentiated.
•
And if they are undifferentiated, a firm could gain
some market share by being differentiated.