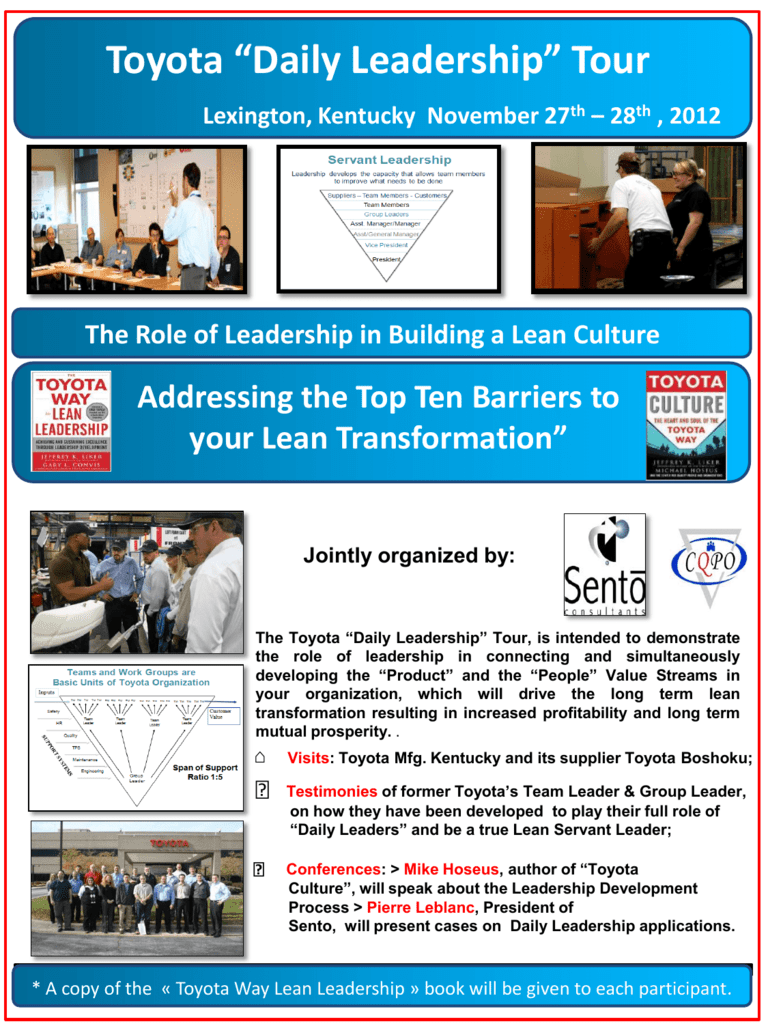 Toyota "Daily Leadership" Tour
Lexington, Kentucky November 27th – 28th , 2012
The Role of Leadership in Building a Lean Culture
 First financial losses since 1950;
 Quality crisis that shook its foundations;
Addressing
thereached
Top Ten
Barriers
 The yen
to heights never
before;
 A tsunami which
of billions of $ $ $;
yourcauses
Leanloss
Transformation"
 Competitors become more efficient
to*
Jointly organized by:
The Toyota "Daily Leadership" Tour, is intended to demonstrate
the role of leadership in connecting and simultaneously
developing the "Product" and the "People" Value Streams in
your organization, which will drive the long term lean
transformation resulting in increased profitability and long term
mutual prosperity. .
⌂
Visits: Toyota Mfg. Kentucky and its supplier Toyota Boshoku;
ȫ
Testimonies of former Toyota's Team Leader & Group Leader,
on how they have been developed to play their full role of
"Daily Leaders" and be a true Lean Servant Leader;
҉
Conferences: > Mike Hoseus, author of "Toyota
Culture", will speak about the Leadership Development
Process > Pierre Leblanc, President of
Sento, will present cases on Daily Leadership applications.
* A copy of the « Toyota Way Lean Leadership » book will be given to each participant.
Toyota "Daily Leadership" Tour
Lexington, Kentucky November 27th – 28th , 2012
Tour Objectives
1.
2.
3.
Understand what you and your team will need to change in your current role to
successfully lead a Lean Transformation.
Understand how to create management systems and infrastructure that make
problems visible and engage team members at all levels in a rigorous problem
solving and continuous improvement process.
Complete an assessment of your organization revealing gaps in terms of its
leadership, technical and human systems that need to be addressed in order to
build a lean culture.
*
Highlights of the Trip
1.
2.
3.
4.
Walking Tour and photos of Toyota Boshoku, supplier of Toyota!
Testimony of Toyota Boshoku Manager on Daily Leadership;
Q&A Period with a former TMMK Team Leader & Group Leader ;
Daily Leadership Simulation;
Trip Agenda
Trip Agenda
Wednesday November 28th
Tuesday November 27th


AM


PM




Mike Hoseus : Conference
Pierre Leblanc: Case Review

Toyota Plant Visit
Daily Leadership Simulation
Synthesis Day 1 + Q&A
AM


Toyota Boshoku Plant Visit
Toyota Boshoku Testimony
PM


Team/Group Leader: Conference
Synthesis Day 2 + Q&A
Toyota "Daily Leadership" Tour
Lexington, Kentucky November 27th – 28th , 2012
Information






The deadline for registration to this trip is October 26th, 2012;
Maximum of 30 participants;
The registration fee of *$1, 900 / person includes ground transportation in Lexington , some
meals ** but excludes air travel and hotel;
The book « Toyota Way Lean Leadership » of author Jeffrey K. Liker will be awarded to all
participants;
Payment must be made by check or direct deposit before November 2nd, 2012;
*
Registration
Registration
Please register by phone, fax or our website

Your Name:

Your Company Name :

# Phone / Mobile :

Address of your Company:
Email @:
*

Number of Participants:

Names of other participants:
:
:
:
:
Sento Consultants
Att.: Mrs. Paule Beauchesne
63, St-Jean-Baptiste, #203
Valleyfield, Quebec
Canada J6T 1Z6
Email : [email protected]
Phone : 450-371-5967
Fax: 450-371-5955
Website : www.sentoconsultants.com
* Taxes in addition
* * Tuesday & Wednesday Luncheons + Tuesday Team Dinner.