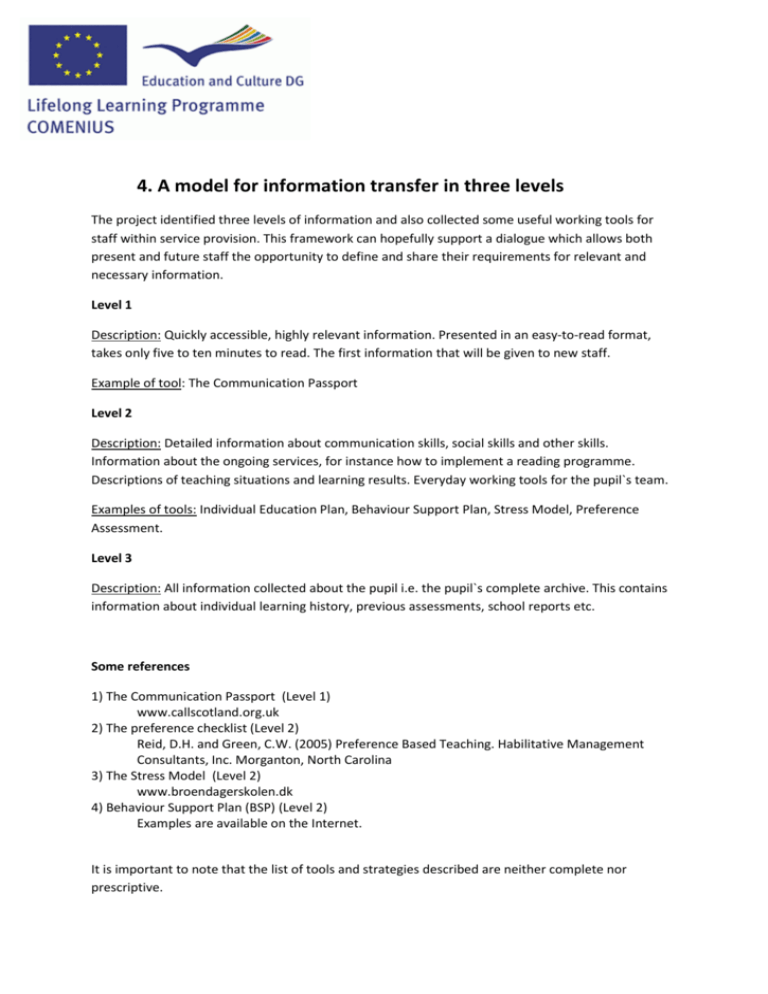 4. A model for information transfer in three levels
The project identified three levels of information and also collected some useful working tools for
staff within service provision. This framework can hopefully support a dialogue which allows both
present and future staff the opportunity to define and share their requirements for relevant and
necessary information.
Level 1
Description: Quickly accessible, highly relevant information. Presented in an easy-to-read format,
takes only five to ten minutes to read. The first information that will be given to new staff.
Example of tool: The Communication Passport
Level 2
Description: Detailed information about communication skills, social skills and other skills.
Information about the ongoing services, for instance how to implement a reading programme.
Descriptions of teaching situations and learning results. Everyday working tools for the pupil`s team.
Examples of tools: Individual Education Plan, Behaviour Support Plan, Stress Model, Preference
Assessment.
Level 3
Description: All information collected about the pupil i.e. the pupil`s complete archive. This contains
information about individual learning history, previous assessments, school reports etc.
Some references
1) The Communication Passport (Level 1)
www.callscotland.org.uk
2) The preference checklist (Level 2)
Reid, D.H. and Green, C.W. (2005) Preference Based Teaching. Habilitative Management
Consultants, Inc. Morganton, North Carolina
3) The Stress Model (Level 2)
www.broendagerskolen.dk
4) Behaviour Support Plan (BSP) (Level 2)
Examples are available on the Internet.
It is important to note that the list of tools and strategies described are neither complete nor
prescriptive.