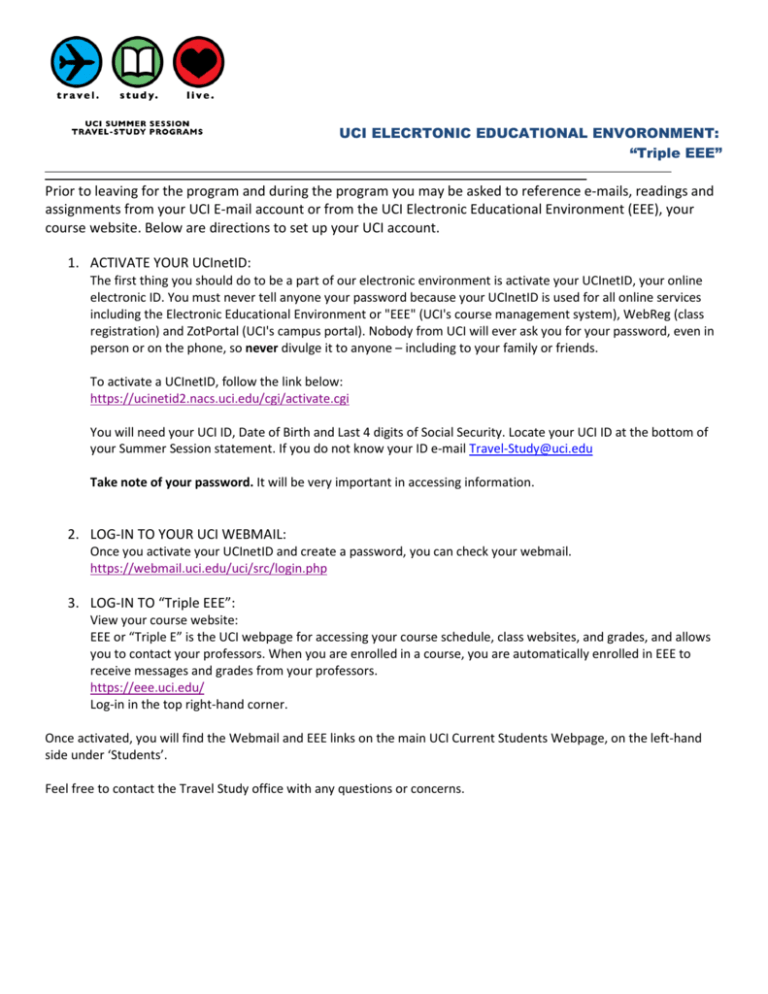 UCI ELECRTONIC EDUCATIONAL ENVORONMENT:
"Triple EEE"
Prior to leaving for the program and during the program you may be asked to reference e-mails, readings and
assignments from your UCI E-mail account or from the UCI Electronic Educational Environment (EEE), your
course website. Below are directions to set up your UCI account.
1. ACTIVATE YOUR UCInetID:
The first thing you should do to be a part of our electronic environment is activate your UCInetID, your online
electronic ID. You must never tell anyone your password because your UCInetID is used for all online services
including the Electronic Educational Environment or "EEE" (UCI's course management system), WebReg (class
registration) and ZotPortal (UCI's campus portal). Nobody from UCI will ever ask you for your password, even in
person or on the phone, so never divulge it to anyone – including to your family or friends.
To activate a UCInetID, follow the link below:
https://ucinetid2.nacs.uci.edu/cgi/activate.cgi
You will need your UCI ID, Date of Birth and Last 4 digits of Social Security. Locate your UCI ID at the bottom of
your Summer Session statement. If you do not know your ID e-mail [email protected]
Take note of your password. It will be very important in accessing information.
2. LOG-IN TO YOUR UCI WEBMAIL:
Once you activate your UCInetID and create a password, you can check your webmail.
https://webmail.uci.edu/uci/src/login.php
3. LOG-IN TO "Triple EEE":
View your course website:
EEE or "Triple E" is the UCI webpage for accessing your course schedule, class websites, and grades, and allows
you to contact your professors. When you are enrolled in a course, you are automatically enrolled in EEE to
receive messages and grades from your professors.
https://eee.uci.edu/
Log-in in the top right-hand corner.
Once activated, you will find the Webmail and EEE links on the main UCI Current Students Webpage, on the left-hand
side under 'Students'.
Feel free to contact the Travel Study office with any questions or concerns.