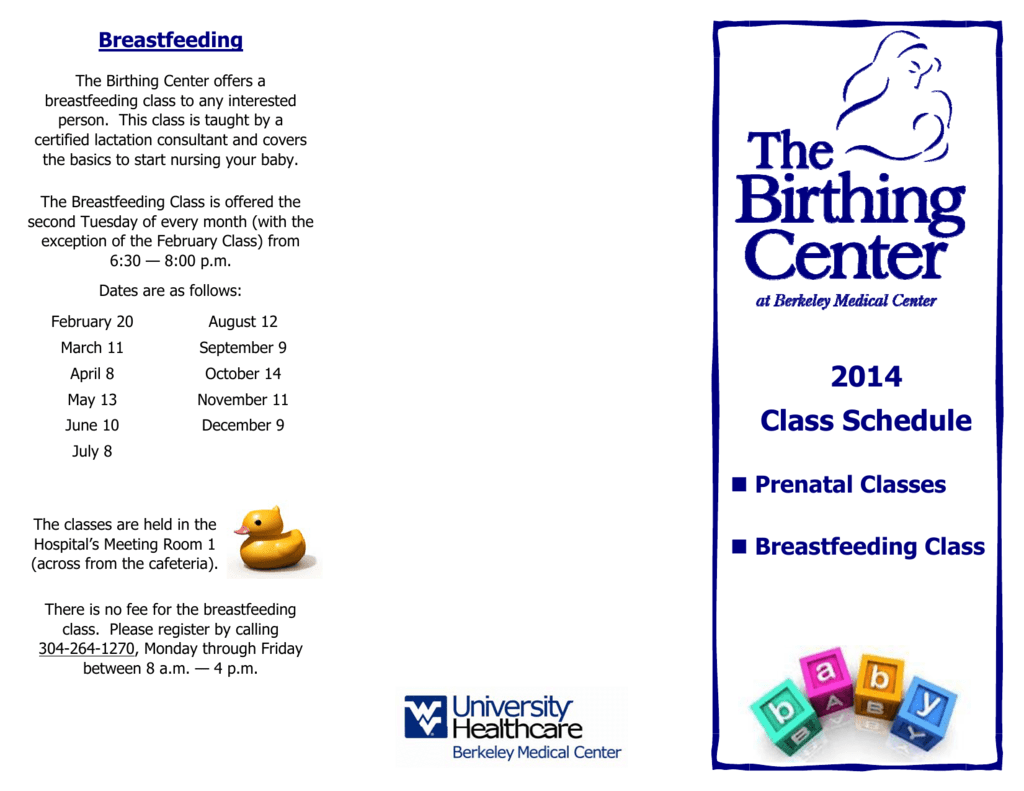 Breastfeeding
The Birthing Center offers a
breastfeeding class to any interested
person. This class is taught by a
certified lactation consultant and covers
the basics to start nursing your baby.
The Breastfeeding Class is offered the
second Tuesday of every month (with the
exception of the February Class) from
6:30 — 8:00 p.m.
Dates are as follows:
February 20
August 12
March 11
September 9
April 8
October 14
May 13
November 11
June 10
December 9
2014
Class Schedule
July 8
 Prenatal Classes
The classes are held in the
Hospital's Meeting Room 1
(across from the cafeteria).
There is no fee for the breastfeeding
class. Please register by calling
304-264-1270, Monday through Friday
between 8 a.m. — 4 p.m.
 Breastfeeding Class
Prenatal Class
The Birthing Center at Berkeley
Medical Center offers prenatal
classes to help you prepare for
the birth and care of your
newborn. Our classes are taught
by Certified Child Birth Educators
currently working in Labor &
Delivery and our Mother/Baby Unit.
Classes are held on Tuesday or
Thursday evenings from 6 — 8
p.m. for a series of five weeks.
The prenatal classes will include
information on breathing and
relaxation techniques, pain
management, medical procedures,
cesarean delivery, and infant care.
Classes will be held in the
Berkeley Medical Center's 8th floor
Classroom.
Please bring a blanket and two
pillows to each class. You are
encouraged to bring your partner
or support person who will be with
you during labor.
Prenatal Class Outline
Prenatal Class Dates:
Class One
Tuesday Class Series
Introduction
Definition of Prepared Childbirth
Basic Anatomy, Terms and Landmarks
Discomforts of Pregnancy
Exercise, Relaxation, Breathing Techniques
Birthing Unit Tour
Class Two
Harmful Substances
Signs of Labor
True versus False Labor
Preterm Labor
Warning Signs
Coming to the Hospital/Admission Procedures
Birth Plan and Goody Bags
Relaxation Techniques
February 4, 11, 18, 25 and March 4
April 1, 8, 15, 22, 29
July 1, 8, 15, 22, 29
September 2, 9, 16, 23, 30
November 4, 11, 18, 25, and
December 2
Thursday Class Series
January 16, 23, 30, and
February 6, 13
March 6, 13, 20, 27 and April 3
May 1, 8, 15, 22, 29
Class Three
August 7, 14, 21, 28, and September 4
Video — A Labor Story
Stages & Phases of Labor — Vaginal Delivery
Medical Procedures Assisting Vaginal Delivery
Medications and Pain Management
October 2, 9, 16, 23, 30
Class Four
Cesarean Delivery
Video — A Cesarean Birth Story
Postpartum Care
Class Five
Newborn Appearance
Breastfeeding Information/Class
Pre-registration is required. Please call
304-264-1297 - menu selection #2.
The fee is $15.00 per class or $75 for
the entire series. WV Medicaid and
some private insurances will pay for
classes. If you need information about
the WV Medicaid or RFTS Program,
please ask your health care provider.
Classes will be billed based on
attendance and fees are not due on
class nights.