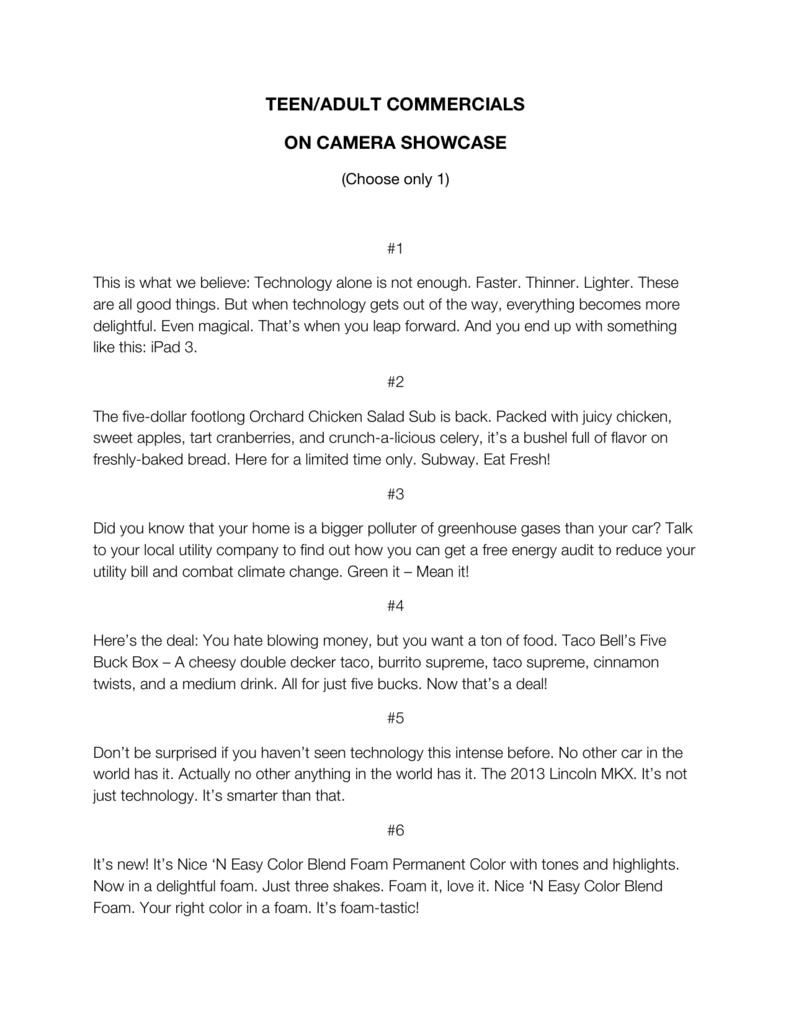 TEEN/ADULT COMMERCIALS
ON CAMERA SHOWCASE
(Choose only 1)
#1
This is what we believe: Technology alone is not enough. Faster. Thinner. Lighter. These
are all good things. But when technology gets out of the way, everything becomes more
delightful. Even magical. That's when you leap forward. And you end up with something
like this: iPad 3.
#2
The five-dollar footlong Orchard Chicken Salad Sub is back. Packed with juicy chicken,
sweet apples, tart cranberries, and crunch-a-licious celery, it's a bushel full of flavor on
freshly-baked bread. Here for a limited time only. Subway. Eat Fresh!
#3
Did you know that your home is a bigger polluter of greenhouse gases than your car? Talk
to your local utility company to find out how you can get a free energy audit to reduce your
utility bill and combat climate change. Green it – Mean it!
#4
Here's the deal: You hate blowing money, but you want a ton of food. Taco Bell's Five
Buck Box – A cheesy double decker taco, burrito supreme, taco supreme, cinnamon
twists, and a medium drink. All for just five bucks. Now that's a deal!
#5
Don't be surprised if you haven't seen technology this intense before. No other car in the
world has it. Actually no other anything in the world has it. The 2013 Lincoln MKX. It's not
just technology. It's smarter than that.
#6
It's new! It's Nice 'N Easy Color Blend Foam Permanent Color with tones and highlights.
Now in a delightful foam. Just three shakes. Foam it, love it. Nice 'N Easy Color Blend
Foam. Your right color in a foam. It's foam-tastic!
#7
I thought ringing in the ears was just something I had to live with. But then my doctor told
me about Lipo-Flavonoid. Said it improves inner ear circulation to help relieve the ringing.
And was she ever right. Lipo-Flavonoid is number one doctor recommended to relieve
ringing in the ears.
#8
AT&T U-verse: fiber optic technology and computer networking to bring you better digital
TV, faster Internet, and a smarter phone. Interactive home entertainment the way it should
be: integrated digital and remote mobile access. The U-verse experience.
#9
Big Deal Days are back and better than ever. Go to Priceline.com right now for a sneak
peek at recent winning hotel bids, and to find where you can save up to 60% on hotels.
We'll even email you other people's winning bids so you'll know what price to name, with
new email bid alerts. From Priceline.
#10
What's the latest in eye couture? Intense Shadow Blast from Cover Girl. The new eye
shadow with primer built right in so the shadow lasts. Rich color that's fade-proof, waterproof, totally ignore-proof. Oh, yeah. From easy, breezy, beautiful Cover Girl.
#11
TireRack.com is more than just an online tire resource. We're your one-stop online tire
Know How, Know Who, and Know What. With Tire Rack's online research tools you'll
know you're getting the right tires for you, your car, and the way you drive it. Get your next
tires at TireRack.com and experience the way we're revolutionizing the way you buy tires.
#12
Firm skin would be easy without gravity. With Olay challenge that. Olay Regenerest Day
and Night Duo. The UV lotion helps protect skin and firms during the day. The cream
hydrates to firm at night. Gravity doesn't stand a chance. Regenerest from Olay.
#13
Blondes: step aside. Redheads: who says you get all the fun? It's time for Brunettes in the
spotlight with John Frieda Brilliant Brunette Shine Release Shampoo. Bring out your
natural highlights for hair that's ultra-rich and gorgeously sleek.
#14
You'd think I'd be the only Joey McJingle on the planet. But nope. When I was 7, they
stole my identity. I didn't find out 'til I was denied student loans for college. Took 10 years
to clear my name. Visit LifeLock.com to find out how you can keep from being me.
#15
Times are tough, but affording the essentials shouldn't be. That's why I shop at Publix for
weekly budget-friendly deals. Create delicious meals your entire family will love – for under
$15. Publix: where shopping is a pleasure.
#16
Any coffee can give you a pick-me-up. But how many can wild up your day? Live on the
wild side with Caribou Coffee Wild Coolers. Introducing new and improved Northern Lite
Coolers with only 100 calories each. It's love at first Lite.
#17
It's the end of the day. And you missed it. Where did those hours go? Get in the driver's
seat and capture your life with the iPhone 4s – the fastest, most powerful smartphone on
the market. Voice activation, video, and much more. In stores now.
#18
The toner cartridge just exploded on the last ream of paper and my presentation is in 72
minutes. That's when my Staples Easy Button saves the day. Staples has all the supplies I
use – right now. If only there was an Easy Button for Captain Loud in the next cubicle.
#19
One dollar a day. Show of hands: who spends more than that on coffee or soft drinks?
Compassion International can feed, clothe, and educate a child with your dollar a day,
every day. Trade in the caffeine fix and revolutionize a life. Visit Compassion.com today.
#20
Football fans, we've heard your cries. We know that February to September is a lifetime.
That's why you can watch the best NFL coverage 365 days a year on the NFL Network.
When all you want is football all year long, the NFL Network has you covered.
#21
My hair has attitude. My hair has style. My hair doesn't have $50 to spend every two
months. At Great Clips, you can cut back without cutting corners. Walk right in, sit right
down. Satisfaction guaranteed.
#22
Planning for retirement? This year, I don't want to look at my accounts. I don't even know
the password to my 401k! That's why I went to Charles Schwab. Their professionals can
put you on track, no matter what your situation. Investment and financial advice you need
to make smart decisions. Charles Schwab. Rest assured.
#23
I mastered every exercise excuse in the book: the gym is too far. It's wet outside. It will
cost an arm and a leg to buy equipment. Then I discovered the Wii Fit. Fun and fitness,
right in my own home. Wii Fit, you battered down my defenses.
#24
Say goodbye to overdue book fines and checked out titles. Hello, Amazon Kindle! Lighter
than a paperback, thin as a magazine. Access more than 800,000 titles, plus newspapers
and magazines – wirelessly. Now 30% lighter and 18% smaller. Revolutionize reading with
the Amazon Kindle.
#25
Remember hot summer evenings and fireflies… and out-of-this-world hand churned ice
cream? Now Edy's does it for you. Edy's slow churned ice cream. Half the fat, all the
flavor. Because some things just get better with time.
#26
Fight grime in less time with Mr. Clean Magic Eraser! All it takes is a single swipe of Mr.
Clean's super power micro-scrubbers. My dingy walls and scuffed floorboards? Voila, just
like new. Visit MrClean.com for a $3 coupon and save the day at your house.
#27
The coolest new way to save comes with a dotted line. Clip coupons, shop sales, and
slash your grocery budget in half. You don't have to sacrifice your favorite foods to fight
rising costs. Visit CouponMom.com today.
#28
Be the light. Join with the Leukemia and Lymphoma Society for this year's Light The Night
Walk. Pay tribute and bring hope to thousands battling cancer. Visit LightTheNight.org to
let your light shine.
#29
They call it a five-blade shaving surface with onboard microchip optimization. I call it the
world's most comfortable shave. The Gillette Fusion Power Razor – for a totally new
shaving experience.
#30
When I'm short on sleep, my whole day is off. That's why I take Tylenol PM. The rapid
release gels relieve pain fast so I can sleep and wake refreshed. Now try the new Tylenol
PM sleep tracker for iPhone to map your way to better rest.
#21
Define and sculpt your lips with a blast of shimmer behind the shine. Get light-reflecting
shimmer, layered under a high gloss finish. New ShineBlast, with 4 times more noticeable
shine. Take beautiful back with CoverGirl.
#32
Water has no carbs. Water has no electrolytes. Water has no game. Water just can't
compare with 40 years of elite-level hydration. A scientifically proven blend of carbs and
electrolytes. You've evolved. Gatorade has too.
#33
CoverGirl's new smoky ShadowBlast lets you create a colorful smoky eye in just two easy
steps. It's a smoky eye tool plus makeup artist all in one brilliant shadow stick with
specially shaped applicator. Talk about a smoke of genius.
#34
Make the "digital home" a reality, with the iControl OpenHome software platform. Leading
broadband service providers and home security companies offer next generation
broadband home management services to their customers, including interactive home
security, home monitoring, home management and control, energy management and
home health care. Take control with iControl.
#35
Freak-out breakout? Here's what to do when things get out of control. Neutrogena Rapid
Clear, the 7-day acne intervention kit. It's easy. Just cleanse and treat. Clinically shown to
jump-start clearer skin. Get your skin back on track.
#36
Where does your internal compass point? To a forest, desert, mountain, river, or sea?
Follow it on one of 500 Wilderness Adventures. Tackle a challenge that will set your
direction for a lifetime. Outward bound. No experience necessary.
#37
Don't settle for less. Now get up to 70% more volume with BodyBoost, the first volumizing
system with energizing ginseng. Lifts at the roots, strengthens from the inside, boosts
fullness all around. Hair care. Garnier.
#38
Sony makes it easy to capture all your friends in one shot. Even if you're Taylor Swift and
you have millions of friends. The Sony Cyber-Shot camera with iSweep panorama mode
captures the whole scene easily. Sony. Make. Believe.
#39
Shape up anywhere, any place, any time with Skechers Shape-Ups. Designed to help
burn more calories, tone muscles, and improve posture. Available at Nordstrom's and
Famous Footwear. Share your story at my-shape-ups.com.
#40
The power to save a life is at your fingertips. Sally Hansen and D.K.M.S., the world's
largest bone marrow donor center, are partnering together to fight leukemia. Register to
become a bone marrow donor. Beautiful nail color that cares.
#41
Neither mini nor van. The 8-passenger Chevy Traverse Crossover. Designed for families,
made for you. Interior amenities lavish the driver in comfort, 30% more cargo space, 24
miles per gallon. Everyone deserves a family car that isn't a minivan.
#42
It's morning again. Take hold of the big flavor of new Dunkin' Turbo medium roast coffee.
It has an extra boost of delicious Dunkin' Donuts flavor to kick-start your day. Pick some
up where you buy groceries. One taste and you'll understand.
#43
Have a seat. Or two. Or three. With the Karlstad series you have the flexibility to create the
perfect seating combination. Sink into an extra soft loveseat. Or pair it with an amrchair or
a free-standing chaise. Ikea. We do comfortable.
#44
Compare it to any other sound system for the iPod. Portable or not. The SoundDock
portable system never fails to impress. The small size and powerful performance are the
result of innovative technologies. Bose. Better sound through research.
#45
New Revlon Grow Luscious Mascara. Explode on the scene with the first Revlon mascara
that helps lashes grow stronger while visibly adding length and volume. Instantly longer,
lusher lashes. This is the start of something big.
#46
Feels so good, you won't believe it's sunscreen. From the moment you put it on, soothing
coconut scents and exotic tropical botanicals seduce your senses, while an antioxidantenriched 80-spf protects your skin. Hawaiian Tropic. The beauty of sun protection.
#47
You're kidding, right? If you're going cheesy, do it right with Lean Cuisine Casual Cuisine.
Pick up a Cheesy Pizza, Melty Flatbread or the delicious new Spinach Artichoke and
Chicken Panini. Go ahead. Indulge in Lean Cuisine. Keep life delicious.
#48
If you can't push yourself, better get a robot that can. Runstar and CardioTrainer – apps
that map, track, and challenge your workouts. Run multiple apps simultaneously. Because
when there's no limit to what Droid gets, there's no limit to what Droid does.
#49
Get perfectly messy hair with bed head by Tigi. These cool tools tell you exactly what is
going on. Don't look like you tried too hard with your hair, because you didn't. Plug in.
Light up. Rock out. Tame is lame.
#50
You were so close to having a romantic evening for two, until the candles set off the fire
alarm. Life's not perfect, but your snack can be. Laughing Cow Cheese: rich, creamy taste
and just 35 calories a wedge. Have you laughed today?
#51
You taught me right from wrong. You taught me I could do anything. I'm strong, but now I
want to be army strong. I'll get discipline, training, leadership, and college benefits. The
most important decisions start with the most important people? Mom and dad?
#52
By shopping at Target, you help us give 5% of our income to education, the arts, and
social services. Your do-goodery doesn't cost you any extra, but it adds up to over 3
million a week. At Target, doing good is easy.
#53
Jessica opened her box of Rosemary & Olive Oil Triscuits. The aroma was intriguing. One
bite, and she finally found the complexity of flavor she craved, a combination sadly missing
in her life. Triscuit's Rosemary & Olive Oil. A tasty romance awaits.
#54
Cheat on your shampoo. Do it with your brush. You can actually brush away flakes and
reduce dandruff with the Goody Styling Therapy Brush. It's infused with copper, a natural
fungicide. Start cheating at StylingTherapy.com.
#55
Go ahead. Call work. Tell them you're running a little early. Give your boss a pleasant
surprise, and give yourself a little peace with Navigon. It's the only GPS device with reality
view and lifetime traffic. Rush hour just got friendlier.
#56
One enchanted evening. Are you kidding? Getting ready for the prom is like mission
impossible. Finding the right stuff at the right price can be overwhelming. Sort it out with
Teen Magazine's Prom Guide. Then you can have fun!
#57
Here's to a world without bitterness. It's our best Maxwell House ever. Now roasted with
100% arabica beans– known to be the finest beans in the world, for a full flavor without
bitterness. It's a new morning. Brew some good.
#58
He may look serious, but he's smiling inside. Others have noticed, too. Geico has been
saving people money on car insurance for over 70 years. So if saving on car insurance
sounds good to you, the gecko will be happy to help.
#59
Such a tiny olive. Such a huge effect on your lashes. 400% huge. New healthy volume
mascara. It's clinically proven to make lashes 400% fuller with a touch of olive oil.
Beautiful. Beneficial. Neutrogena.
#60
What's so great about a Chips Ahoy Bar with the goodness of granola? Nuts. Raisins.
Real oats. Delicious. Filling. Did I mention that it only has 100 calories? What's so great
about a Chips Ahoy Chewy Granola Bar? Just about everything!