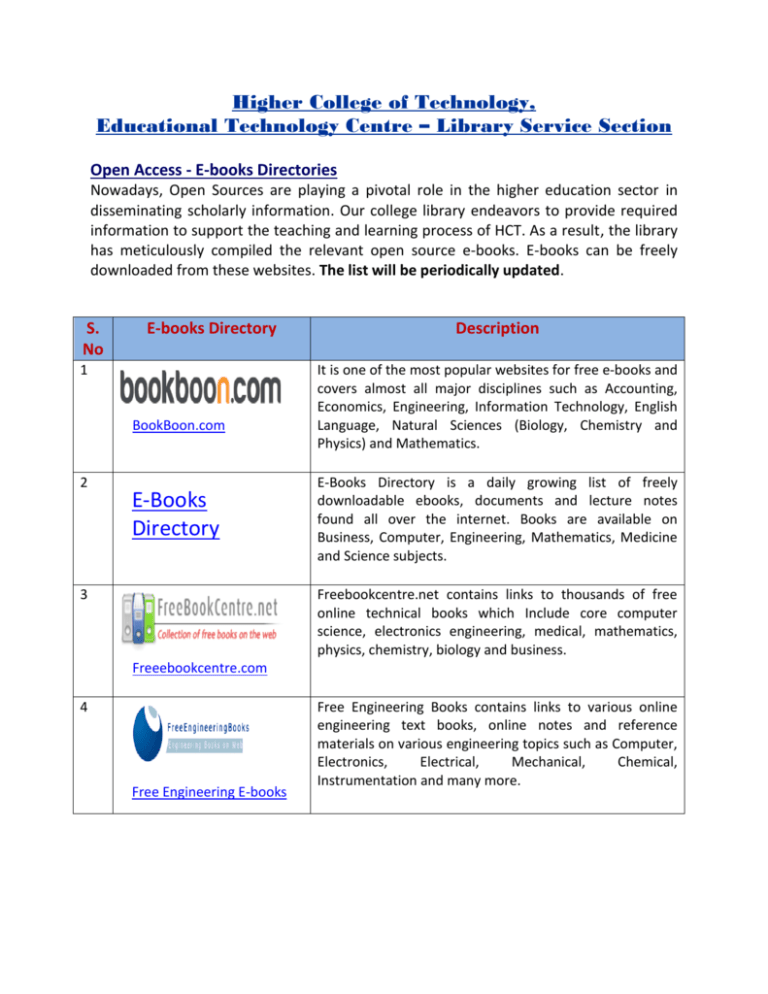 Higher College of Technology,
Educational Technology Centre – Library Service Section
Open Access - E-books Directories
Nowadays, Open Sources are playing a pivotal role in the higher education sector in
disseminating scholarly information. Our college library endeavors to provide required
information to support the teaching and learning process of HCT. As a result, the library
has meticulously compiled the relevant open source e-books. E-books can be freely
downloaded from these websites. The list will be periodically updated.
S.
No
E-books Directory
1
BookBoon.com
2
E-Books
Directory
3
Description
It is one of the most popular websites for free e-books and
covers almost all major disciplines such as Accounting,
Economics, Engineering, Information Technology, English
Language, Natural Sciences (Biology, Chemistry and
Physics) and Mathematics.
E-Books Directory is a daily growing list of freely
downloadable ebooks, documents and lecture notes
found all over the internet. Books are available on
Business, Computer, Engineering, Mathematics, Medicine
and Science subjects.
Freebookcentre.net contains links to thousands of free
online technical books which Include core computer
science, electronics engineering, medical, mathematics,
physics, chemistry, biology and business.
Freeebookcentre.com
4
Free Engineering E-books
Free Engineering Books contains links to various online
engineering text books, online notes and reference
materials on various engineering topics such as Computer,
Electronics,
Electrical,
Mechanical,
Chemical,
Instrumentation and many more.
5
This site lists free online computer science, engineering
and programming books, textbooks and lecture notes, all
of which are legally and freely available over the Internet.
FreetechBooks
6
7
8
9
InTech is a pioneer and world's largest multidisciplinary
open access publisher of books covering the fields of
Science, Technology and Medicine. Since 2004, InTech has
collaborated with 87172 authors and published 2414
InTech
books and 6 journals with the aim of providing free online
access to high-quality research and helping leading
academics to make their work visible and accessible to
diverse new audiences around the world.
It is a web portal with a slogan: "KNOWLEDGE IS FREE", so
it
is
place
for
users
to
get
e-books,
video training and other material freely. This was started
KnowFree
from early 2006, and has spent many years in
development. On KnowFree, you can download everything
free of charge, so you cannot sell, or use it for any
commercial purposes.
In this website you can find the following Mechanical
ME - Mechanical
Engineering category eBooks:
Engineering | eBooks
Air Conditioning and Refrigeration, Computer Aided
Design, Control Systems, Design of Machine Elements,
Me-Mechanical Engineers eDynamics of Fluids, Engineering Optimization, Finite
books
Element Analysis, Fluid Mechanics, Heat transfer, Internal
Combustion Engines, Kinematics and Dynamics of
Machines, Machine Design, Management/Economics,
Manufacturing, Material science, Mat lab, Mechanical
Vibration, Mechanics of Solids, Mechatronics, Power Plant
Engineering, Prime Movers and Fluid Machines, Solar
Thermal Process Engineering, Theory of Machines,
Thermodynamics and more categories will be added in
future.
This site lists free eBooks and online books related to
programming, computer science, software engineering,
web design, mobile app development, networking,
OnlineProgramming.com
databases, information technology, AI, graphics and
computer hardware which are provided by publishers or
authors on their websites legally. It does not host pirated
books or do not link to sites that host pirated books.
InTech
Open Science / Open Minds
10
The National Academies
Press (NAP)
11
The Online Book Page
The NAP publishes more than 200 books a year on a wide
range of topics in science, engineering, and medicine,
providing authoritative information on important matters
in science and health policy. They offer more than 5,000
titles in PDF format. All of these PDFs can be downloaded
for free by the chapter or the entire book.
The Online Books Page is a website that facilitates access
to books that are freely readable over the Internet. It also
aims to encourage the development of such online books,
for the benefit and edification of all.