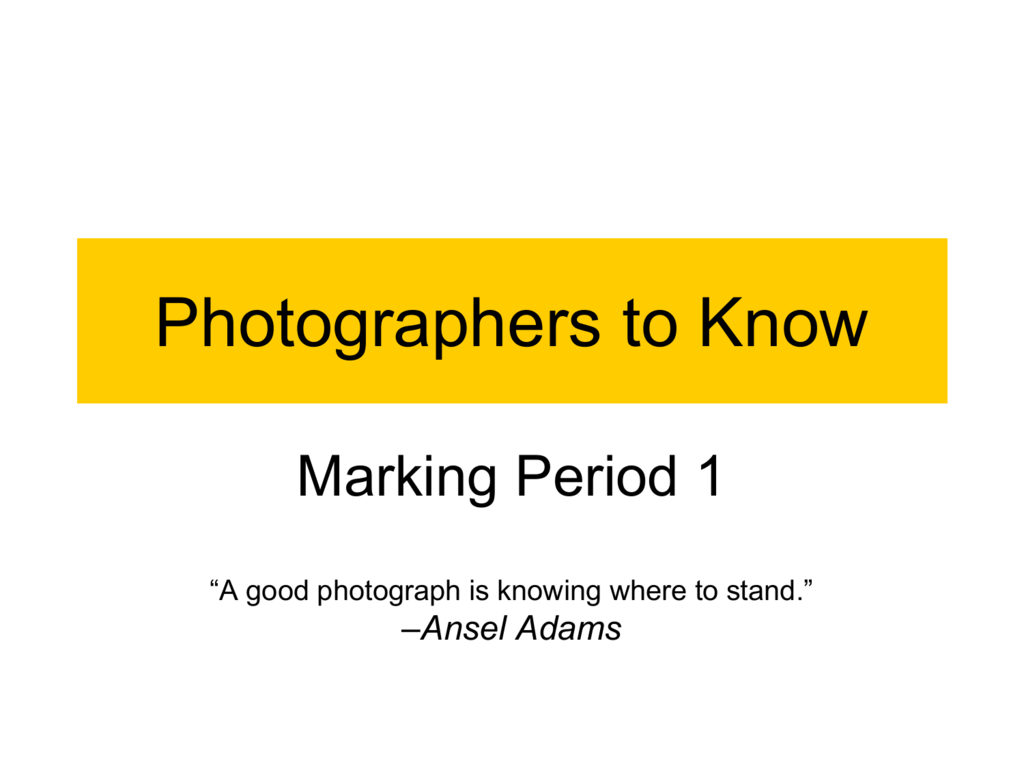 Photographers to Know
Marking Period 1
"A good photograph is knowing where to stand."
–Ansel Adams
Mathew Brady
The Devil's Den, 1863
He was known for his
pictures capturing the
Civil War.
Eadweard James
Muybridge
Galloping Horse,
1878
Eadweard James was an
English photographer
important for his pioneering
work in photographic studies of
motion and in motion-picture
projection.
Edward Steichen
The Flatiron, 1905
An American photographer and painter he
contributed the logo design and a custom
typeface to the magazine Camera Work.
This image
from the
magazine,
Camera
Work.
Edward Weston
Charis Wilson,
1939
He has been
called "one of the
most innovative
and influential
American
photographers…"
Man Ray
Tears, 1930
Man Ray technique of
solarisation and
accidentally came
across "painting with
light".
Walker Evans
General Store,
1936
Walker Evans was an
American photographer best
known for his work for the
Farm Security Administration
documenting the effects of the
Great Depression.
Juliet Margaret
Cameron
Charles Darwin,
1868
She became known for
her portraits of
celebrities of the time.
Alfred Stieglitz
The Steerage,
1907
An American photographer
(NYC) and modern art
promoter who was
instrumental over his fifty-year
career in making photography
an accepted art form.
Lewis W. Hine
"Sadie Pfeifer"
(Children at
Work), 1910
An American sociologist and
photographer. Hine used his camera
as a tool for social reform. His
photographs were instrumental in
changing the child labor laws in the
United States.
Paul Strand
Wall Street, 1915
He helped establish
photography as an art form in
the 20th century.
Some of this early work, like
the well-known "Wall Street,"
experimented with formal
abstractions.
Dorothea Lange
Migrant Mother,
1936
Dorothea was an influential
American documentary
photographer and
photojournalist, best known
for her Depression-era work.
Henri Cartier-Bresson
Behind the Gare Saint
Lazare, 1932
Henri was a French
photographer considered to
be the father of modern
photojournalism. He was a
master of candid
photography.
Quiz on Thursday, Oct. 17th
-Know the Titles of the one piece
-Know what the photograph looks like
-Know the photographer and their
characteristics/style of their photography.