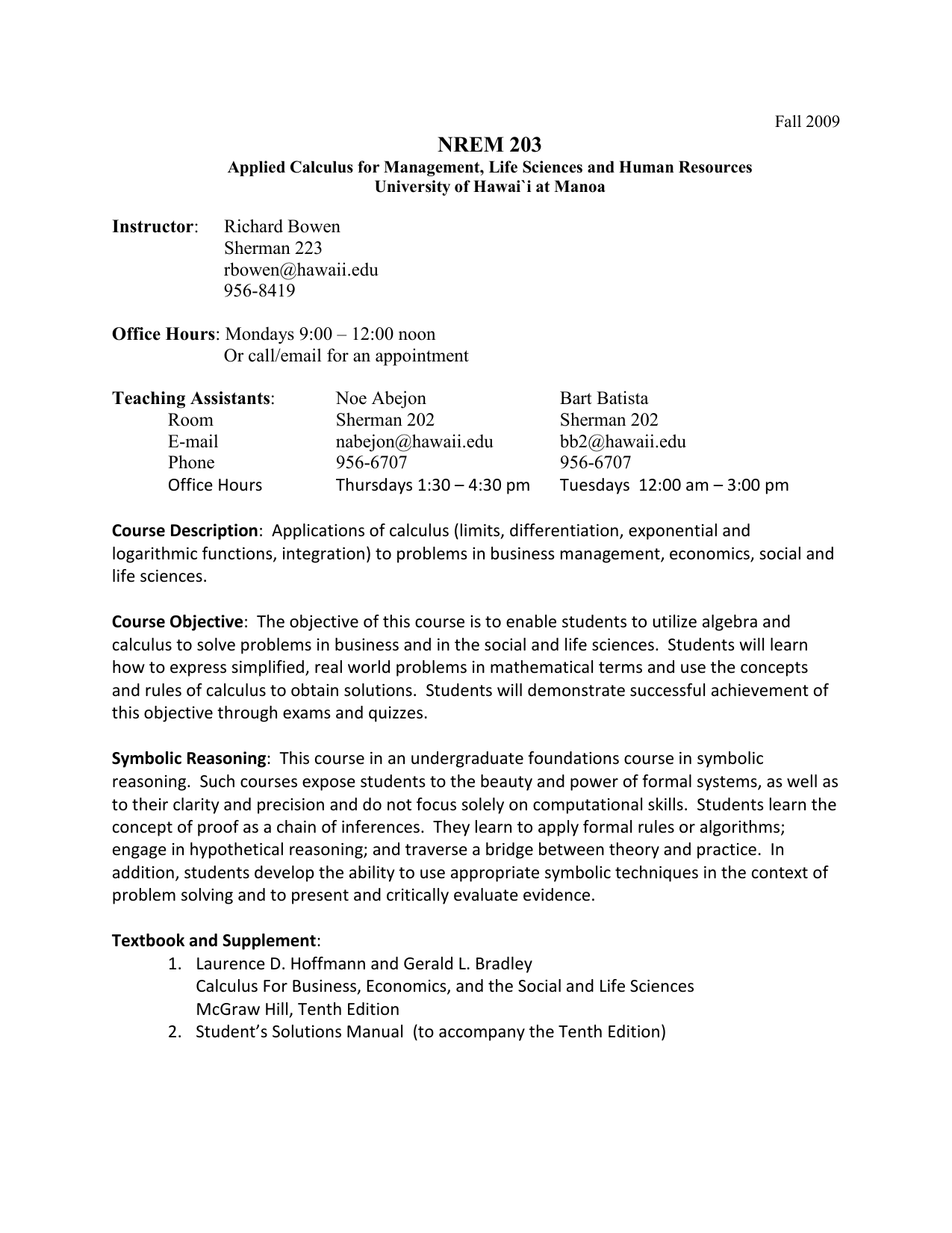 Fall 2009
NREM 203
Applied Calculus for Management, Life Sciences and Human Resources
University of Hawai`i at Manoa
Instructor:
Richard Bowen
Sherman 223
[email protected]
956-8419
Office Hours: Mondays 9:00 – 12:00 noon
Or call/email for an appointment
Teaching Assistants:
Room
E-mail
Phone
Office Hours
Noe Abejon
Sherman 202
[email protected]
956-6707
Thursdays 1:30 – 4:30 pm
Bart Batista
Sherman 202
[email protected]
956-6707
Tuesdays 12:00 am – 3:00 pm
Course Description: Applications of calculus (limits, differentiation, exponential and
logarithmic functions, integration) to problems in business management, economics, social and
life sciences.
Course Objective: The objective of this course is to enable students to utilize algebra and
calculus to solve problems in business and in the social and life sciences. Students will learn
how to express simplified, real world problems in mathematical terms and use the concepts
and rules of calculus to obtain solutions. Students will demonstrate successful achievement of
this objective through exams and quizzes.
Symbolic Reasoning: This course in an undergraduate foundations course in symbolic
reasoning. Such courses expose students to the beauty and power of formal systems, as well as
to their clarity and precision and do not focus solely on computational skills. Students learn the
concept of proof as a chain of inferences. They learn to apply formal rules or algorithms;
engage in hypothetical reasoning; and traverse a bridge between theory and practice. In
addition, students develop the ability to use appropriate symbolic techniques in the context of
problem solving and to present and critically evaluate evidence.
Textbook and Supplement:
1. Laurence D. Hoffmann and Gerald L. Bradley
Calculus For Business, Economics, and the Social and Life Sciences
McGraw Hill, Tenth Edition
2. Student's Solutions Manual (to accompany the Tenth Edition)
Course Website: The course website is available on www.laulima.hawaii.edu and is accessible
through your MyUH account. Check the site as needed for the course syllabus, current
calendar of lectures/labs/homework, grades and announcements.
Organization:
1. Tuesdays and Thursdays lecture sessions are for the entire class. Attendance is not
mandatory and will not be taken. Mid-term exams will be given during lecture sessions.
2. Friday lab sessions are offered for students to solve problems that have been covered in
the lectures that week. They are led by graduate student teaching assistants and are a
means for ensuring that students can apply what is being taught in the lectures and do
not fall behind. Quizzes will be given frequently for part of the scheduled time.
3. Homework problems are assigned to demonstrate that you can solve the types of
problems covered in the book and lectures. They are not turned in or graded and the
answers (to all odd numbered problems) are given in the Student's Solutions Manual.
You may ask your TA to verify an answer to even numbered questions; however, you
must provide evidence that you have attempted to solve the problem. Doing
homework on a timely basis is the key to success in this the course.
4. Quizzes will be given during some lab sessions. At least 2 quizzes will be given before
each exam. All quiz questions will be from, or similar to, the assigned homework
problems; so doing your homework before Friday labs will be to your advantage.
5. Exams: There will be three written examinations (two mid-term exams and a final
exam). The final examination is heavier weighted because the last part of the course
covers more material, is more difficult and the exam is longer.
6. Calculators: A scientific or financial calculator will be needed. There are three functions
that are needed: (1) yx ; (2) ex; and (3) ln or lnX. The TI-30, TI-BAII and Sharp-EL531 are
three such models that are available at the bookstore. Graphing calculators are not
required and are not permitted in quizzes and exams. However, graphing programs,
whether handheld or PC based, are a useful tool for visualizing the shape of curves and
you are encourage to use them in your homework.
7. Grades:
a. First Mid-term exam (Chapters 1 & 2)
25%
b. Second Mid-term exam
(Chapter 3)
25%
c. Final Exam (Chapters 4 and 5)
35%
d. Quizzes
15%
8. Grading Policy: Letter grades for the course will be assigned on a plus/minus grading
system. A grade in the "C" range means that you have demonstrated sufficient
knowledge of applied calculus to meet course expectations. "A" denotes superior
performance; "B" signifies above average performance; "D" signifies a weak
understanding of applied calculus; "F" denotes a failure to demonstrate the basics of
calculus or failure to take all of the exams. My hope is to not have to give any grades in
the "D" and "F" ranges.
9. Exam/Quiz Make-Up Policy: The lowest score on quizzes will be dropped; hence you can
miss one quiz with no penalty. If we have more than 8 quizzes, the lowest 2 scores will
be dropped. You must take all three exams; failure to do so will result in a grade of "F."
Make-up quizzes and exams will be given only for a legitimate excuse with proper
validation, e.g. a doctor's certificate for serious illness or incapacity. For make-up
quizzes, you must contact the TA of your section by phone or email within 24 hours of
the quiz. For make-up exams, you must contact the instructor within 24 hours of the
exam. Follow the following procedure:
• Contact your section TA (quiz) or Professor (exam) by phone or email or
both. If he is not in, leave a message on his telephone answering service.
Your message should include the following information:
o Your name and lab section
o Reason for missing the exam or quiz
o Email and phone number where you can be reached
o Earliest times that you can take the make-up exam or quiz
• Failure to follow this procedure or not have a valid excuse will disqualify the
student from taking the make-up exam or quiz.
Guidelines on how to succeed in this course
1. Pay attention in class and solve practice problems that are presented.
2. Do the assigned homework problems, preferably prior to each lab session.
3. Solve additional problems
4. Plan to spend two to three hours working on the course outside of class time for each
credit hour, i.e. six to nine hours per week, as a minimum.
5. Come to office hours or ask the instructor or TAs for guidance or assistance if you are
unclear about where the course is going or are uncertain about the answers to any of
the problems covered in class or in the book.
Other Policies:
1. We are able to accommodate students with special needs. If you special needs, see me
or your section TA. You confidentiality will be maintained
2. Cheating will not be tolerated. Cheating includes but is not limited to giving or receiving
unauthorized assistance during an examination and obtaining unauthorized information
about an examination before it is given. This includes "wandering eyes," and use of
cellular phones or other text messaging or data storage devices during exams (a
calculator only is allowed). To reduce the appeal, up to four different versions of the
examination are distributed.
3. Sexual, racial and other forms of harassment will not be tolerated. For these and other
types of intolerable behavior, please familiarize yourself with the Student Conduct Code.
http://studentaffairs.manoa.hawaii.edu/policies/conduct_code/Student
4. IDs will be checked at exams. You must bring your student ID to examinations.
5. You must attend the lab section to which you are registered; space is too limited to
allow choice. Only if you have obtained advance permission from your TA may you
attend another section.
6. Attendance at lectures or labs is not mandatory; attendance will not be recorded.