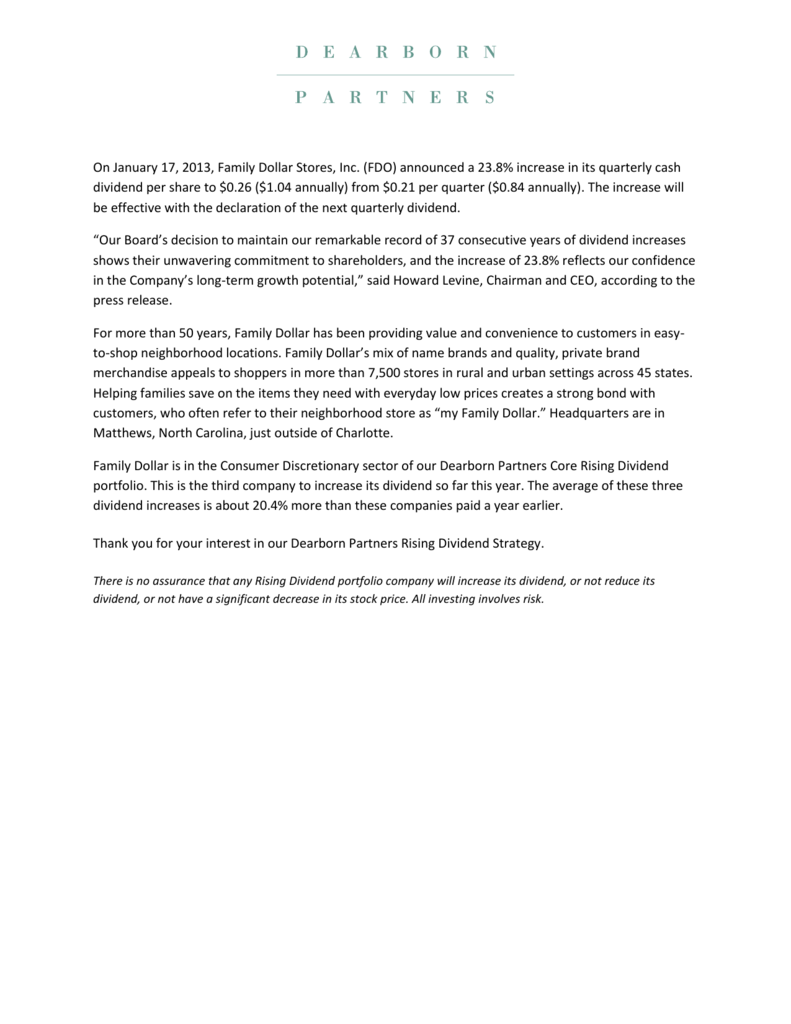 On January 17, 2013, Family Dollar Stores, Inc. (FDO) announced a 23.8% increase in its quarterly cash
dividend per share to $0.26 ($1.04 annually) from $0.21 per quarter ($0.84 annually). The increase will
be effective with the declaration of the next quarterly dividend.
"Our Board's decision to maintain our remarkable record of 37 consecutive years of dividend increases
shows their unwavering commitment to shareholders, and the increase of 23.8% reflects our confidence
in the Company's long-term growth potential," said Howard Levine, Chairman and CEO, according to the
press release.
For more than 50 years, Family Dollar has been providing value and convenience to customers in easyto-shop neighborhood locations. Family Dollar's mix of name brands and quality, private brand
merchandise appeals to shoppers in more than 7,500 stores in rural and urban settings across 45 states.
Helping families save on the items they need with everyday low prices creates a strong bond with
customers, who often refer to their neighborhood store as "my Family Dollar." Headquarters are in
Matthews, North Carolina, just outside of Charlotte.
Family Dollar is in the Consumer Discretionary sector of our Dearborn Partners Core Rising Dividend
portfolio. This is the third company to increase its dividend so far this year. The average of these three
dividend increases is about 20.4% more than these companies paid a year earlier.
Thank you for your interest in our Dearborn Partners Rising Dividend Strategy.
There is no assurance that any Rising Dividend portfolio company will increase its dividend, or not reduce its
dividend, or not have a significant decrease in its stock price. All investing involves risk.