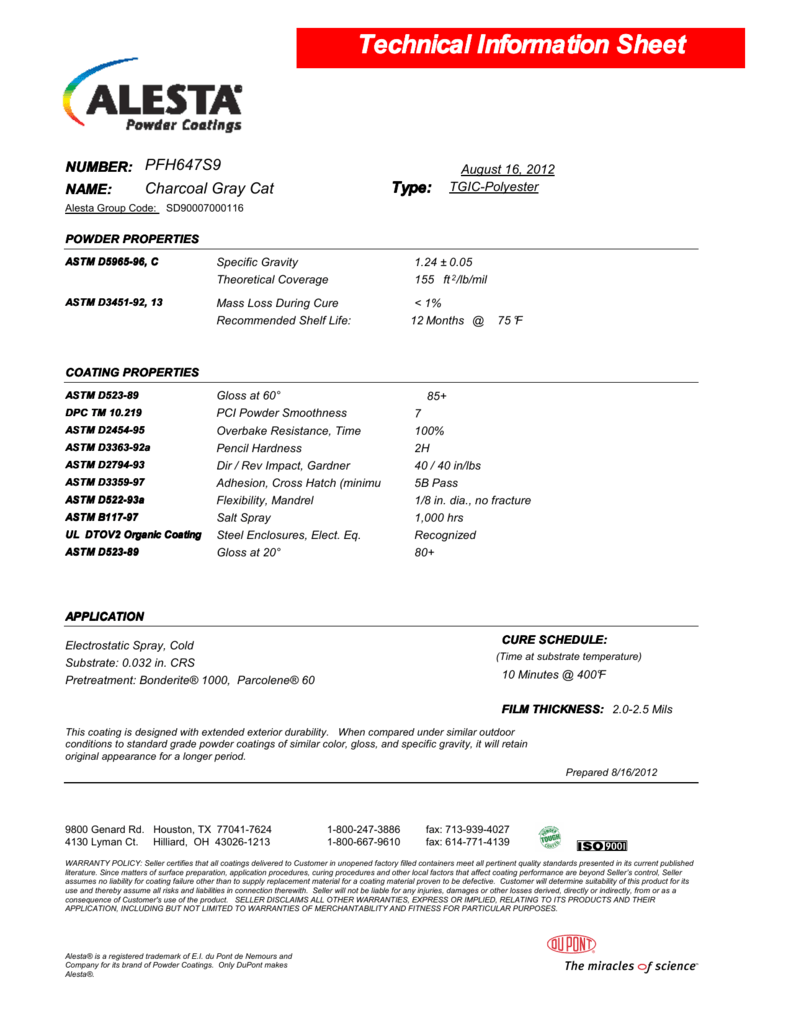 Technical Information Sheet
NUMBER: PFH647S9
NAME:
Type:
Charcoal Gray Cat
August 16, 2012
TGIC-Polyester
Alesta Group Code: SD90007000116
POWDER PROPERTIES
ASTM D5965-96, C
Specific Gravity
Theoretical Coverage
ASTM D3451-92, 13
Mass Loss During Cure
Recommended Shelf Life:
1.24 ± 0.05
155 ft 2 /lb/mil
< 1%
12 Months @
75 °F
COATING PROPERTIES
ASTM D523-89
DPC TM 10.219
ASTM D2454-95
ASTM D3363-92a
ASTM D2794-93
Gloss at 60°
PCI Powder Smoothness
Overbake Resistance, Time
Pencil Hardness
85+
7
100%
2H
40 / 40 in/lbs
5B Pass
ASTM D522-93a
Dir / Rev Impact, Gardner
Adhesion, Cross Hatch (minimu
Flexibility, Mandrel
ASTM B117-97
Salt Spray
1/8 in. dia., no fracture
1,000 hrs
UL DTOV2 Organic Coating
Steel Enclosures, Elect. Eq.
Gloss at 20°
Recognized
80+
ASTM D3359-97
ASTM D523-89
APPLICATION
CURE SCHEDULE:
Electrostatic Spray, Cold
Substrate: 0.032 in. CRS
(Time at substrate temperature)
10 Minutes @ 400°F
Pretreatment: Bonderite® 1000, Parcolene® 60
FILM THICKNESS: 2.0-2.5 Mils
This coating is designed with extended exterior durability. When compared under similar outdoor
conditions to standard grade powder coatings of similar color, gloss, and specific gravity, it will retain
original appearance for a longer period.
Prepared 8/16/2012
9800 Genard Rd. Houston, TX 77041-7624
4130 Lyman Ct. Hilliard, OH 43026-1213
1-800-247-3886
1-800-667-9610
fax: 713-939-4027
fax: 614-771-4139
WARRANTY POLICY: Seller certifies that all coatings delivered to Customer in unopened factory filled containers meet all pertinent quality standards presented in its current published
literature. Since matters of surface preparation, application procedures, curing procedures and other local factors that affect coating performance are beyond Seller's control, Seller
assumes no liability for coating failure other than to supply replacement material for a coating material proven to be defective. Customer will determine suitability of this product for its
use and thereby assume all risks and liabilities in connection therewith. Seller will not be liable for any injuries, damages or other losses derived, directly or indirectly, from or as a
consequence of Customer's use of the product. SELLER DISCLAIMS ALL OTHER WARRANTIES, EXPRESS OR IMPLIED, RELATING TO ITS PRODUCTS AND THEIR
APPLICATION, INCLUDING BUT NOT LIMITED TO WARRANTIES OF MERCHANTABILITY AND FITNESS FOR PARTICULAR PURPOSES.
Alesta® is a registered trademark of E.I. du Pont de Nemours and
Company for its brand of Powder Coatings. Only DuPont makes
Alesta®.