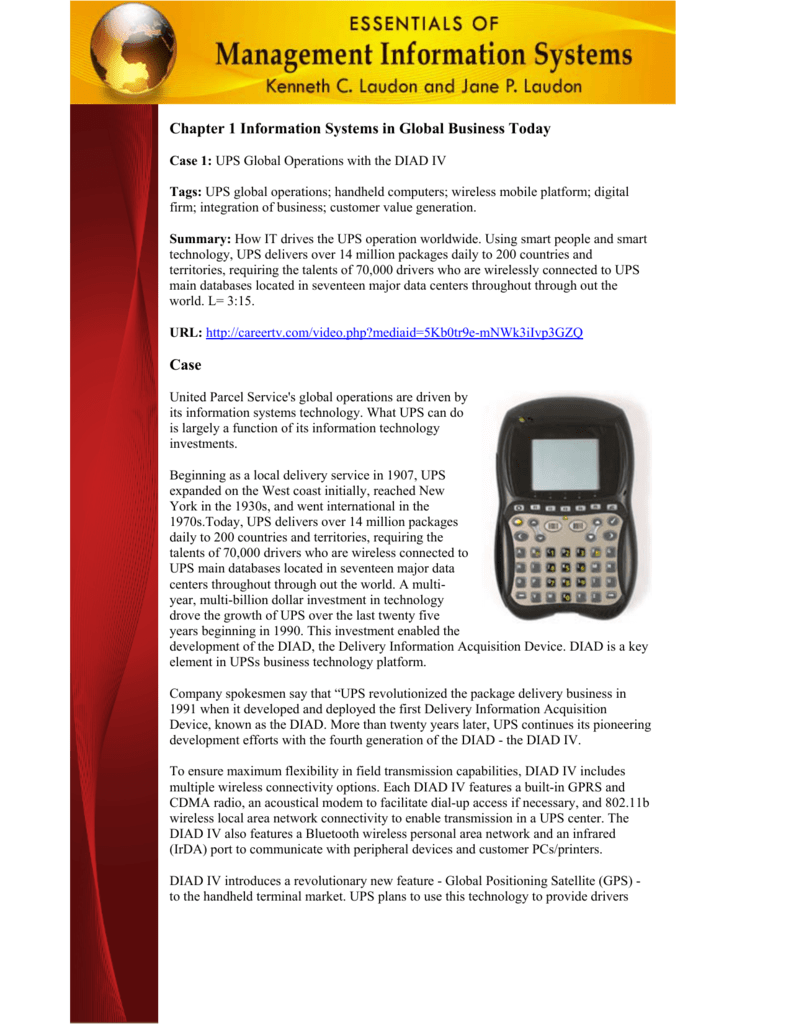 Chapter 1 Information Systems in Global Business Today
Case 1: UPS Global Operations with the DIAD IV
Tags: UPS global operations; handheld computers; wireless mobile platform; digital
firm; integration of business; customer value generation.
Summary: How IT drives the UPS operation worldwide. Using smart people and smart
technology, UPS delivers over 14 million packages daily to 200 countries and
territories, requiring the talents of 70,000 drivers who are wirelessly connected to UPS
main databases located in seventeen major data centers throughout through out the
world. L= 3:15.
URL: http://careertv.com/video.php?mediaid=5Kb0tr9e-mNWk3iIvp3GZQ
Case
United Parcel Service's global operations are driven by
its information systems technology. What UPS can do
is largely a function of its information technology
investments.
Beginning as a local delivery service in 1907, UPS
expanded on the West coast initially, reached New
York in the 1930s, and went international in the
1970s.Today, UPS delivers over 14 million packages
daily to 200 countries and territories, requiring the
talents of 70,000 drivers who are wireless connected to
UPS main databases located in seventeen major data
centers throughout through out the world. A multiyear, multi-billion dollar investment in technology
drove the growth of UPS over the last twenty five
years beginning in 1990. This investment enabled the
development of the DIAD, the Delivery Information Acquisition Device. DIAD is a key
element in UPSs business technology platform.
Company spokesmen say that "UPS revolutionized the package delivery business in
1991 when it developed and deployed the first Delivery Information Acquisition
Device, known as the DIAD. More than twenty years later, UPS continues its pioneering
development efforts with the fourth generation of the DIAD - the DIAD IV.
To ensure maximum flexibility in field transmission capabilities, DIAD IV includes
multiple wireless connectivity options. Each DIAD IV features a built-in GPRS and
CDMA radio, an acoustical modem to facilitate dial-up access if necessary, and 802.11b
wireless local area network connectivity to enable transmission in a UPS center. The
DIAD IV also features a Bluetooth wireless personal area network and an infrared
(IrDA) port to communicate with peripheral devices and customer PCs/printers.
DIAD IV introduces a revolutionary new feature - Global Positioning Satellite (GPS) to the handheld terminal market. UPS plans to use this technology to provide drivers
with more detailed directions to pick-up and delivery points in order to improve
customer service.
The monochrome screen on previous DIADS will be replaced with a color screen that
accommodates more information which can be displayed in an easier-to-read, more
attractive manner. The color screen also enables UPS to color-code messages
transmitted to a driver's DIAD. Urgent customer pick-up messages, for example, can be
color-coded to alert the driver.
In addition, the DIAD IV contains 128 megabytes of memory - 20 times the capacity of
the DIAD III. UPS will use this expanded capacity to provide new and improved
customer services. Like its predecessors, the DIAD IV's battery lasts an entire work
day.
The DIAD IV sends delivery information to the UPS data repository as soon as the
delivery information is entered. Drivers simply scan the package bar code, collect the
receiver's signature electronically, type in the last name of the receiver and push a
single key to complete the transaction and send the data. There is no need to activate a
cell phone or return to the vehicle.
Part of what makes the DIAD such a powerful tool is the system - ODS (On-Demand
Services) - that enables communication with the driver. Every UPS driver automatically
logs into the ODS system first thing in the morning. This allows dispatchers and center
management to access the driver via his/her DIAD throughout the day by sending
generalized text messages. Virtually all drivers start their day with a list of predefined
customer pickup locations for that day. Thanks to ODS, the addition of a one-time
pickup can be added to a driver's work list on-the-fly, enabling UPS to take best
advantage of the geographic location of its entire fleet for servicing pickup requests.
By using the DIAD, UPS eliminates the use of 59 million sheets of paper per year.
The DIAD IV is the most comprehensive tracking device in the delivery industry,
combining data collection and transmission technologies, digital signature capture,
extensive expandable memory and rugged construction to withstand extreme
temperatures and hard falls."
Other Features
Operating System
Processor
Weight
Size
Display
Battery
Keypad
Audio
Windows CE .NET
Intel XScale, 400 MHz
2.6 lb.
10" x 6.4" x 1.9"
2.8" x 2.1" color
3.2AH, 7.2v, Li-on
45 large, raised keys
Speaker, microphone
The UPS technology infrastructure enables UPS to offer its customers many services,
such as package tracking, freight planning, and freight truck packing optimization, in
addition to the basic shipment of packages.
Case Study Questions
1. What are UPS "Smart Labels?" What role do they play in UPS operations?
2. Write out the steps a package takes from pick-up by a UPS driver to delivery
including the role of DIAD, the UPS Data Center, and the UPS Package Center.
3. What role does wireless communication play in the UPS systems?
4. How has information technology transformed the package delivery business?
5. How does UPS's investment in IT help it achieve the strategic business objectives
described in Chapter 1?
Copyright © 2009 Kenneth Laudon. Copyright © 2009 Pearson Education.
Copyright Notice
This work is protected by United States copyright laws and is provided solely for the use of
instructors in teaching their courses and assessing student learning. Dissemination or sale of any
part of this work (including on the World Wide Web) will destroy the integrity of the work and is not
permitted. The work and materials from this site should never be made available to students except
by instructors using the accompanying text in their classes. All recipients of this work are expected to
abide by these restrictions and to honor the intended pedagogical purposes and the needs of other
instructors who rely on these materials.