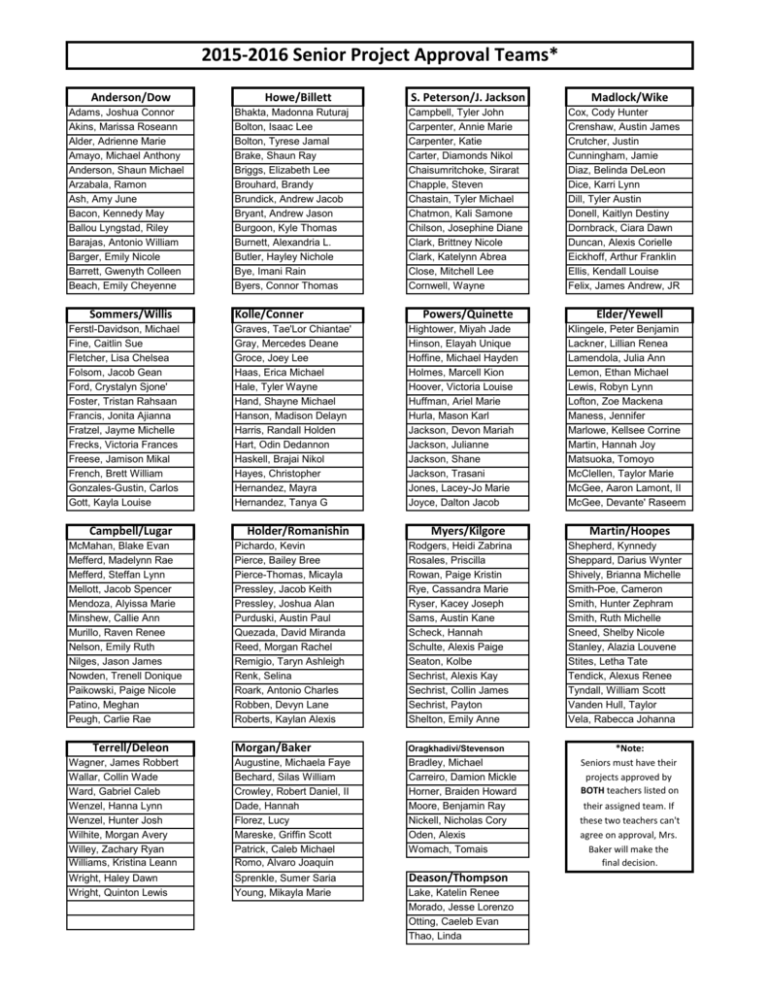 2015-2016 Senior Project Approval Teams*
Anderson/Dow
Adams, Joshua Connor
Akins, Marissa Roseann
Alder, Adrienne Marie
Amayo, Michael Anthony
Anderson, Shaun Michael
Arzabala, Ramon
Ash, Amy June
Bacon, Kennedy May
Ballou Lyngstad, Riley
Barajas, Antonio William
Barger, Emily Nicole
Barrett, Gwenyth Colleen
Beach, Emily Cheyenne
Sommers/Willis
Ferstl-Davidson, Michael
Fine, Caitlin Sue
Fletcher, Lisa Chelsea
Folsom, Jacob Gean
Ford, Crystalyn Sjone'
Foster, Tristan Rahsaan
Francis, Jonita Ajianna
Fratzel, Jayme Michelle
Frecks, Victoria Frances
Freese, Jamison Mikal
French, Brett William
Gonzales-Gustin, Carlos
Gott, Kayla Louise
Campbell/Lugar
McMahan, Blake Evan
Mefferd, Madelynn Rae
Mefferd, Steffan Lynn
Mellott, Jacob Spencer
Mendoza, Alyissa Marie
Minshew, Callie Ann
Murillo, Raven Renee
Nelson, Emily Ruth
Nilges, Jason James
Nowden, Trenell Donique
Paikowski, Paige Nicole
Patino, Meghan
Peugh, Carlie Rae
Terrell/Deleon
Howe/Billett
Bhakta, Madonna Ruturaj
Bolton, Isaac Lee
Bolton, Tyrese Jamal
Brake, Shaun Ray
Briggs, Elizabeth Lee
Brouhard, Brandy
Brundick, Andrew Jacob
Bryant, Andrew Jason
Burgoon, Kyle Thomas
Burnett, Alexandria L.
Butler, Hayley Nichole
Bye, Imani Rain
Byers, Connor Thomas
Kolle/Conner
Graves, Tae'Lor Chiantae'
Gray, Mercedes Deane
Groce, Joey Lee
Haas, Erica Michael
Hale, Tyler Wayne
Hand, Shayne Michael
Hanson, Madison Delayn
Harris, Randall Holden
Hart, Odin Dedannon
Haskell, Brajai Nikol
Hayes, Christopher
Hernandez, Mayra
Hernandez, Tanya G
Holder/Romanishin
S. Peterson/J. Jackson
Campbell, Tyler John
Carpenter, Annie Marie
Carpenter, Katie
Carter, Diamonds Nikol
Chaisumritchoke, Sirarat
Chapple, Steven
Chastain, Tyler Michael
Chatmon, Kali Samone
Chilson, Josephine Diane
Clark, Brittney Nicole
Clark, Katelynn Abrea
Close, Mitchell Lee
Cornwell, Wayne
Powers/Quinette
Hightower, Miyah Jade
Hinson, Elayah Unique
Hoffine, Michael Hayden
Holmes, Marcell Kion
Hoover, Victoria Louise
Huffman, Ariel Marie
Hurla, Mason Karl
Jackson, Devon Mariah
Jackson, Julianne
Jackson, Shane
Jackson, Trasani
Jones, Lacey-Jo Marie
Joyce, Dalton Jacob
Myers/Kilgore
Pichardo, Kevin
Pierce, Bailey Bree
Pierce-Thomas, Micayla
Pressley, Jacob Keith
Pressley, Joshua Alan
Purduski, Austin Paul
Quezada, David Miranda
Reed, Morgan Rachel
Remigio, Taryn Ashleigh
Renk, Selina
Roark, Antonio Charles
Robben, Devyn Lane
Roberts, Kaylan Alexis
Rodgers, Heidi Zabrina
Rosales, Priscilla
Rowan, Paige Kristin
Rye, Cassandra Marie
Ryser, Kacey Joseph
Sams, Austin Kane
Scheck, Hannah
Schulte, Alexis Paige
Seaton, Kolbe
Sechrist, Alexis Kay
Sechrist, Collin James
Sechrist, Payton
Shelton, Emily Anne
Morgan/Baker
Oragkhadivi/Stevenson
Wagner, James Robbert
Wallar, Collin Wade
Ward, Gabriel Caleb
Wenzel, Hanna Lynn
Wenzel, Hunter Josh
Wilhite, Morgan Avery
Willey, Zachary Ryan
Williams, Kristina Leann
Augustine, Michaela Faye
Bechard, Silas William
Crowley, Robert Daniel, II
Dade, Hannah
Florez, Lucy
Mareske, Griffin Scott
Patrick, Caleb Michael
Romo, Alvaro Joaquin
Bradley, Michael
Carreiro, Damion Mickle
Horner, Braiden Howard
Moore, Benjamin Ray
Nickell, Nicholas Cory
Oden, Alexis
Womach, Tomais
Wright, Haley Dawn
Wright, Quinton Lewis
Sprenkle, Sumer Saria
Young, Mikayla Marie
Deason/Thompson
Lake, Katelin Renee
Morado, Jesse Lorenzo
Otting, Caeleb Evan
Thao, Linda
Madlock/Wike
Cox, Cody Hunter
Crenshaw, Austin James
Crutcher, Justin
Cunningham, Jamie
Diaz, Belinda DeLeon
Dice, Karri Lynn
Dill, Tyler Austin
Donell, Kaitlyn Destiny
Dornbrack, Ciara Dawn
Duncan, Alexis Corielle
Eickhoff, Arthur Franklin
Ellis, Kendall Louise
Felix, James Andrew, JR
Elder/Yewell
Klingele, Peter Benjamin
Lackner, Lillian Renea
Lamendola, Julia Ann
Lemon, Ethan Michael
Lewis, Robyn Lynn
Lofton, Zoe Mackena
Maness, Jennifer
Marlowe, Kellsee Corrine
Martin, Hannah Joy
Matsuoka, Tomoyo
McClellen, Taylor Marie
McGee, Aaron Lamont, II
McGee, Devante' Raseem
Martin/Hoopes
Shepherd, Kynnedy
Sheppard, Darius Wynter
Shively, Brianna Michelle
Smith-Poe, Cameron
Smith, Hunter Zephram
Smith, Ruth Michelle
Sneed, Shelby Nicole
Stanley, Alazia Louvene
Stites, Letha Tate
Tendick, Alexus Renee
Tyndall, William Scott
Vanden Hull, Taylor
Vela, Rabecca Johanna
*Note:
Seniors must have their
projects approved by
BOTH teachers listed on
their assigned team. If
these two teachers can't
agree on approval, Mrs.
Baker will make the
final decision.