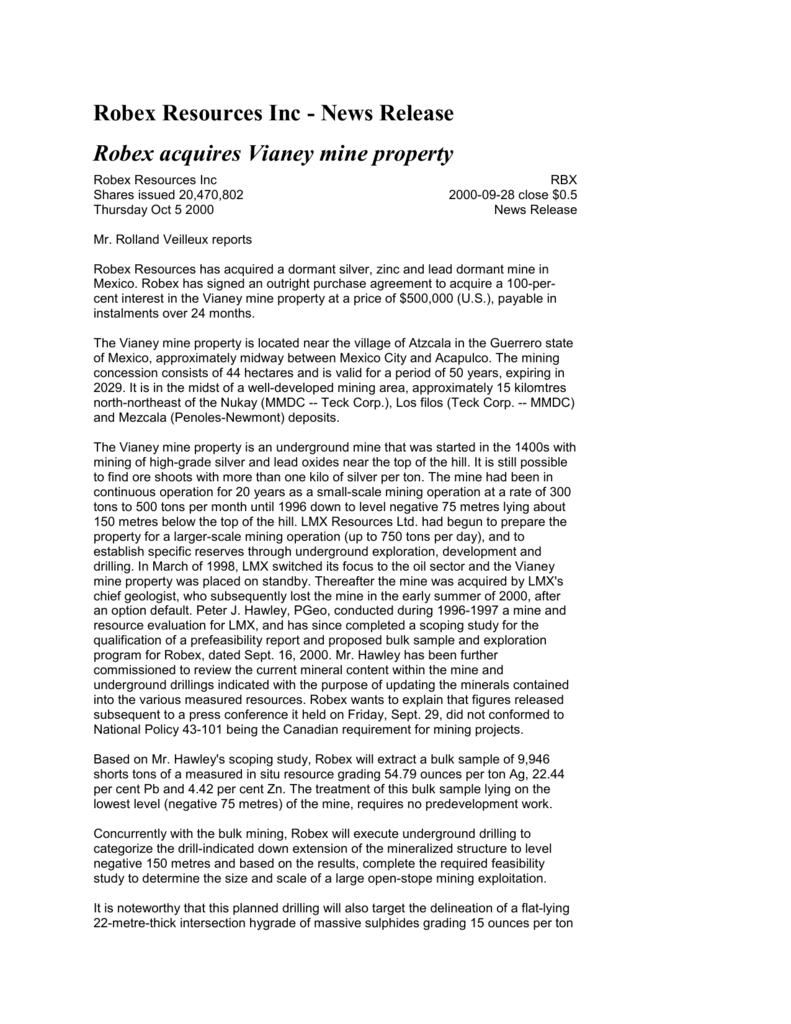 Robex Resources Inc - News Release
Robex acquires Vianey mine property
Robex Resources Inc
Shares issued 20,470,802
Thursday Oct 5 2000
RBX
2000-09-28 close $0.5
News Release
Mr. Rolland Veilleux reports
Robex Resources has acquired a dormant silver, zinc and lead dormant mine in
Mexico. Robex has signed an outright purchase agreement to acquire a 100-percent interest in the Vianey mine property at a price of $500,000 (U.S.), payable in
instalments over 24 months.
The Vianey mine property is located near the village of Atzcala in the Guerrero state
of Mexico, approximately midway between Mexico City and Acapulco. The mining
concession consists of 44 hectares and is valid for a period of 50 years, expiring in
2029. It is in the midst of a well-developed mining area, approximately 15 kilomtres
north-northeast of the Nukay (MMDC -- Teck Corp.), Los filos (Teck Corp. -- MMDC)
and Mezcala (Penoles-Newmont) deposits.
The Vianey mine property is an underground mine that was started in the 1400s with
mining of high-grade silver and lead oxides near the top of the hill. It is still possible
to find ore shoots with more than one kilo of silver per ton. The mine had been in
continuous operation for 20 years as a small-scale mining operation at a rate of 300
tons to 500 tons per month until 1996 down to level negative 75 metres lying about
150 metres below the top of the hill. LMX Resources Ltd. had begun to prepare the
property for a larger-scale mining operation (up to 750 tons per day), and to
establish specific reserves through underground exploration, development and
drilling. In March of 1998, LMX switched its focus to the oil sector and the Vianey
mine property was placed on standby. Thereafter the mine was acquired by LMX's
chief geologist, who subsequently lost the mine in the early summer of 2000, after
an option default. Peter J. Hawley, PGeo, conducted during 1996-1997 a mine and
resource evaluation for LMX, and has since completed a scoping study for the
qualification of a prefeasibility report and proposed bulk sample and exploration
program for Robex, dated Sept. 16, 2000. Mr. Hawley has been further
commissioned to review the current mineral content within the mine and
underground drillings indicated with the purpose of updating the minerals contained
into the various measured resources. Robex wants to explain that figures released
subsequent to a press conference it held on Friday, Sept. 29, did not conformed to
National Policy 43-101 being the Canadian requirement for mining projects.
Based on Mr. Hawley's scoping study, Robex will extract a bulk sample of 9,946
shorts tons of a measured in situ resource grading 54.79 ounces per ton Ag, 22.44
per cent Pb and 4.42 per cent Zn. The treatment of this bulk sample lying on the
lowest level (negative 75 metres) of the mine, requires no predevelopment work.
Concurrently with the bulk mining, Robex will execute underground drilling to
categorize the drill-indicated down extension of the mineralized structure to level
negative 150 metres and based on the results, complete the required feasibility
study to determine the size and scale of a large open-stope mining exploitation.
It is noteworthy that this planned drilling will also target the delineation of a flat-lying
22-metre-thick intersection hygrade of massive sulphides grading 15 ounces per ton
silver, 22.3 per cent zinc and 8 per cent lead previously encountered in underground
drilling below the negative 75-metre level. This particular mineralization is of the
manto type, with sulphide replacement in limestone, which is prevalent in the
surrounding Guerrero gold and massive sulphide belts.
Robex expects that this new acquisition will be a positive step toward its goal of
achieving continuing income from production.
The Mexican mining operation is not expected to interfere with Robex's continuing
exploration for gold in Mali, West Africa. In November, Robex will return to Mali to
explore the extensions and definition of the Dialaki-La Corne gold-bearing Placer,
where this past spring it outlined an indicated gold resources of 325,000 to 640,000
ounces (as reported in Stockwatch Sept. 15, 2000)
Plans to bring the Robex baryte property at Upton, Que., into production are
awaiting the necessary environmental approvals.
For more information, visit the company's Web site at www.Robexgold.com.